Master of Arts in Sociology Details: Entrance Exam, Top Colleges, Syllabus, Job Prospects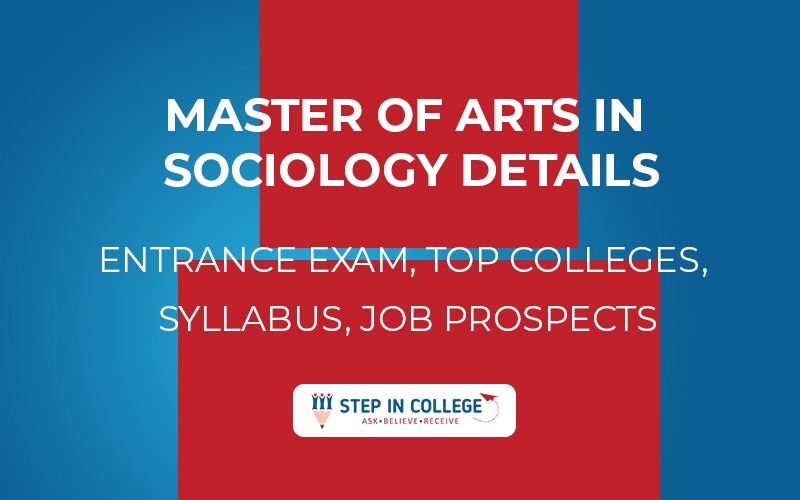 Published by : stepincollege
Master of Arts in Sociology is a postgraduate 2 years course. Sociology is the study of culture and its various perspectives. A MA in Sociology teaches understudies about the different components of society and how they communicate. Candidates will gain a greater understanding of human society, including its roots, phases of transformation, and various concerns. As a result, the understudies will be able to find solutions to their problems. This course focuses on a systematic analysis of culture and its various mechanisms. A master's degree in sociology is a postgraduate degree in sociology.
Master of Arts in Sociology Details, Eligibility, Entrance Exam, Top Colleges, Syllabus, Job Prospects | StepInColleges
The course will prepare students to have a greater understanding of social orders and networks around the world. Religion and Culture, Sociology of India, Political Sociology, Economic Sociology, and other disciplines are included in the course. Depending on your skill level, you can enroll in any of the courses. The MA Sociology course helps students develop their written and oral relational skills. They would be able to comprehend complicated strategies and apply them in a variety of real-life situations.
MA in Sociology Eligibility Criteria
Any undergraduate course must be completed to earn a diploma. Students with a background in the arts would have an advantage over their peers.
The minimum graduation percentage will range between 45 and 50 percent. The percentage ranges from one college to the next.
MA in Sociology Entrance Exams
IPU CET (Guru Gobind Singh Indraprastha University)
TISSNET (Tata Institute of Social Sciences)
PU CET (Punjab University Combined Entrance Test)
MGU CAT
AUAT (Aliah University)
MA in Sociology Top Colleges
Loyola College, Chennai
St. Xavier's College, Kolkata
Jesus and Mary College, New Delhi
Jamia Millia Islamia University, New Delhi
Nizam College, Hyderabad
Sacred Heart College, Ernakulam
Mehr Chand Mahajan Dayanand Anglo Vedic College for Women, Chandigarh
Post Graduate Government College for Girls, Chandigarh
St. Mira's College for Girls, Pune
MA in Sociology Syllabus
Semester 1: Sociology of Kinship, Religion and Society, Sociological Theories, Political Sociology.
Semester 2: Sociology of India, Economic Sociology, Sociology of Development, Methods of Sociological Research.
Semester 3: Industry and Society, Sociology of Symbolism, Gender and Society, Sociology of Organizations, Sociology of Education.
Semester 4: Urban Sociology, Populations and Society, Sociology of Science, Sociology of Media, Agrarian Structure.
MA in Sociology Job Prospects
Human resource departments, law firms, and international organizations can recruit candidates. Researcher, consultant, administrator, and other typical work profiles are just a few examples. Students may apply for jobs in a number of government agencies. They will have the opportunity to teach in government schools and universities. MA Sociology students are also required by a variety of government agencies. An additional inspection, however, may be needed.
Employment Areas
Corporate Research Firms
Education Sector
Corporations
Foreign Aid Programs
Criminal Justice Field
Human Services
Counseling
Hospitals
Communications Industry
Humanitarian Organisations like (UNO)
Communications Industry
Journalism
Labour Unions
Newspapers
Prisons
India Civil Services
Politics
Public Relations
Radio Stations
Social Work
Television Studios
Research Organisations
Trade Associations
Youth Services
Job Types
Social Worker
Census worker
Family Counsellor
Counsellor
Human Services Assistant
Social Critic
Research Assistant
Labour Leader
Marriage Counsellor
Rehabilitation Counsellor
Sociologist