Master of Law Details: Entrance Exam, Top Colleges, Syllabus | StepInCollege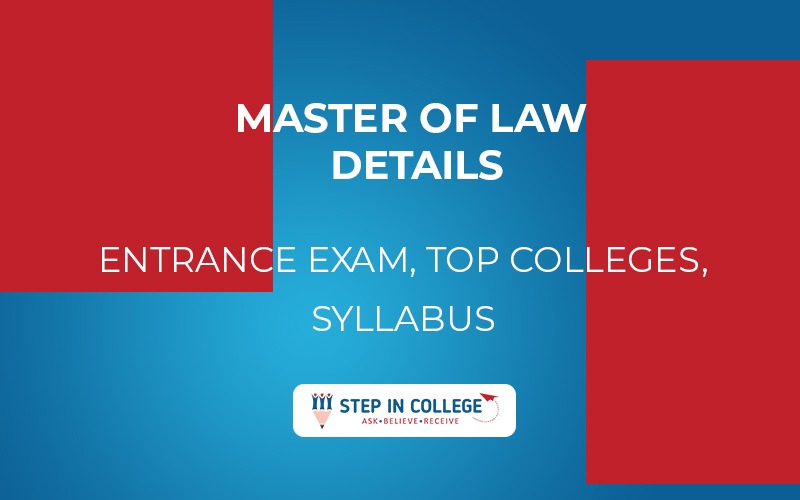 Published by : stepincollege
Master of law is a full-time postgraduate 2 years course. LLM full form is 'Latin Legum Magister'. "LL" is short for "laws." LLM programs are open to graduates who have completed a Bachelor of Laws (LL.B) and wish to pursue unique specializations in the field of law. The aim of the course is to provide education on symbol and trademark law in India and around the world. In addition, candidates who participate in these programs learn about different international treaties, agreements, and conventions. The Master of Law is the entry-level professional degree for legal practice.
Master of Law Details, Eligibility, Entrance Exam, Top Colleges, Syllabus, Job Prospects | StepInColleges
An LLM program helps law students and practitioners to obtain experience in a particular area of law. The criteria for graduating from an LLM program differ depending on the university guidelines. Many LLM programs provide coursework as well as study. Also available is a part-time Master of Laws program for professionals who want to complete their LLM while working full-time. LLM programs are available to applicants who have completed a Bachelor of Laws (LL.B) and need to pursue particular specializations in the field of law. The competition is based on particular areas of law that the participants have chosen. The aim of the course is to provide guidance on brand names and brand name law practice in India and around the world. Applicants have joined these initiatives to learn about various global settlements, agreements, and displays.
L.L.M. Eligibility Criteria
Bachelor's degree in law is required as a minimum qualification (LL.B)
Required Minimum Marks (Aggregate): 55 percent
17 years or older is the minimum age requirement.
L.L.M. Entrance Exams
CLAT
AILET
IPU CET
ILICAT
AUCET
ACLET
AIBE
AMU
CUSAT
SET
LPU NEST
LSAT
L.L.M. Top Colleges
National Law School of India University (NLSIU), Bangalore
National Law University (NLU), New Delhi
NALSAR University of Law, Hyderabad
IIT Kharagpur, Kharagpur
The West Bengal National University of Juridical Science (NUJS), Kolkata
Symbiosis Law School, Pune
Jamia Millia Islamia, New Delhi
Gujarat National Law University, Gandhinagar
Rajiv Gandhi National University of Law, Patiala
Indian Law Institute (ILI), New Delhi
L.L.M. Syllabus
LLM International Trade Law, Constitutionalism, Legal research and methodology, Judicial process, Human Rights and Humanitarian Law, Alternative Dispute Resolution, Intellectual Property Rights, International Trade Law, Corporate Law.
L.L.M. Job Prospects
Law is one of the few professions that has never seen a decline, and jobs are available in both private and public settings. The Government of India, as well as different state governments, employ attorneys and LLM graduates for various positions. Candidates for these rewarding work profiles are selected via a series of assessments to serve in different government divisions.
Job Profile
Advocate
Magistrate
Judge
Trustee
Oath Commissioner
Notary
Legal Document Reviewer
Legal Consultant
Legal Associate
Professor of Law
Fraud Investigator