Master of Laws in Constitutional Law: Top Colleges, Course Details, | StepInCollege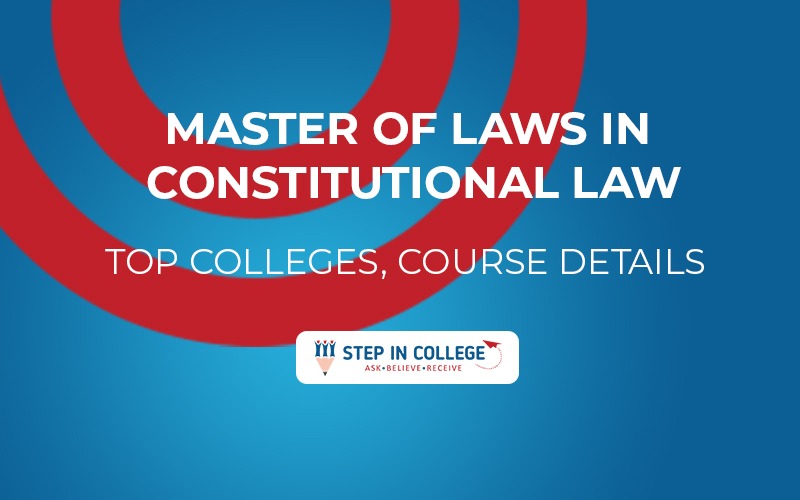 Published by : stepincollege
LLM Constitutional Law is a postgraduate 2 years Course. The LLM in Constitutional Law is one of the most important LLM courses in India, as it covers every aspect of the Indian Constitution from top to bottom. Theories and Principles of Constitutional Interpretation, System of Governance, Federalism, Judiciary Independence, and other fundamental themes for this course should be recalled.
Master Of Laws in Constitutional Law Course Details, Eligibility, Entrance Exam, Top Colleges, Syllabus, Job Prospects | StepInCollege
The course also takes a step-by-step look at the entire Indian Constitution. LLM Constitutional Law will also prepare understudies in Jurisprudence and Human Rights-related legislation, as well as environmental and land acquisition-related laws, in great detail. Following the completion of this course, competitors would be able to investigate the different components of our constitution, apply them in real-life contexts, and derive conclusions from the equivalent. Graduates of the LLM Constitutional Law program have a sincere understanding of the constitution's image, soul, and picture.
LLM in Constitutional Law Eligibility Criteria
A law degree from a reputable university is required.
Candidates with a BA LLB or a BSc LLB degree are also qualified.
Depending on the institution, the minimum grade is between 45 and 60 percent.
LLM in Constitutional Law Entrance Exams
CLAT: Common Law Admission Test
TSPGLCET: Telangana State Postgraduate Law Common Entrance Test
LSAT: Law School Admission Test
ULSAT
LLM in Constitutional Law Top Colleges
National Law University and Judicial Academy, Guwahati
Tamil Nadu Dr. Ambedkar Law University, Chennai
Mahatma Gandhi Law College, Hyderabad
Manikchand Pahade Law College, Aurangabad
Siddhartha Law College, Dehradun
Pendekanti Law College, Hyderabad
Cochin University of Science and Technology, Kochi
KLE Society's Law College, Bangalore
Osmania College of Law, Hyderabad
Sushant University, Gurgaon
LLM in Constitutional Law Syllabus
Semester I: Jurisprudence I, Theories and Principles of Constitutional Interpretation, Comparative Constitutional Law I, Legal Writing, System of Governance, Law and Justice in a Globalising World, Expanding Horizons of Indian Constitutional Law, Limited Governance and Security Legislation in India.
Semester II: Research Methodology, Comparative Constitutional Law II, Federalism, Indian Constitutional Law I, Centre-State Relations in India, Independence of Judiciary, Indian Constitution and Affirmative Actions, Land Acquisition and Community Resources.
Semester III: Human Rights and Duties, Jurisprudence II, Comparative Constitutional Law II, Indian Constitutional Law II.
Semester IV: Dissertation, Environmental Law, Law of Writs and Service Matters, Comparative Administrative Law.
LLM in Constitutional Law Job Prospects
Candidates who wish to practice independently as legal advisors can register with either of India's courts. The employability of LLM Constitutional Law applicants will also be determined in large part by the competition's aptitude and general information. Aside from independent practice, LLM Constitutional Law candidates may apply for a variety of positions. Along with the standard yearly compensation, some of them are mentioned in the table below.
Government Lawyer
Corporate Lawyer
Legal Advisor
Legal Officer
Legal Writer
Legal Editor