Master of Laws in Intellectual Property Rights: Top Colleges, Syllabus | StepInCollege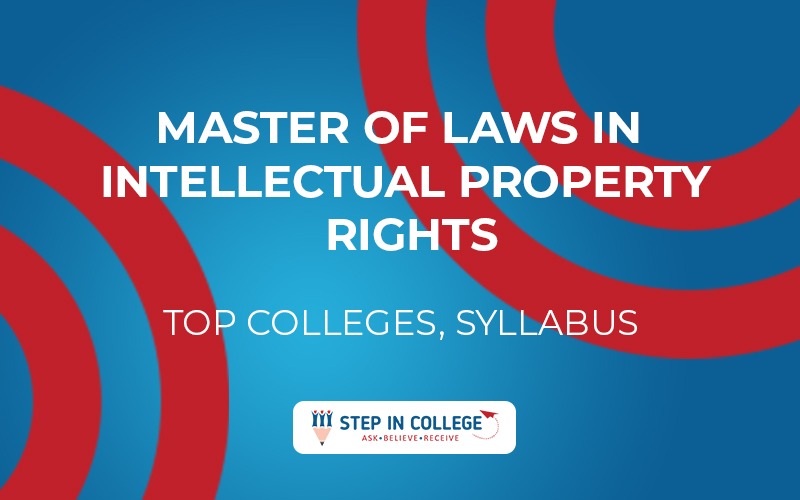 Published by : stepincollege
Master of Laws in Intellectual Property Rights is a 1 year-long postgraduate course. Inventions, discoveries, designs, musical and artistic works, literary phrases and symbols, and words are all covered by intellectual property law. An LLM IPR law degree offers a master's-level academic specialization to assist you with current laws and norms. It also aids in the examination of different rights within the international intellectual property context and scheme.
Master Of Laws in Intellectual Property Rights Course Details, Eligibility, Top Colleges, Syllabus, Job Prospects | StepInCollege
By researching a range of existing ideas that underpin contemporary intellectual property policy and law, the program possesses the area and position of such rights. It investigates on a serious level the ideas and cycles engaged with the examination of approaches affecting authorized advancement and development law under the bearing of driving scientists in the field. The educational plan covers a broad assortment of zones across protection of developments, things, trademarks, in direct connection with the law.
LLM in Intellectual Property Rights Eligibility
A 3 to 5- year long LL.B. in Intellectual Property Rights from a recognized university.
A minimum aggregate score of 50% (45% for SC/ ST candidates).
Applicants in the last year of the LL.B. examination are also eligible to apply.
LLM in Intellectual Property Rights Top Colleges
Indian Institute of Technology (IIT) Kharagpur
Osmania University- (OU) Hyderabad
Gujarat University, Ahmedabad
Parul University, Vadodara
Pacific School Of Law, Udaipur, Rajasthan
Punjabi University, Punjab
Lovely Professional University, Jalandhar, Punjab
National Law University, New Delhi
LLM in Intellectual Property Rights Syllabus
Semester I: Research Methods and Legal Writing, Comparative Public Law, International Trade Law, Competition Law, Law of E-Commerce, Law of Copyright, Foundation Course.
Semester II: Globalization, Law and Justice, Dissertation, Investment Laws, Law of Patents and Design, Law of Trademarks and GI, Contemporary Issues, Teaching Practices.
LLM in Intellectual Property Rights Job Prospects
Intellectual property protection has become so relevant in recent years that businesses now conduct intellectual property audits to recognize their intellectual assets and create special divisions to handle them. Intellectual Property Lawyers are legal practitioners who specialize in matters relating to intellectual property. The primary duty of all intellectual property (IP) lawyers is to defend their clients' intellectual property rights. After completing this course, most career opportunities are on an international level, discussing current problems in intellectual property and trade law. The most popular work profiles are as follows
Lead Analyst
Patent Agent
Patent Analyst
Private Attorney and Lawyer
Patent Attorney
Trademarks Attorney
Copyrights Attorney
Legal Officer
Advisor and Consultant
Legal Manager
Documentation and legal writing