Post Graduate Diploma In Labour Laws: Eligibility, Course Details, Syllabus | StepIncollege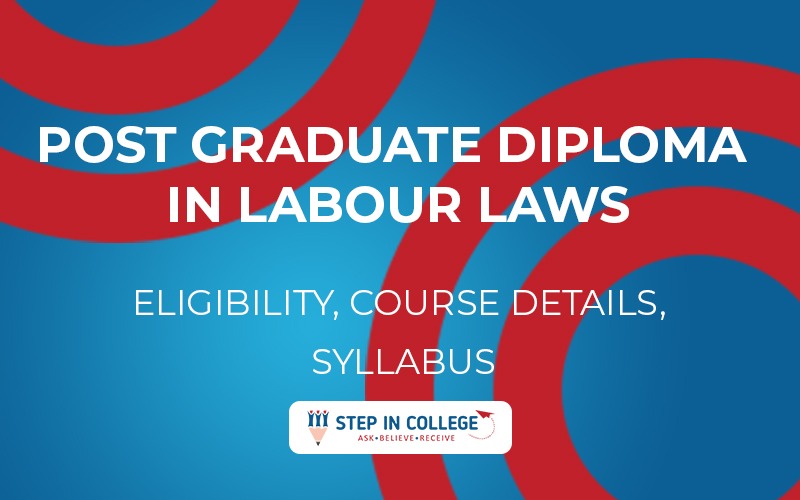 Published by : stepincollege
PG Diploma in Labor Laws is a one-year program. Over the course of one year and six courses, students can learn about the legal profession, industry (human resources), labor unions, and the public sector. The program is intended to provide enrolled students with realistic labor law instruction. The program is available as both a residential and a correspondence program.
Post Graduate Diploma In Labour Laws Course Details, Eligibility, Institute, Syllabus, Job Prospects | StepInCollege
Attorneys, activists, legal advisers, labor consultants, civil servants, labor relations and personnel officers, administrators, and trade union leaders are among those who are most likely to profit from the course. The course covers legal topics covered by the Labour Relations Act and other recent labour legislation.
PGDLL Eligibility Criteria
An LLB in Intellectual Property Rights from a recognized university that lasts 3 to 5 years.
A minimum aggregate score of 50% (45% for SC/ST candidates) is required.
Applicants in their final year of law school are also welcome to apply.
PGDLL Top Institute
ILS Law College, Pune
Mahatma Jyoti Rao Phoole University, Jaipur
Dr. Ambedkar Law University, Tamil Nadu
Tamilnadu Institute of Labor Studies, TILS, Tamil Nadu
Indian Law Institute (ILI), New Delhi
PGDLL Syllabus
Term 1: Law Relating to Industrial Relations, Industrial Disputes Act, 1947, Industrial Employment (standing orders) Act, 1946, Industrial Relations Act, 1960, Other State Legislation dealing with labor.
Term 2: Laws Relating to Wages and Monetary Benefits, Payment of Wages Act 1936, Minimum Wages Act 1948, Payment of Bonus Act 1965, Equal Remuneration Act 1976, Payment of Gratuity Act 1972, Contract Labour (Regulation & Abolition) Act 1970.
Term 3: Law Relating to Social Security & Safely Measures, Workmen's Compensation Act 1923, Employees State Insurance Act 1948, Employee's provident fund and miscellaneous provisions Act 1952, Maternity Benefit Act 1961, Fatal Accident Act 1855.
Term 4: Law Relating to Industrial Relations, Trade Union Act 1926, Factory Act 1948, Employer's liability Act 1938, Sales Promotion Employees (Conditions of Service) Act 1976.
PGDLL Job Prospects
Lawyers who have received training in labor law can talk to a variety of clients, including unions, administrators, legislators, and government work law consistency masters. Labor Relations Law is a branch of labor law that oversees the laws that govern cooperation between employers and employees. Representatives attempting to unionize who agree that they have been breached or need legal protection from the organization should consult with labor relations legal advisors
Contract Compliance Specialist
Legal Analyst
Labor Welfare Officer
Manager of Industrial Relations
Labour Relations Manager
Employment Lawyers