Master of Commerce: Top Colleges, Course Details, Eligibility Criteria | StepInColleges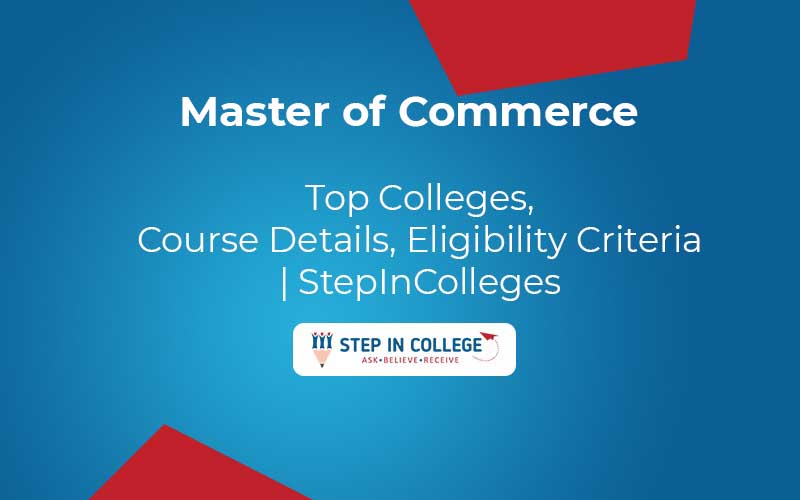 Published by : stepincollege
Masters of Commerce is a postgraduate 2 years course. A master's degree course in business, finance, management, accounting, and economics, as well as other related fields, is offered in commerce colleges across India. MCom in India is a postgraduate degree that is structured to provide students with in-depth knowledge and understanding of various aspects of commerce and banking.
Master of Commerce Course Details, Eligibility Criteria, Entrance Exam, Top Colleges, Syllabus, Job Prospects | StepInColleges
M. Com is one of the most common choices for BCom and BCom (Hons) graduates in India because it provides a deeper understanding of business and management, which is critical for the smooth operation of companies and organisations. Through its comprehensive curriculum in commerce, banking, finance, marketing, and management, among other fields. The course will help aspiring researchers, instructors, and professors get started.
MCom colleges in India have a unique curriculum that enables students to choose a mix of core and elective courses, ensuring that each graduate is well-versed in a variety of fields, making them more appealing to employers. While the more advanced subjects will provide them with intensive training in areas such as finance, accounting, and specialisation-specific training. Along with their MCom degree, aspirants would be able to select a specialisation, making them experts in the field of commerce.
Master of Commerce (M.Com) Eligibility Criteria
Degrees in Business Administration or Business Administration (Hons) from a recognised university or institute
A minimum aggregate score of 50% on the qualifying exam is required.
Master of Commerce (M.Com) Entrance Exams
Delhi University MCom Entrance Exam
Allahabad University PGAT
SRMHCAT (SRM Common Admission Test)
Master of Commerce (M.Com) Top Colleges
Hindu College, New Delhi
Presidency College, Kolkata
Loyola College, Chennai
Shri Ram College of Commerce (SRCC), New Delhi
Hansraj College, New Delhi
Madras Christian College, Chennai
St. Joseph's College, Bangalore
Stella Maris College for Women, Chennai
Sri Guru Gobind Singh College of Commerce, New Delhi
Master of Commerce (M.Com) Syllabus
First Year: Accounting for Managerial Decisions, Strategic Management, E-Commerce, Commercial Bank Management, Management Concepts, Organization Behaviour, Corporate Legal Environment, Financial Markets, International Finance.
Second Year: Corporate Tax Planning, International Finance, Corporate Financial Accounting, Economics of Global Trade & Finance, Investment Management, Research Methodology in Commerce, Statistical Analysis, Marketing Management, Computer Applications in Business.
Master of Commerce (M.Com) Job Prospects
Many students select MCom after graduating from BCom because the combination of the two degrees gives the applicant a stronger resume. Students interested in pursuing higher education will pursue an MBA, LLB, and other options. Aspirants who complete the MCom programme successfully will operate in both the public and private sectors. The following are some of the top companies that employ MCom graduates:
YES Bank
Nestle India
Cadbury India
State Bank of India
Railway Recruitment Board
Canara Bank
Snapdeal
Asian Paints India
Job role
Assistant Accountant
Accountant
Audit Officer
School Teacher
Account Executive
Finance Manager
Financial Analyst
Operation Manager