Master of Commerce in Finance: Top Institute, Course Details, Entrance Exam | StepInColleges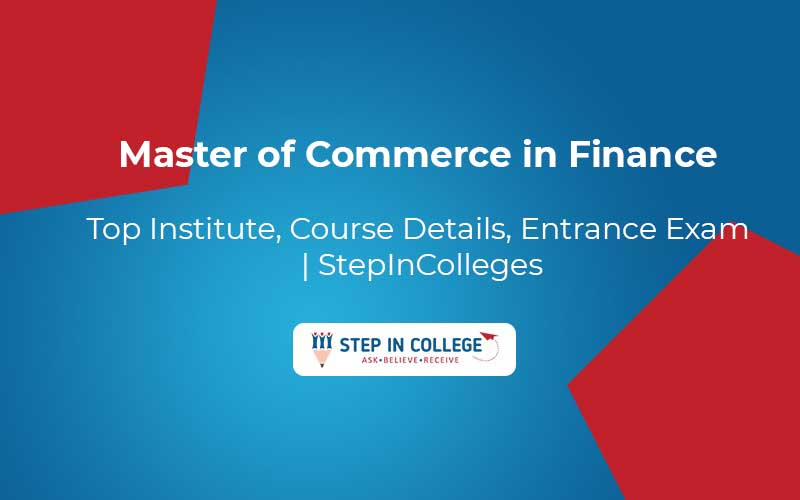 Published by : stepincollege
M.Com in Finance is a full-time postgraduate 2-year course. Candidates who take the MCom Finance course build adequate data processing skills and quantitative techniques. The course is designed to provide students with a broad range of financial skills while also gaining expertise in a specific business field. Students in the MCom Finance program study general business, accounting, finance, business management, human resources, marketing, and other topics. MCom in Finance is the best choice for candidates who want to obtain a PG degree and learn about the basics of finance. This course covers accounting principles, economic theory, financial planning, the banking system, microeconomics, and macroeconomics, among other subjects.
Master Of Commerce in Finance Course Details, Eligibility Criteria, Entrance Exam, Top Institute, Syllabus, Job Prospects | StepInColleges
Accounting, Taxation, Accounts, and Finance related mathematics, Payroll accounting, SAP, and other topics are included in the course curriculum. Students will learn about business and accounting trades, business management strategies, marketing concepts that have arisen in the business world, corporate industries, and financial management firms during this course review. Public accounting, audit, tax, budget analysis, real estate finance, and other specializations are available to students. Financial management, financial accounting, market management, costing, statistics, and other topics are usually discussed in this course.
M.Com in Finance Eligibility Criteria
The most basic requirement for pursuing an MCom in Finance degree is to have a bachelor's degree in any Commerce field.
Some well-known universities and institutions require a minimum of 45-50 percent in their qualifications exams, and in some schools, applicants must also take the college's entrance exam in order to be accepted to the MCom in Finance program.
For MCom in Finance enrollment, some colleges recognize honors degrees in Economics, Accounting, Business, and Management Studies.
M.Com in Finance Entrance Exams
AUCET (Andhra University Common Entrance Test)
PUCET
M.Com in Finance Top Colleges
Shri Ram College of Commerce, [SRCC] New Delhi
Lady Shriram College, [LSR] New Delhi
Loyola College, Chennai
Christ University, Bangalore
St Xavier's College, Mumbai
Anil Surendra Modi School of Commerce, [ASMSC] Mumbai
Symbiosis College of Arts and Commerce, [SCAC] Pune
St Josephs College of Commerce Autonomous, Bangalore
Hans Raj College, Delhi University
Madras Christian College, [MCC] Chennai
M.Com in Finance Syllabus
1st Semester: Business Management, Business Environment & Legislation, Business Economics, Quantitative Techniques for Business, Information Technology for Business, Entrepreneurship Development.
2nd Semester: e-Commerce, Financial Accounting & Packages, Quantitative Methods for Business, Financial Management, Marketing Management, Human Resource Management.
3rd Semester: Advanced Banking, Banking & Technology, Insurance Products & Management, Principles of Life Insurance, Financial Markets & Services, Security Analysis and Investment Management
4th Semester: Banking Law & Practice, Bank Management, Insurance & Risk Management, Insurance Actuarial, Portfolio Management, Financial Derivatives.
M.Com in Finance Job Prospects
Candidates who successfully complete the MCom in Finance course will have a thorough understanding of financial management skills, allowing them to pursue a variety of career opportunities.
Job role
Finance Graduate Are Accountant,
Investments Analyst,
Business & Corporate Analyst,
Executive Assistant,
Financial Analyst & Manager,
Assistant Accountant,
Investment Banker & Market Analyst,
Marketing & Money Manager,
Accounts Assistant,
Senior Accountant,
Operations Manager,
Personal Finance Consultant,
Securities & Risk Analyst