Master of Dental Surgery: Top Colleges, Syllabus, Job Prospects | StepInColleges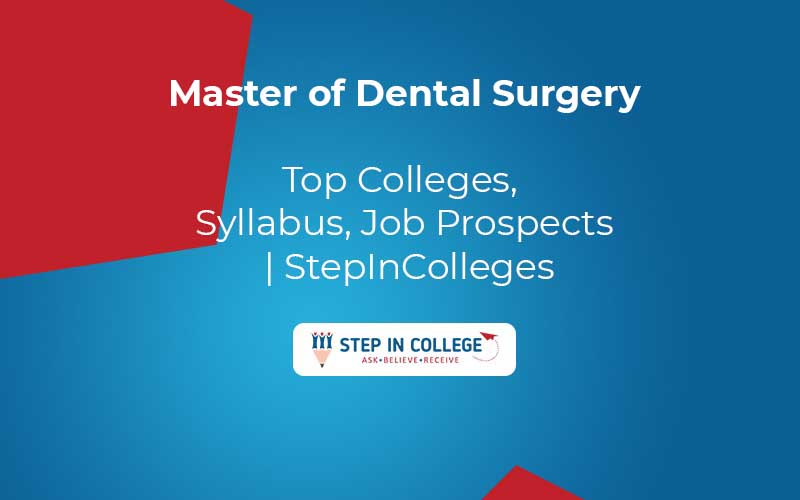 Published by : stepincollege
Master of Dental Surgery is a postgraduate 3 Years degree Course. There is equipping of two-years MDS course for candidates who have completed a Post Graduate Diploma course recognized by DCI. MDS offers training in a range of dental fields to those interested in pursuing a career in dentistry. The course's main goal is to prepare students to become registered dental specialists. Candidates who complete the MDS program will be prepared to work as both professionals and advisory advisors in their chosen fields.
Master of Dental Surgery Course Details, Eligibility Criteria, Entrance Exam, Top Colleges, Syllabus, Job Prospects | StepInColleges
The Master of Dental Surgery program also seeks to enhance scientific abilities, advanced nursing skills, and critical thinking abilities, all of which are required for specialist registration. BDS graduates who want to enter an MDS program must pass an entrance exam administered by various states or schools. To be admitted to the college of their choosing, students must achieve the minimum necessary marks. A dentist's career is bolstered by an MDS degree, which allows them to apply for higher positions such as directors in hospitals or universities. MDS graduates receive a lot of money, depending on their position.
Master of Dental Surgery Eligibility Criteria
Minimum marks: 55% marks.
Minimum Qualification: A bachelor's degree Bachelors in Dental Surgery (BDS) or by Dental Council of India.
Age Criteria: To qualify for the AICET entrance exam for MDS entry, candidates must be at least 21 years old.
Candidates should be physically fit
Master of Dental Surgery Entrance Exams
NEET MDS
NIMS Entrance Exam
AIIMS PG Entrance Exam
Master of Dental Surgery Top Colleges
AIIMS, New Delhi
Armed Force Medical College, Pune
Kasturba Medical College, Mangalore
JIPMER, Puducherry
Maulana Azad Medical College, New Delhi
Madras Medical College, Chennai
Lady Hardinge Medical College, New Delhi
Chhatrapati Shahuji Maharaj Medical University
BJ Medical College, Ahmedabad
Sharda University, Greater Noida
Master of Dental Surgery Syllabus
Didactic Lectures, Seminars, Demonstrations, Laboratory Techniques, Clinical Case Conference, Structured Lecture Programs, Joint Clinical Meetings with Allied Specialties, Weekly Journal Clubs, Submission of Dissertation Thesis, Models, Radiographs and Photographs, The students will work on patients in the clinics under the supervision of teachers, The students will undertake the laboratory work for the patients who are under their treatment, Training in Methodology of Teaching
Master of Dental Surgery Job Prospects
The demand for Dental Surgery practitioners in India is increasing by the day, as both government and private healthcare organizations strive to provide the best oral healthcare facilities to Indian people. Dental hygiene is a vital part of staying healthy. Following the completion of a Masters in Dental Surgery, the applicant will be able to pursue work in the following areas, as well as career opportunities, some of which are described below:
Employment Sectors
Dental Colleges and Research Institutes
Dental Research Labs
Private Hospitals
Dental Clinics
Military Services
Job Profiles
Dental Surgeon
Orthodontist
Periodontist
Dentist
Professor/ Researcher
Prosthodontist
Oral and Maxillofacial Surgeons
Private Practitioners
Top Recruiting Companies
Indraprastha Apollo Hospitals
Medanta Hospitals
Fortis Healthcare Ltd.
All India Institute of Medical Sciences
Sun Pharmaceutical Industries Ltd.
Apollo Munich Health Industries Co. Ltd.
Sri Ganga Ram Hospital
Apollo Hospitals Enterprises Ltd.
Colgate
Religare Health Insurance Company Ltd.