Postgraduate Diploma in Banking: Eligibility Criteria, Course Details, Top Colleges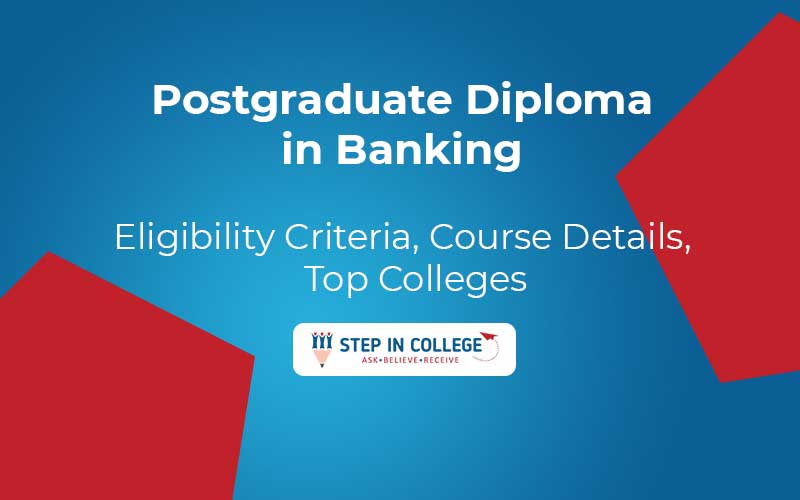 Published by : stepincollege
PGD in Banking is a postgraduate 1 years diploma program. PGD focuses on improving banking-related activities in finance, which helps to boost a nation's economy and improve the well-being of an organization. The administration of both finance and banking-related banking-related operations is also included in this course.
Postgraduate Diploma in Banking Course Details, Eligibility Criteria, Entrance Exam, Top Colleges, Syllabus, Job Prospects | StepInColleges
This course is designed for students who want to work in banking management for large multinational corporations or financial institutions. Students interested in pursuing a PGD in banking should possess a variety of skills, including critical, rational, and verbal abilities, administrative skills, and time management skills.
PGD in Banking Eligibility Criteria
A bachelor's degree in a related field or something similar from a reputable institution.
Students are required to reach the College/cut-off University's marks on the entrance exam.
Few colleges also offer direct entry to this course, which is based on merit in the examination of the Bachelor's degree.
PGD in Banking Entrance Exams
CMAT
GMAT
CAT
MAT
ATMA
NMAT
MH-CET
PGD in Banking Top Institutes
Ahmedabad Management Association, Ahmedabad, Gujarat
Vidya Bharathi, Kochi, Kerala
Savitribai Phule Pune University, Pune, Maharashtra
Institute of Finance Banking and Insurance, Delhi
Indian Institute of Commerce and Trade, Lucknow, Uttar Pradesh
IIKM Business School, Chennai, Tamil Nadu
IIFA Lancaster Degree College, Bangalore, Karnataka
ICICI Manipal Academy for Banking and Insurance, Manipal
ICFAI University – Mizoram, Mizoram
PGD in Banking Syllabus
Foreign trade & bank Financing, Management Accounting, Bank Lending Policies & Techniques, Spl. Accounting for Banking Co., Marketing of banking Products, Management Concept & OB, Project report Management, Computer application in Business, Corporate Taxation, Marketing Research, Development Bank & Invest. Mgmt, Managerial Economics, Mgmt. of Banking Inst. and Monetary policy, Banking Law & Regulations, Merchant Banking & Financial Services, E-Commerce & AIS, Quantitative Methods for Business, Commercial Bank Management, Fundamentals of Banking, International Banking and Foreign exchange, Accounting for Managers.
PGD in Banking Job Prospects
Students in the field of banking will benefit greatly from the PGD course in banking. This course is perfect for students who want to strengthen their management and verbal skills and want to work for large companies. Learners may follow a number of careers after completing this course, including lecturer/teacher, banking manager, publicity manager, financial analyst, financial manager, and so on.
Top Recruiters Completing
Teacher/ Professor
Manager Banking
Chief Marketing
Economic Counselor
Financial Boss
Top Recruiters
Institute of Finance Banking and Insurance
Reserve Bank of India
Govt. Organizations
Financial Organizations