Master of Physiotherapy in Orthopaedics: Eligibility, Entrance Exam, Course Details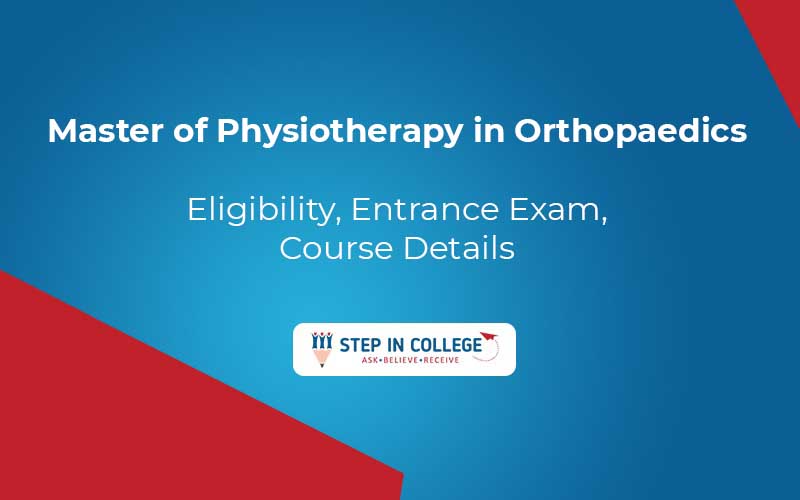 Published by : stepincollege
Master Of Physiotherapy in Orthopaedics Course Details, Eligibility, Entrance Exam, Top Institutes, Syllabus, Job Prospects | StepInCollege
MPT in Orthopaedics is a full-time postgraduate 2 Years course. For viable candidates, the program combines both academic experience and clinical training needed to become certified physiotherapists. The curriculum was created to help applicants strengthen their logical thinking skills in preparation for case studies and practical experiences in the field.
Unlike other fields of medicine, physiotherapy does not depend extensively on the use of drugs and treatment. Instead, it focuses on the use of physical therapy to encourage health.
Professional skills needed for the treatment of the musculoskeletal system when trauma or disability occurs are taught to orthopedic students. The body's bones and muscles are susceptible to damage and disruption. This includes sprains, fractures, pain after surgery, and repeated collisions. Athletes with degenerative diseases, congenital defects, infections, and cancers are treated by these doctors. The course provides students with a variety of opportunities:
Advanced courses in current medical ethics, physiology, and medical science are covered in the Comprehensive Pharmacology Review.
Surgical skills, cautious treatment, and surgery skills, as well as outpatient skills.
MPT in Orthopaedics Eligibility Criteria
Obtaining a diploma from a reputable institution (Bachelors in Physiotherapy).
At the graduation rate, a minimum composite score was obtained.
I completed the 6-month rotatory internship that was required of me.
MPT in Orthopaedics Entrance Exam
Lovely Professional University
Institute of Health Sciences
School of Allied Health Sciences
M.M. Institute of Physiotherapy and Rehabilitation
MPT in Orthopaedics Top Institutes
School of Allied Health Sciences, Greater Noida
Faculty of Physiotherapy -SGT University, Gurgaon
School of Physiotherapy, Chennai
Singhania University, Jhunjhunu
M.M. Institute of Physiotherapy and Rehabilitation, Ambala
Ahmedabad Physiotherapy College, Ahmedabad
Institute of Health Sciences, Nayapalli
Lovely Professional University, Jalandhar
MPT in Orthopaedics Syllabus
Year 1: Medical and Surgical Management, Physiotherapy Management I, Physiotherapy Management II, Physiotherapy Management (Lab Hours), Research Methodology and Biostatistics, Seminars on Clinical Issues, Clinical Practice.
Year 2: Pedagogy in Physiotherapy Education, Management, Administration, and Ethical Issues, Bio-mechanics, Bio-mechanics (Lab Hours), Dissertation, Seminars on Clinical Issues, Clinical Practice.
MPT in Orthopaedics Job Prospects
In defense agencies, medical institutions, educational institutions, sports fitness centers, visually disabled recovery centers, and orthopedic units of private hospitals, trained physiotherapists may find job opportunities.
Postgraduates have the opportunity to undertake higher education, research study, or fellowship programs in related fields such as athletics, geriatrics, pediatrics, orthopedics, neurology, and cardiopulmonary physiotherapy following effective completion of the course.
Orthopedic Surgeon
Orthodontist
University Lecturer
Ortho Surgery Coder
Physiotherapist
Medical Officer