Master of Physiotherapy in Sports Physiotherapy: Eligibility, Course Details, Top Institutes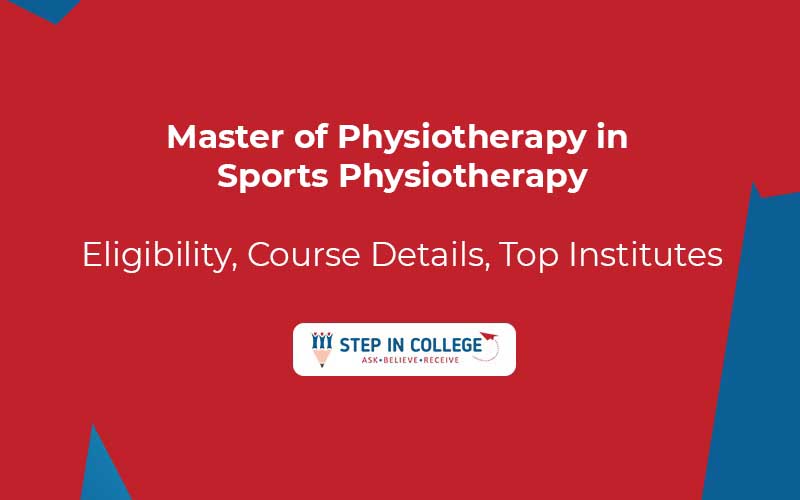 Published by : stepincollege
MPT in Sports-Physiotherapy is a postgraduate 2 Years course. Physiotherapy is a broad area of medicine and health care that aims to improve the health of people who have movement-related disabilities. Physiotherapeutic care options for such patients include: Physical activity and motivation, Computer exercise, planning, and positive campaigning Treatment are needed for healing. The importance of the counselor-psychiatrist relationship is stressed. Physiotherapy is crucial in the field of athletics, with athletes in constant need of urgent assistance in the event of injuries that could jeopardize their success. The optimal diet, as well as movement-related tips. Students enrolled in the course are taught at an advanced level. Movement impairments in clients are diagnosed and treated. A workout that is both therapeutic and electrotherapy. Improving the basic motor skills of people who are unable to get around.
Master Of Physiotherapy in Sports Physiotherapy Course Details, Eligibility, Entrance Exam, Top Institutes, Syllabus, Job Prospects | StepInCollege
Pressure therapy, surgical recovery, and kinesiology are all options. Clinic techniques, practical information introduction in physiotherapy services. Empathy, for example, is an essential interpersonal attribute. Sports injuries vary from everyday injuries in that athletes can predict outcomes. Physiatrists are, in essence, physical therapists. Stress/pressure is dealt with by the muscles, joints, and bones. Fix popular sports-related injuries. Educate athletes on the importance of versatility. Have support and assistance to avoid such physical problems/exertions. Possess technical, sport-specific knowledge. Accidents that are acute, permanent, or unintended are discussed.
MPT in Sports-Physiotherapy Eligibility Criteria
Bachelor's degree in physiotherapy or BSc in a similar field from a recognized university
At the graduation table, a minimum composite score of 50% (45 percent for SC/ST/OBC candidates).
MPT in Sports-Physiotherapy Entrance Exam
Common Entrance Test (CET)
MPT in Sports-Physiotherapy Top Institutes
Maharishi Markandeshwar University - Mullana Campus, Ambala
Dr. D Y Patil University, Navi Mumbai
Guru Nanak Dev University, Amritsar
Punjabi University, Patiala
Cherraan's College of Physiotherapy, Coimbatore
CMJ University, Shillong
Dr. DY Patil Vidyapeeth, Pune
Guru Jambeshwar University of Science and Technology, Hisar
Jamia Hamdard University, New Delhi
Himalayan University, Papum Pare
MPT in Sports-Physiotherapy Syllabus
Semester 1: Research Methodology and Biostatistics, English Language and Communication Skills, Review of Core Science, Physical and Functional Diagnosis of Sports Injuries.
Semester 2: Clinical/Journal Club I, Sports Biomechanics, Sports Psychology, Sports Physiotherapy I.
Semester 3: Clinical/Journal Club II, Exercise Physiology and Nutrition, Athletic Training and Emergency Management, Clinical/Journal Club III.
Semester 4:Dissertation I, Management and Ethics in Physiotherapy, Sports Physiotherapy II, Clinical/Journal Club IV.
MPT in Sports-Physiotherapy Career Prospects
Those postgraduates usually become Sports Physiotherapists following satisfactory completion of the course. Other career opportunities, however, include:
Physiotherapist-General
Osteopath The Osteopath
Therapist in Occupation
Chiropractitioner
Consultant of Accident, and such.
Essentially, the sports physiotherapist is responsible for:
Establish exercise exercises to be practiced rigorously by the player.
Maintenance in athletes' balanced eating habits.
To plan, propose, and adopt both science and conventional approaches to keep the body fit.
Under their guidance, they perform exercise sessions.
Keeping track of an athlete's success
Ensuring athletes' bodily welfare and health.
Teach the athletes, as coaches, to preserve fitness, wellness, and flexibility.
Teaches players of strategies to avoid injury and mishaps and cope with them.
Care by means of therapies such as relaxation of ice, stimulation of heat, the exercise of motion, electrical stimulation.
Implementation of therapy methods, massages, manipulative techniques, acupuncture, etc.