Master of Public Health: Course Details, Eligibility, Top Institutes | StepInCollege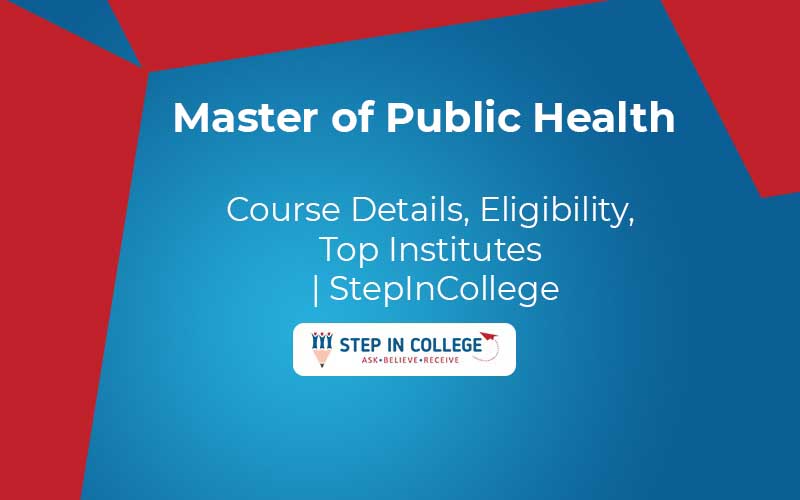 Published by : stepincollege
Masters of Public Health is a medical-field oriented 2 Years course. It provides candidates with strong skill sets and exposure to real-world public health issues, as well as systemic information about public health. It is a multi-disciplinary course since it covers a wide range of topics, including medicine. Information technology, management, social science, and social issues are only a few of the topics covered. On-campus and online lectures, a capstone exercise, and a practicum-based assignment are all part of the course's curriculum.
Master of Public Health Course Details, Eligibility, Top Institutes, Syllabus, Job Prospects | StepInCollege
The program is designed to help students gain awareness, improve skills, and gain experience in real-world scenarios related to public health. The program's aim is to help students develop their skills in the following fields. Biostatistics, Epidemiology, Environmental Health Sciences, Public Health Genetics, Health Care and Functional Management, Social and Behavioral Sciences, Public Policy, and Ethics are some of the areas covered by Biostatistics. The initiative's main aim is to promote sensitive issues such as health promotion, public health management, sanitation, health policy, health economics, epidemiology, and biostatistics, among others.
MPH Eligibility Criteria
Completed graduation from a recognized institute in either stream.
At the graduation mark, a minimum composite score of 50% is needed.
Employment experience in the health/development sector is unusual.
MPH Top Institutes
IIHMR, Jaipur
Indian Institute of Public Health, Gandhi Nagar
Manipal University, Manipal
University of Lucknow, Lucknow
Mahatma Jyoti Rao Phoole University, Jaipur
Pravara Institute of Medical Sciences, Ahmednagar
Jawaharlal Nehru University, New Delhi, Delhi
University of Hyderabad, Hyderabad
KLE University, Belgaum
Noida International University, Gautam Budh Nagar
Amity University, Noida
Manipal University, Manipal
AISECT University, Bhopal
NITTE University, Mangalore
Panjab University, Chandigarh
MPH Syllabus
Semester I: Introduction to Public Health, Human Biology & Public Health Chemistry, Medical & Health Statistics, Research Methods in Public Health, Health Psychology, Communication & Counselling, Practical's/Field visits.
Semester II: Epidemiology, Demography & Population Sciences, Project Planning & Management, Communicable & Infectious Diseases, Non-communicable Diseases, Practical's/Field visits.
Semester III: Health of Vulnerable Populations, Environmental Health & Sustainable Development, Occupational, Industrial and Urban Health, Health Policy, Planning & Economics,
Public Health Internship, Practical's/Field visits.
Semester IV: Public Health Nutrition, Health Systems Development & Management, International Health, Research Project, Practical's/Field visits.
MPH Job Prospects
The Masters in Public Health program is structured to develop candidates' management skills and prepare them for work in a variety of public health programs and services. GIS, consulting firms, evidence generation, relevant studies, and other related fields are relevant to public health graduates.
Job Roles
Management Policy Advisor
Biostatistician
Assistant Public Health Professor
Management Policy Advisor
Outcomes Researcher
Healthcare Administrator
Community Activist
Health Care Specialist