Bachelor of Education: Course Details, Entrance Exam, Top Colleges | StepInColleges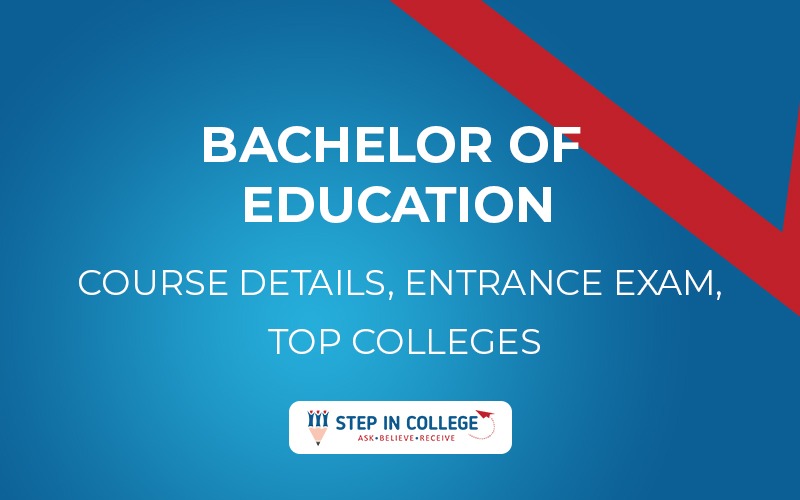 Published by : stepincollege
Bachelor of Education is a Full-time Undergraduate 2 years course. It aids you in your quest for a career in education and related fields. This course is also known as a Bachelor of Training or Shiksha Shastri in general. B.Ed. software is mainly a teaching curriculum. They will be able to choose only after graduation. It's well worth it for those who want to try a career as a teacher. Correspondence may also be used to monitor them.
Bachelor of Education Course Details, Eligibility, Entrance Exam, Top Colleges, Syllabus, Job Prospects | StepInCollege
It is important to teach at the secondary and higher secondary levels. Courses are given to B.Ed. students with technical instruction. It is required for all those who wish to teach in primary and secondary schools.
B.Ed Eligibility Criteria
Educational Qualification: Graduation of at least 50-55 percent composite marks in either stream at the undergraduate level (that is, Humanities, Science, or Commerce).
Age Limit: There is no such thing as an age limit. Candidates must be at least 19 years old to be considered.
B.Ed Entrance Exam
Delhi University B.Ed Entrance Exam
Jammu University B.Ed Entrance Exam
PU B.Ed Distance Education Entrance Exam
CRSU B.Ed Entrance Exam
HPU Shimla Distance Education B.Ed Entrance Exam
Dr. B.R. Ambedkar Open University B.Ed Entrance Test
IGNOU B.Ed Entrance Test
B.Ed Top Institutes
University of Delhi, New Delhi
Jamia Millia Islamia University, New Delhi
Guru Gobind Singh Indraprastha University (GGSIPU)
Banasthali University, Jaipur
Lady Irwin College, New Delhi
Amity University, Noida
University of Calcutta
Loreto College, Kolkata
SRM University, Chennai
B.Ed Syllabus
First Year: Basics in Education, Strengthening Language Proficiency, School Management, Schooling, Socialization, & Identity 1, Guidance & Counselling 1, Computer Education, Developing Teacher Sensibilities, Subject Knowledge 1 (specialization in your field), Child Psychology.
Second Year: Methodology of Teaching, Guidance & Counselling 2, Co-curricular activities in school and e-education, Education for Peace, Subject Knowledge 2, Teacher Training Internships & Practicals, Understanding Teacher Learning Situations, Schooling Socialization & Identity 2, Environmental Studies.
B.Ed Job Prospects
B.Ed is one of the most well-known and well-received programmes. Since India's education sector provides so many job opportunities, B.Ed graduates can work in colleges, coaching centres, education consultancies, home and private tuition, publishing houses, and other locations.
Job Opportunities:
School Teachers
College Professor
Private Tutor
Education Researcher
Home Tutor
Librarian
Education Consultant
Military Trainer
Education Counsellor
Content Writer
Online Tutor
Instructor
Vice Principal
Principal