Bachelor of Hotel Management and Catering Technology: Course details, Top Colleges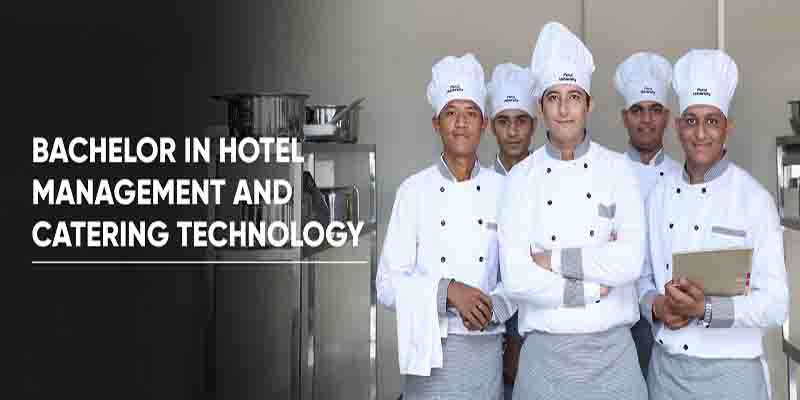 Published by : stepincollege
Bachelor of Hotel Management and Catering Technology Details, Eligibility, Entrance Exam, Top Colleges, Syllabus, Job Prospects | StepInColleges
Bachelor of Hotel Management and Catering Technology is an undergraduate 4 years course. IT provides students with advanced training in hospitality and modern catering technology innovations. The four-year program's primary purpose is to familiarise students with hotel and hospitality management strategies, procedures, and practices. Accounts, desktop, accounting, front office, housekeeping, catering, maintenance, security, and catering are the main areas of BHMCT. With India as one of the major hubs in the hotel management industry, there is no shortage of work and employment opportunities in this industry, which is the country's second-largest employer after the IT and software industry. BHMCT teaches students the skills and knowledge needed for employment in the hospitality industry, as well as students who want to start their own catering businesses.
BHMCT Eligibility Criteria
Minimum Qualification Required: 10+2 / Class or equivalent exam from a recognized board/university is needed.
Minimum Marks Required: A 45 percent aggregate score is needed (40 percent for reserved category candidates). This requirement differs from one college to the next.
The study of English is required.
Age Requirements: The age requirement for the BHMCT program varies by institution. The majority of colleges have an age limit of 22 years.
BHMCT Entrance Exams
IPU CET
BVP CET
BHU UET
UPSEE etc.
BHMCT Colleges
Banarsidas Chandiwala Institute of Hotel Management and Catering Technology, New Delhi
NSHM Knowledge Campus, Durgapur
Hotel and Catering Management Institute (HCMI) Chandigarh
AISSMS College of Hotel Management and Catering Technology, Pune
Dr. DY Patil Institute of Hotel Management and catering technology, Pune
Amrapali Institute of Hotel Management, Haldwani
Shri Shakti College of Hotel Management
Guru Nanak Institute of Hotel Management, Kolkata
Punjab University
University School of Hotel Management and Catering Technology
BHMCT Syllabus
First Year: Front Office Foundation Course, F.P Foundation 1, Food Science & Nutrition, Communication/ Language Proficiency, F.P Foundation 2, House Keeping Operations 1, Business Communication, Front Office Operation 1, House Keeping Operations 2.
Second Year: F.P Operation1, Food & Beverage Control & Management, Advanced Accounting, F.P. Operation 2, Housekeeping Management, Food Safety, Hotel Information System, Basic Accounting 1, Hotel Accounting.
Third Year: Hospitality Marketing, Practicals, Tourism Geography, Facility Planning, Introduction to Tourism, Human Resource Management, Industrial Training, Organizational Behavior, Advanced Food & Beverage Service 1 & 2,
Fourth Year: Business Law, Facility Planning 1, Environment Issues, Indian Research, Facility Planning 2, Practicals / Training.
BHMCT Job Prospects
Candidates with a BHMCT degree will work in a number of hotels, resorts, catering companies, spa groups, apparel, and other hospitality-related occupations. Students interested in pursuing higher education should pursue a Master's degree or an MBA in Hotel Management to improve their career prospects. Students who have always been intrigued by tourism, travel, food, and hospitality would benefit the most from this course. The primary areas with career opportunities for BHMCT graduates are listed below.
Hotels
Restaurants
Catering Companies
Fast Food Chains
Cafes
Resorts etc.
Top Recruiting Companies
The Taj Group of Hotels
Le Meridien Hotels and Resorts
Oberoi Group of Hotels
ITC Hotels
Domino's
Cafe Coffee Day
Club Mahindra etc.
Job roles
Front Desk Officer
Catering Supervisor
Catering Manager
Catering Assistant
Marketing Manager
Sales Manager
Sales Executive