IGNOU Extends Assignment Submission June TEE 2021 Till April 30 | StepInCollege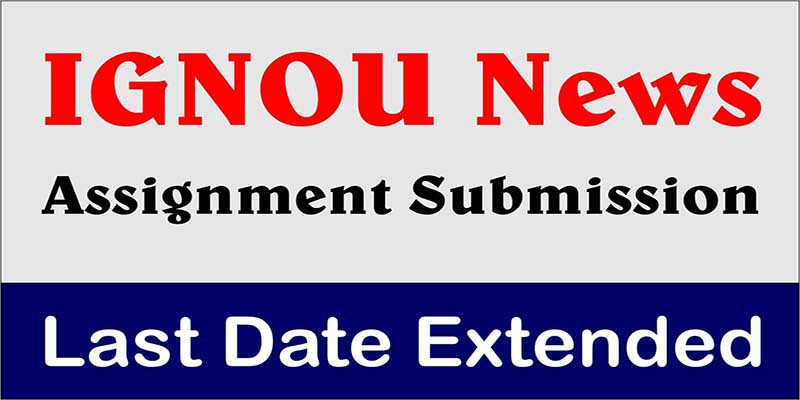 Published by : stepincollege
IGNOU Extends Assignment Submission June TEE 2021 Till April 30
Indira Gandhi National Open University (IGNOU) (TEE): The deadline for sending assignments for the June Term-End Review has been extended by the Indira Gandhi National Open University (IGNOU) (TEE). According to an official announcement, the new deadline for submitting assignments is April 30. According to the university, this extension would extend to all programs. Meanwhile, the deadline to re-register for the IGNOU January 2021 session is today, March 31. Re-registration forms can be submitted online at onlinerr.ignou.ac.in. IGNOU recently launched a new Course-by-Course Registration Qualification System (CRCS). Students would be able to participate in a particular course without having to enroll in the whole curriculum.
Deadline has been extended by IGNOU: The deadline has been extended by IGNOU due to the country's national lockdown to avoid the spread of the coronavirus. In addition, all IGNOU regional centers have postponed all learner support programs. In light of the country's lockdown to tackle the Covid -19 pandemic, the university has also agreed to accept scanned copies of handwritten assignments via email. This was accomplished by the university to make it easier for students to submit assignments. Students would be eligible to register for a single course or a limited number of courses under this system, "subject to a maximum of 16 credits." Candidates will also be able to pass credits obtained under the system by enrolling in any of the open university's programs, according to IGNOU. Candidates must register for the CRCS scheme at ignouadmission.samarth.edu.in. CRCS will be available in both admission periods.
On March 17, 2021, the Indira Gandhi National Open University (IGNOU) issued the Jan/July 2021 session assignments for all programs. The assignments are now available on the official ignou.ac.in the website. Assignments, Term End Tests, Project or Functional Examinations are all part of IGNOU's multi-tiered assessment framework. Every IGNOU student is required to complete and apply their assignments to the study center by the deadline. If a student fails to do so, he or she will be unable to take the IGNOU Term End Exams in June and December.