IIM Jammu to admit students after Class 12, Process of Selection | StepInCollege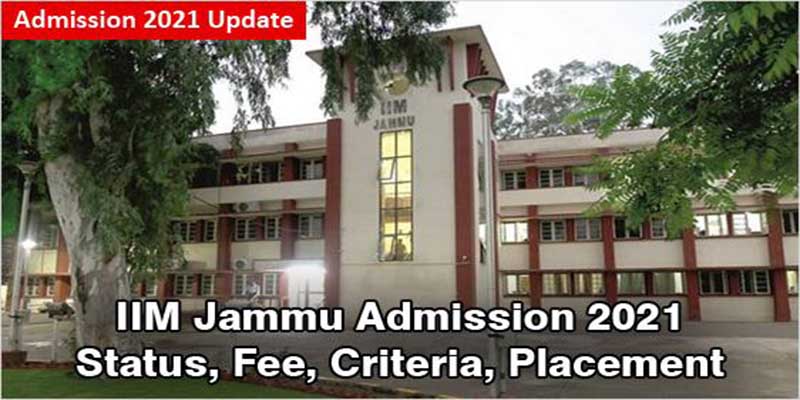 Published by : stepincollege
IIM Jammu to admit students after Class 12
IIM-Jammu 2021: To impart diversity and look beyond engineers in management classrooms, the Indian Institute of Management in Jammu (IIM-Jammu) announced Tuesday that it would accept students after Class 12 and initiate a five-year integrated program in management. "With the evolving nature of the business world and changing demands from business professionals, it is past time for business education to be provided in the early college space for the holistic growth of business professionals," IIM Jammu said.
Integrated Programme in Management course launch: The B-School announced the launch of an Integrated Programme in Management (IPM), a five-year intensive course designed to bridge the gap between undergraduate and postgraduate education, culminating in an MBA degree.
Director of IIM Jammu Announced: B.S. Sahay, director of IIM Jammu, announced that the National Testing Agency would administer a national entrance exam to select students for the program. Via the NTA, IIM Jammu and IIM Bodh Gaya will perform the test jointly. According to him, the five-year IPM was established in line with national education policy, and the integrated course's first three years will require multidisciplinary learning. The first batch of IIM Jammu's IPM program will have 60 students, with a supernumerary quota of 10 seats reserved for females. The entrance will be held in 78 cities across India on June 20.
Admission Policy for the Year 2021: IIM Jammu's approach to preparing the admission list for its IPM Batch 2021 is summarised in this paper. The batch size would most likely be in the 60s. IIM Jammu reserves the right to change any part of this document, including the requirements and cut-offs specified, at any time before the batch's admission process is completed.
Process of Selection:
The Joint Integrated Programme in Management Admission Test (JIPMAT), which will be administered by the National Testing Agency, is part of the IIM Jammu selection process (NTA).
Marks in 10th and 12th grades
The JIPMAT score, academic profile, and gender diversity will be used to create the Merit list.
Eligibility Criteria:
In 2019, 2020, or in 2021, the applicant must have passed Standard XII/HSC or an equivalent test. In 2017, or later, the applicant must have passed Standard X/ SSC or an equivalent test.
Qualifying Exams: Applicants must have a minimum of 60% in standard X/ SSC and standard XII/ HSC or similar examinations (55 percent for SC/ST/ PwD candidates). Candidates who are expected to finish standard XII/ HSC or equivalent by July 31st, 2021 are also eligible to apply.
Applicants obtaining their XII level at international schools affiliated with foreign boards such as the IGCSE (International General Certificate of Secondary Education) and the IB (International Baccalaureate) are also eligible to apply.