Mody University Placement - Campus visit 2021 – StepInCollege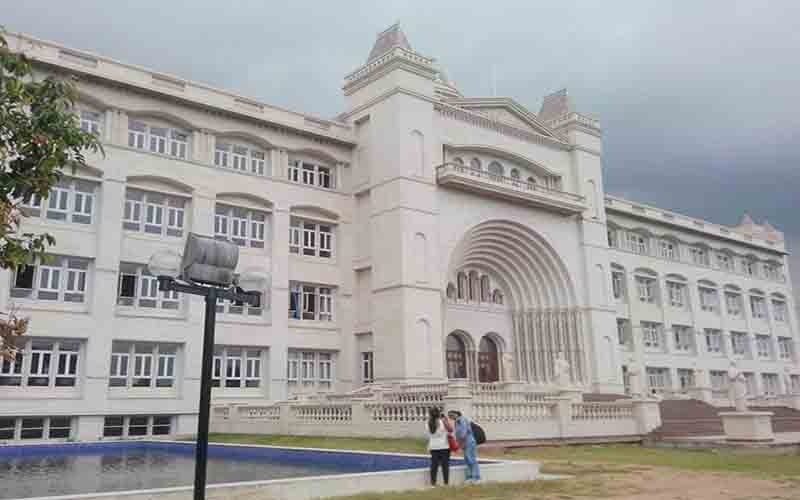 Published by : stepincollege
Mody University Placement
Mody University's CDC Facilities and Norms for the Campus Recruitment Process:
Recruiters are invited to participate in the Mody University, Lakshmangarh's Career Development Centre's Campus Recruitment Program for the Batch graduating in 2019. For more than 15 years, the Campus Recruitment Program, held every year in the penultimate semester of the program, has effectively met the needs of the top recruiters. The university strives to groom its students as highly qualified and skilled professionals capable of meeting the demands of rapid technological advancements in the industry while pursuing the best teaching-learning practices. During their studies at the university, they have frequent interactions with leading industry experts, which aid in honing their skills and preparing them for a good career in the industry.
The university is dedicated to the holistic growth of its students, and in order to achieve this aim, it provides a plethora of activities through clubs and societies such as Anhata, Enginium, Beacon, Karuna, and others.
CAMPUS VISIT- FACILITATION
Pre-visit Initiatives:
Early Pre-Placement Talks, Presentations, and other activities are encouraged and supported by the Institute. All job announcements, as well as any other materials issued by recruiters, are posted on the notice boards of students. Students apply in response to Recruitment Notifications, and their information is sent to recruiters in the form of an excel sheet. If necessary, soft copies of resumes are also forwarded via e-mail.
During the Campus Visit:
The Institute's auditorium is well-equipped for presentations with audio-visual equipment. The written tests that are part of the selection process are given enough space. Large halls with all amenities are kept available exclusively for this reason. Computer laboratories that are completely networked and wired to a 20 Mbps network are available for online tests. At any given time, more than 200 students will take the online exam.
On request, arrangements are made for on-campus lodging at the Institute's guesthouse, which is designed to meet all of the Institute's guests' needs. If necessary, the Institute may also arrange for pick-up and drop-off at the airport or railway station.
PLACEMENT NORMS
All students who have completed the Career Development Centre's registration process will have access to the placement service. If the placement process has begun, students will attend presentations by various organizations and then decide whether or not to participate in the respective selection process. Attending multiple selection processes is not prohibited as long as the times do not overlap. The student can go through the process for as many organizations as he or she wants before the first offer is made. The selection list shown by the company or offer letters given may serve as confirmation of the offer. A second opportunity may be available after 85 percent of a branch's students have been placed.
The CDC office is in charge of centrally collecting all bid letters, disseminating them, and delivering acceptance letters to the businesses.
ASSOCIATIONS
Mody University has established many value-added partnerships with various organizations, resulting in the establishment of specialized laboratories, the implementation of industry-suggested electives, internships, and scholarships, as well as funding for technical clubs. Accenture, Microsoft, Ericsson, Infosys Technologies, IBM, among others are examples of such partnerships.
Career Development Centre
Mody University has a centralized 'Career Development Centre' (CDC), which is comprised of a group of Young, Energetic, Goal-Oriented Professionals. The department works all year to help budding professionals at the university realize their aspirations and goals. CDC, on the other hand, leaves no stone unturned in this regard. The Career Development Centre (CDC) supports the community at large by grooming students and serving as an intermediary between industry and academia to streamline the placement and related process for students. A good Industry-Academic Interface is a sine qua non for a department like the CDC's performance.
CDC secured a range of 'Innovation Centres' for the University, in partnership with industry giants such as Microsoft, Accenture, IBM, and others, in order to make students 'Industry Ready' and broaden their 'Repertoire of Skills.' MoUs have also been signed with major players such as Ericsson, Accenture, Microsoft, Infosys, and others in the areas of 'Faculty Development Programs,' 'Sabbatical Programs,' 'Syllabus Restructuring and Upliftment,' 'Online Education and Certifications,' 'Multi-party Agreements,' 'Specialized Trainings,' 'Guest Lectures,' 'Workshops'.
The CDC works closely with all of Mody University's colleges to assist students in choosing the best career path for them based on their aptitude, flair, dexterity, and qualifications. It also helps students recognize and develop their academic and career interests, as well as set short- and long-term goals, through individual counseling and community meetings. Internships in reputable organizations are required of students during their pre-final year / final semesters. Many of them are chosen for foreign internships at various French universities, as well as CERN (European Organization for Nuclear Research), GSI, and other organizations.
With the support of its own in-house team and third-party organizations of national repute, CDC runs a 'Soft Skills' and 'Technical Skills' training and evaluation program. These classes' schedules are cleverly woven into the daily timetables of different programs, allowing students to evaluate and discover themselves during their course. Aside from that, during the year, experienced and accomplished professionals from various fields visit the campus to engage with students and share their industry experiences. Seminars, conferences, workshops, and other events are held on a regular basis to provide more immersive, complex, and informative learning. The beneficial outcome of the same is plain to see. Mody University has a stellar reputation among the top companies that come to campus to hire our students every year.
Amazon, Hewlett Packard, Accenture, Oracle, Capgemini, Honeywell, L&T Technology, IBM, Infosys, Ericsson, Vodafone, Idea Cellular, India Bulls, Trident, XL Dynamics, Jaro Education, Tommy Hilfiger, Capital Via, Bonton Cables, Bank of Baroda, Axis Bank, IndusInd Bank, Tech Mahindra, among others are among our frequent and illustrious recruiters. Aside from these, there is a slew of businesses that flock to our university. The exceptional placement record attests to our academic brilliance, vital assessment processes, and high student quality.
Objective

To aim for 100% placement of qualifying students from all of the university's colleges.
To develop students with a well-rounded collection of technical skills, interpersonal skills, and a positive outlook on life.
To serve as a single point of contact for career counseling and higher education.
Set up a Training Infrastructure to conduct value-added training programs and improve students' employability.
To serve as a seamless link between industry and the institute, providing high-quality technical manpower to meet the needs of any organization.
Rules & Regulations:

Students who are interested must register with the CDC department.
Students who are eligible for a placement drive must give their consent to the Career Development Centre before attending the drive; otherwise, the applicant will be marked absent for the drive.
Students who fail to attend the placement drive after giving their consent to do so, whether on or off-campus, will be harshly warned, and if they do so again, they will be barred from completing the next two campus drives.
Students should wear formal attire and bring hard copies of the following documents:

The resume that has been updated
If applicable, a hall ticket
Photographs in Passport Size
Photocopies of relevant records that have been properly attested
Card of Identification for the Institute

All activities should be attended to on time by the students.
All questions about placement drives, for example, will be answered by the Career Development Centre officials or Placement Coordinators (Faculty Coordinators or Student Coordinators).
During the placement drive, no student is permitted to contact Industry Executives 3directly.
Criteria for Minimum Eligibility: (For illustration and better understanding)
A. Mass Recruiting Companies (Circuit Branch Companies):
A minimum of 60% in 10th, 12th, and Graduation (or Post-Graduation) / 65 percent overall in academics is needed.
At the time of the Campus Recruitment Process, there should be no backlogs.
B. Specialty / Boutique / Niche Businesses:
Minimum of 65 percent, 75 percent, and 80 percent in 10th, 12th, and graduation classes (or Post graduation)
At the time of the Campus Recruitment Process, there should be no backlogs.
All of the exams should have been passed in one sitting.
There should be no difference between the 10th and 12th grades.
Graduation or no more than one year between 12th and graduation
C. Companies in the Core Group:
Minimum of 65 percent / 70% in 10th, 12th, and graduation (or Post graduation)
At the time of the Campus Recruitment Process, there should be no backlogs.
All of the exams should have been passed in one sitting.
There should be no difference between 10th and 12th grades and graduation. Around 12th and graduation, there should be no more than one year between them.
INDUSTRY-TO-INDUSTRY INTERFACE:
CDC's team is involved in a variety of training, placement, and growth programs for students throughout the year, such as Soft Skills Training, Conferences, Workshops, Technical Training, and Career Guidance, to name a few. It serves as a link between the industry and the Institute, providing high-quality technical personnel to meet the needs of any organization.
It aspires to:
To encourage close contact between our faculty members and industry experts, such as through Faculty Development Programmes, Workshops, Seminars, and other means, so that our faculty members can acquire first-hand knowledge of industry requirements and, as a result, our students can be groomed to be 'Industry Ready' by the time they graduate.
To obtain industry support for students' knowledge enhancement and enrichment through various co-curricular activities such as conferences, workshops, guest lectures, and so on.
Collaborations on Projects: To look into the possibility of working on a project with the industry. After the project is completed, it will be passed to the appropriate faculty.
To organize a variety of student training programs, such as:
Onboard training
On-Campus training
Remote Internship
Attend a Webinar
Post-Selection Instruction
The concerned business has set up an on-campus laboratory.
Our university has a system in place.
To plan the internship for the semester.
To create a timeline for the Campus Recruitment Process.
With the support of the respective faculty and student coordinators, organize the Campus Recruitment activities.
Industry Initiatives of Note:
Campus Connect by Infosys
Empower Ericsson is a program run by Ericsson.
Course Elective at Ericsson
Course Electives at IBM
The Accenture Online Program is a service provided by Accenture.
Electives in Industry
Faculty Development Programs in Industry
Certification Programs for Students
Webinars and Distance Learning Programs
Laboratories Supported by Industry:
The Accenture Innovation Centre
Specialty Laboratory at IBM
MOUs Signed With:
Accenture
Infosys
Ericsson
IBM
International Universities Tie-ups:
Stony Brook University, USA
University of Missouri, USA
University of North Texas, USA
University of Rosario, Colombia
Florida International University, Miami, USA
Carleton University, USA
GSI, Germany
Universite de Nantes, France
Research Centres:
CERN, Geneva, Switzerland
Industry-Specific Programs / Electives:
In collaboration with IBM, B. Tech. in Computer Science and Engineering with a specialty in Big Data Analytics.
In collaboration with IBM, B.Tech. in Computer Science and Engineering with a specialization in the Internet of Things
In collaboration with IBM, B.Tech. in Computer Science and Engineering with a specialization in Cloud Computing.
In collaboration with IBM, B.Tech. in Computer Science and Engineering with a specialization in Internet Security.
Campus Connect, powered by Infosys, uses mobile technology.
Campus Connect, driven by Infosys, is an example of agile technology.
RAN (Advanced Radio Network) – Ericsson
Campus Connect by Infosys
Campus Connect, powered by Infosys, is a cloud computing solution.
Placements Record
Placement Record for School of Fashion and design
In the year 2019, we graduated our first class of B. Fashion Design and M. Fashion Merchandising students. For this batch's internships and placements, our students had the opportunity to work with 25+ Indian designers and textile firms, with some of the most well-known names including:
Batch 2019- 20: Ratan Textile Aman Exports, Gauri & Nainika, Nida Mahmood, Wrickie Angrish, Soma, Suti, Craft Roots, MaaM Arts, SARC Originals, Varija Design Studio, Nautanky by Nilesh Parmar, etc, Brand Pero, Urvashi Kaur - Designer, Khara Kapas, Pearl Global Industries Ltd, Nitin Bal Chauhan, Fabric Trades, Cheer Sagar Exports, Three Clothing, Uniqlo Japan, Reliance Brands, Arvind Lifestyle Brands Ltd, Bestseller Retail India Pvt. Ltd, Triveni Ethnics, McKenzie Chennai
In the year 2019, we graduated our first class of BID students. 15+ Interior Designers and Interior Designing Firms offered opportunities for this batch's (16 students) internships and placements, including the following notable names: Pratap Jadhav & Associate, Pune, Sahil & Sarthak, Delhi, D+R Design, Bengaluru, Payal Kapoor, Delhi, M.G. Designs, Ahmedabad, Bhoomi Designing Earth, Chandigarh Sparsh Design Studio, Rajkot, Mr. Apurv Baid, Jaipur, J.D. Interiors, Raipur, Sfurna Designs, Bharuch, Ideas, Ahmedabad, Vision Interiors, New Delhi, Sfurna DESIGNS, Bharuch in DESIGN, Ahmedabad, DESIGN INC., Jaipur, ATELIER '10 DESIGN STUDIO Jaipur, Chitte Architects & Associates Vadodara, The Forms, Jaipur, Design Qube 95, Jaipur
Batch 2018- 19
| | |
| --- | --- |
| Internship Recruiter | No. of Selected Students |
| Aman Exports | 3 |
| Ratan Textiles | 5 |
| Nautanky | 1 |
| Brand Pero | 2 |
| Urvashi Kaur - Designer | 1 |
| Khara Kapas | 1 |
| Pearl Global Industries Ltd. | 1 |
| Nitin Bal Chauhan | 3 |
| Fabric Trades | 2 |
| Cheer Sagar Exports | 1 |
| Three Clothing | 1 |
Internship
School of Law
Prominent Recruiters
(BA / BSc/ BBA / B. Com. LLB)
Name of the Company

QuisLex

Trans India Law Associates

Law Intellect India

Morgan Walker Legal Services Private Limited

King Stubb & Kasiva

Sharma & Associates, Allahabad

Advocate Kapil Gupta

Advocate Amarjit Singh

Kings & Alliance

Juris n Juris

Praveen Pathak & Associates

Chiramel & Co., Solicitors & Advocates

S Kakrania

Legal Ratna, Lucknow

Demeterali Legal

ASC Solicitors & Advocate

M R Sureka & Co., Mumbai

R Ginodia
School of Design
Prominent Companies for Internship
(BFD, BFLAD, BFM, MFM, BID)
Name of the Company

A.S. Cotex Clothing Company pvt ltd

Gulaal Creations

Ananta Interiors

House of Mandoth

Asmara

Innoire Design Studio

Atelier '10 Design Studio

Kalpkriti Tatva Design Studio

Baysick

Matrix Clothing Pvt Ltd

Bella Casa Fashion Ltd

Nida Mahmood

BG Associates

Orange Marketing

Cheer Sagar

Pantaloons

De Cave, Chitte Associates

Pawan Entreprises

Design Solutions

PDS Multinational Fashion Ltd

Dhora India

Pero

Future Group

Pink City Jewellery

Gilwood Fashions pvt ltd

Ratan Textiles

Growisto

S.B.L. Construction Pvt. Ltd.

Shahin Mannan design house

Sapphire Studio

Surubhi Garments

Scroll Mantra

Vision

-
School of Business
Prominent Companies for Virtual Internship
(MBA 2021 Passing out Batch)
COMPANY (INTERNSHIP)

BlueBoards

Her Travel / KioMoi

ThiinkEqual

Success Anchors

Made By Her

MindsNetwork

BlueBoards

MangnificientU

Vkonnect

Vkonnect

Made By Her, Operations Smile

BlueBoards

Winds beneath the wings

Kalaneca, Vkonnect

Vkonnect

KioMoi

Vkonnect

Her Travel/Kiomoi

Kalaneca

Surwahi Social/KioMoi

BlueBoards

Winds beneath the wings

Vkonnect

Success Anchors

Aspire for her

Vkonnect

Vkonnect

MindsNetwork

Concourse Consulting

Goodlead Consulting
School of Architecture
Prominent Companies for Internship
(B. Arch.)
Name of the Company

Ingrain

Renu Khanna & Associates

Samdeep Padora and Associates

Architect Hafeez Contractor

Thakkar Associates

Crystal Arch

Director Development Authority

Kimaya Associates

99 Studio

Design Workshop

Bunil Patel & Associates

-
Details of Package and Stipend Offered to the Students
Package

in Rs. LPA

Max. Stipend (in Rs. Per Month)

Min Stipend (in Rs. Per Month)

SET

Maximum

Minimum

Average

22.37

3.50

4.75

70, 000

15, 000
BATCH 2018 - 19
| | |
| --- | --- |
| B. Tech. CSE | 82.61 |
| B. Tech. ECE | 68.42 |
| B. Tech. EE | 66.67 |
| B. Tech. ME | 100.00 |
| B.Tech. (BME) | 100.00 |
| MCA | 40.00 |