LLM (Constitutional Law) at Amity University Jaipur, Course Curriculum & Syllabus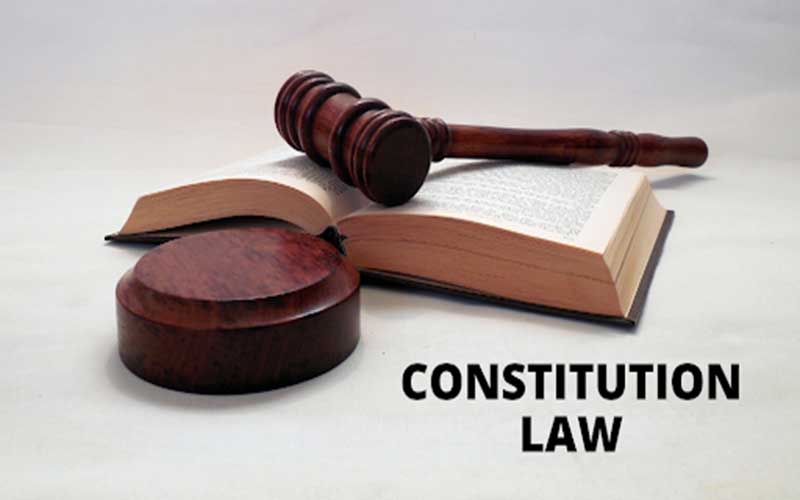 Published by : stepincollege
LLM (Constitutional Law) at Amity University, Jaipur
LLM Constitutional Law is a postgraduate degree that focuses on the Indian Constitution's laws and values. This program lasts for 1 year. The LLM in Constitutional Law is one of the most important LLM courses in India, as it covers every aspect of the Indian Constitution from top to bottom. Theories and Principles of Constitutional Interpretation, System of Governance, Federalism, Judiciary Independence, and other fundamental themes for this course should be recalled. The course also takes a step-by-step look at the entire Indian Constitution. LLM Constitutional Law will also prepare understudies in Jurisprudence and Human Rights-related legislation, as well as environmental and land acquisition-related laws, in great detail. Following completion of this course, competitors would be able to investigate the different components of our constitution, apply them in real-life contexts, and derive conclusions from the equivalent. Graduates of the LLM Constitutional Law program have a sincere understanding of the constitution's image, soul, and picture. Candidates for constitutional law gain a broad understanding of the Indian constitution. As a result, they are being given positions as both attorneys and legal officers.
They are employed as legal officers because they are well-versed in the laws that control the government's and federal system's operations. These candidates are also hired as legal counsel by several top firms, including MNCs and Corporate Houses. These candidates are hired by both the government and the private sector. If they don't want to work, these applicants will practice on their own in different courts. Candidates with an LLM in Constitutional Law can also write on different constitutional issues for various legal journals. They are often approached to write for different newspapers and television outlets.
Eligibility Criteria for LLM (Constitutional Law)
Applicants must have received a minimum of 50% in their LLB from a recognized university in order to be considered.
Selection Proces for LLM (Constitutional Law)
Personal Interview based on merit and success in the English Language Test
Program Fee for LLM (Constitutional Law)
1st Year Non Sponsored Semester Fee (Rs. in Lacs): 31,000
Duration for LLM (Constitutional Law)
This program will take 1 year to complete.
Course Curriculum Syllabus for LLM (Constitutional Law)
| | |
| --- | --- |
| Semester 1 | Semester 2 |
| Research Method & Legal Writing | DISSERTATION |
| Comparative Public Law / System of Governance | TUTELAGE |
| Laws and Justice in a Globalizing World | Judicial Review |
| ANANDAM-I | Minorities Law |
| Fundamental Rights, Fundamental Duties and Directive Principles of State Policy | center-state Relations and Constitutional Governance |
| Local Self Government & Federal Government | Comparative Administrative Law |
| - | ANANDAM-II |
Scholarship Eligibility for LLM (Constitutional Law)
Criteria for 100% Scholarship
Students in CBSE/ ISC/ State Boards in Class XII must achieve a minimum of 93 percent in aggregate and 80 percent in graduation.
Physical Education, Fine Arts, Performing Arts, Vocational, and non-written subjects are not included in the total.
Criteria for a 50% Scholarship
Minimum of 88 percent in aggregate in CBSE/ ISC/ State Boards Class XII students and 75 percent in graduation
Physical Education, Fine Arts, Performing Arts, Vocational, and non-written subjects are not included in the total.
Placements:
Candidates who wish to practise independently as legal advisors can register with either of India's courts. An person doing free practise can earn anywhere from INR 2,00,000 to INR 12,00,000 or significantly more, depending on the abilities of the up-and-comer. The employability of LLM Constitutional Law applicants will also be determined in large part by the competition's aptitude and general information. Aside from independent practise, LLM Constitutional Law candidates may apply for a variety of positions. Along with the standard yearly compensation, some of them are mentioned in the table below.
Job Profile
Government Lawyer
Corporate Lawyer
Legal Advisor
Legal Officer
Legal Writer
Legal Editor
With the help of specialist institutions, we hope to train the brightest minds to contribute to nation-building through their skill sets. Several notable organizations have successfully put our students.
Top Recruiters
| | |
| --- | --- |
| EXL Services limited | DMD Advocates |
| FHS Law, Dubai | IndusLaw |
| Ashiana Housing | inttl AdvoCare |
| Amicus Legal, Jaipur | Jsa |
| Chir Amrit Legal, Jaipur | Kaeanjawala & Company Advocates |
| Hemant Sahai Associates (HSA) | Luthra & Luthra Law Offices |
| Innodata, Noida | Wadia Ghandy & Co. |
| Schoogle | Nishith Desai Associates, Mumbai |
| M. V. Kini, New Delhi | Mind Merchants |
Internship Program:
According to Section 25 of Schedule III (Part IV) of the BCI Rules, each enrolled B.A., LL.B student must perform a minimum of 20 weeks of internship during the course. Internship Programs at leading law firms/NGOs, Advocates, and Judges around the country are supported by the University. The aim is to provide the student with an awareness of how legal luminaries actually function and the difficulties they face. Students gain expertise in legislative drafting, opinion writing, client consulting, observation, administrative and criminal procedure, regulatory review and interpretation, and implementation and compliance of regulations with the help of professional mentors in law firms or legal organizations. Students are required to gain an understanding of the legislative, administrative, and judicial authorities' methods and roles through their work and class discussions.
Moot Court
An Interface Platform: The Amity School of Law has a Moot Court that can seat 300 students and is modeled after a real court. Law students use it to conduct virtual court sessions in which they discuss cases as part of their studies. The moot court is completely air-conditioned and soundproof, making it an excellent learning environment for law students.
Application Procedure
Students who achieve an average of 80 percent or higher in Class XII (CBSE/ISC/State-Boards of 2019/2020) are excluded from the selection process. Only the Amity Application Form will be used to make the final decision. Application Forms Are Available.
The Admission Form will set you back Rs. 1,100/-.
Advantage Amity Law School:
Amity Law School encourages exploration and creativity, as well as practical learning through real-world projects, in order to help law students grow holistically. Its goal is to develop experts in a variety of areas of law, including litigation, corporate law, arbitration and mediation, drafting legal instruments, policymaking, science, and academics. ALS is made up of experts and business representatives from all fields of law who assist in the comprehensive training of students. Law as a career and a discipline have become increasingly common among students, particularly after the implementation of a five-year law program. In the global economy, law students serve as policy planners, business advisors, interest group negotiators, specialists in the articulation and communication of proposals, mediators, lobbyists, law reformers, and advocates, among other roles. Our academic curriculum has been enhanced with an interdisciplinary approach to cultivate qualified law professionals of the next generation, keeping in mind the changing roles of law professionals. ALS's curriculum also includes Value Added Courses such as Foreign Language, Behavioral Science, and Communication Skills.
Students' articulation of reasoning, drafting, collaborative skills, persuasive and negotiation skills, and time management skills are all areas where we concentrate at ALS. ALS also gives students the opportunity to innovate by allowing them to combine cutting-edge legal theory with real-world practical skills.
ALS hosts guest lectures, forums, seminars, conferences, and faculty development programs on a regular basis to keep students informed about changing legislation, legal careers, and sociolegal achievements. Guest lecturers include distinguished judges, eminent jurists, policymakers, high-ranking civil servants, and public figures. Amity Law School is a thriving academic culture thanks to its creative pedagogy and hands-on experience.
Throughout the year, Amity Law School hosts field trips and business tours. They are some of them.
Visits to the High Court, District Court, Tribunals, and Central Jails are made on a regular basis.
Competitions in moot courts, legal quizzes, lectures, and legal aid camps are all available.
Internships and training programs in reputable law firms, senior attorneys, and corporate houses are available throughout the summer.
Expert advice on judicial exams and entrance exams.
Study Abroad Program: At the undergraduate level, the Study Abroad Program (SAP) is also available. It assists students in learning about legislation, executive actions, global cultures of various countries, and international laws in a variety of domains. Students will have the ability to associate with international faculty and work on specific projects under their supervision.
Salient Features - Amity Law School, Jaipur
Pedagogy for teaching: The teaching pedagogy used in the Degree programs is designed to encourage multidisciplinary inquiry and practical problem-solving. Lectures, discussions, case studies, Moot Courts, and project work are also used in the classroom. Each student receives a collection of reading materials at the start of the semester that includes the course outline, teaching schedule, reading lists, and a substantial amount of study materials for each course. They are made up of case studies, court rulings, documents, and study extracts.
BCI Approved Curriculum: The curriculum is structured and revised in compliance with the Bar Council of India's (BCI) standards.
Visits: Moot Courts, District Courts, and Legal Aid visits provide practical experience.
Training sessions: Sessions on access to databases such as SCC Online, Manupatra, All India Reporter, EBSCO, and others are held on a regular basis.
Enhancement of Professional Skills: Courses deliver subjects such as communication and soft skills, foreign languages, and a choice-based credit system (Certificate courses) to improve personality and employability in addition to the core curriculum.
Exams for Competitive Positions: The curriculum is structured to help students prepare for a variety of competitive exams.
Interactions with experts: Expert lectures are given on a regular basis by renowned academicians, jurists, and legal luminaries who are invited to engage with students from all over the world.
Courses with Added Value: Personality Development Programs and Behavioral science courses are available, as well as seminars led by leading professionals.
100% Backing for Placements
Debating and advocacy abilities: Clinical Legal Education courses are taught by combining classroom instruction with simulation activities. Furthermore, numerous contests are proactively included in the operation of academic programs in order to promote debating and advocacy skills in young budding legal professionals.
Clinic for Legal Aid
A one-week military training program is required.
SAP is a Program that is accessible.
Infrastructure: The School has excellent infrastructure to meet the needs of legal education, including the following:
- A cutting-edge Moot Court and Seminar Room, as well as projector-equipped classrooms and a computer lab.
- A world-class library with the most up-to-date collection of law books, manuals, and online databases subscriptions such as SCC online, Manupatra, All India Reporter, EBSCO, and others that are easily available to students.
Institution: Amity Law School
Amity Law School Since 2008, Amity University Rajasthan (AUR) has been on a long journey to achieve quality education, intuitive recognition of creativity, and sparkling success, with a vision to inspire brilliance in the field of legal education and to meet India's ever-increasing demand for quality legal professionals for a rising legal environment. It aspires to a holistic approach in which students' learning experiences are not only illuminating but also elevating and relaxing. The institute is dedicated to pursuing multidisciplinary approaches through its unique curriculum, which is intended to provide students with broad exposure to domestic, foreign, and comparative law topics. Amity Law School, AUR has a world-class faculty, a student-centered approach with a global outlook, and an open and safe learning climate. It has distinct characteristics that enable it to serve as a catalyst and facilitator in preparing students for the best career opportunities in the competitive field of law.
Amity University's Changing Role: It is the forum for students who imbibe learning as a way of life and who are accessible to the world and the changing role of higher education, with students coming from all over the country and faculty coming from prestigious institutions as well industry. We create a welcoming environment where students and faculty members can engage throughout the learning process.
Law school Established to meet legal profession, law teaching, and research: The law school was established to meet the needs of the legal profession, law teaching and research, and the judiciary, and it is anticipated that students who study here will eventually become legal practitioners, law teachers, conduct legal research, or join the judiciary. We hope to instill a humanistic approach, entrepreneurial spirit, creative vision, and intellectual emphasis in our future leaders so that they can have a positive impact on society. Our multidisciplinary learning approaches have paid off, with our graduates breaking new ground in their respective fields. We are proud of our status as one of the fastest-growing law schools in the northern parts of the world, but we do not see it as defining us; what defines us is our liberal perspective, in which legal education is imparted in an interdisciplinary manner. As a result, there is overlap in the creation and execution of the curriculum in different degree courses between the fields of law, social sciences, humanities, and management studies.
Making itself socially relevant and technologically advanced, ALS prepares lawyers to serve as policy planners, business advisors, interest group negotiators, specialists in proposal articulation and communication, mediators, lobbyists, law reformers, and advocacy practitioners. The ALS provides a multidisciplinary amalgamation of fields with a mix of applications that nurtures practitioners who can work in dynamic arenas, owing to the changing roles of law professionals. The Law School has aided a significant number of students in developing an analytical mentality and a desire to succeed in the legal profession.
ALS Institute provides variety of undergraduate and postgraduate programs: The institute provides practical studies through a variety of undergraduate and postgraduate programs, all of which feature comprehensive student-centered pedagogies that result in excellent learning outcomes. Mock trials, Model United Nations, legislative hearings, institutional workshops, lectures, mentor-mentee meetings, and project-based educational conferences produce diverse and constructive graduates with lifelong learning capacities. ALS provides a rare combination of solid classroom instruction from reputable faculty and critical legal review of benchmark decisions and case studies. During moot courts, models, and Model United Nations, students learn the practical application of law from legal experts, High Court judges, senior attorneys, tax consultants, and legal advisors in state departments, among others. The department has a well-stocked library of more than 4000 books and law journals.