Ph.D in Management Course at Amity University Jaipur, Course Curriculum & Syllabus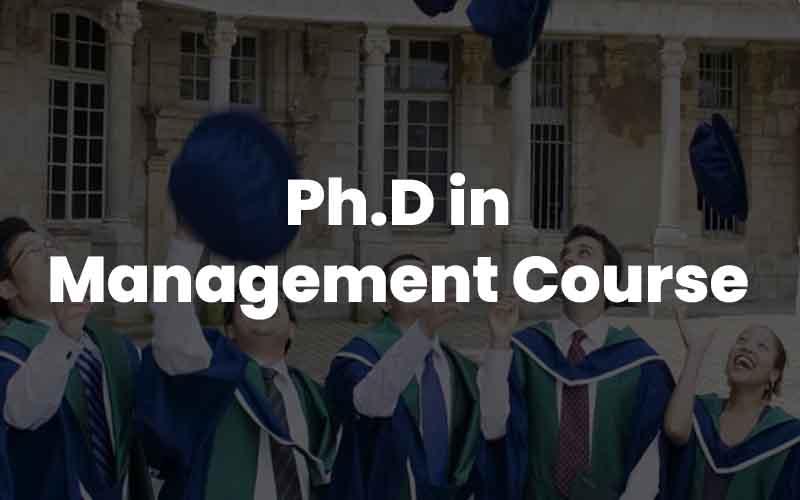 Published by : stepincollege
PhD Management Course at Amity University, Jaipur
Ph.D. in Management Studies is a 3-year full-time doctoral program split into six semesters. Candidates will gain a background in human resource management and organizational behavior through this curriculum. A doctorate program in management studies provides a brief overview of the essential management skills involved in structuring, preparing, leading, and managing an industry. This course will assist candidates in comprehending organizational management. It teaches students how to diagnose and recommend solutions to organizational and managerial issues. This course gives students the skills and experience they need to land successful jobs in a variety of organizations. They prepare students to learn how to manage organizations, how organizations operate, and how to communicate with local and national organizations in this course. Human resource management: Students learn about the principles of managing people in organizations in this subject. Job research, employment law, international human resources, and employee relations are among the skills that students learn. Through debating some theoretical elements, organizational behavior incorporates classic arguments and debates.
Students gain management expertise by researching an issue in the market, finding a solution, and reporting on it. This course helps students develop the skills they'll need to adjust to evolving business conditions in the future. This course will provide participants with a straightforward path into the job market in order to progress their careers.
Eligibility Criteria for PhD Management
A master's degree in the related field with a minimum of 55 percent or equivalent grade is required.
Selection Process for Ph.D. Management
Ph.D. Entrance Exam Score
Candidates who have passed the UGC NET / CSIR / ICAR (ASRB) / GPAT / ICMR / GATE in the previous two years are excluded from the written exam.
Ph.D. programs are open to candidates who have completed an M.Phil. in the related subject.
An applicant for admission to the Ph.D. program must have a cumulative grade point average of 60 percent or higher in 10th, 10+2, and Bachelor's Degree.
For the Ph.D. in Commerce, candidates with ICWAI/ICSI from the "University of Chartered Accountants of India" (ICAI) with a minimum of 55 percent will be considered.
The admissions process for the Ph.D. program is held twice a year, in January and July.
Program Fee for PhD Management
1st Year Non Sponsored Semester Fee: Rs. 42,000
Program Fee for PhD Management (Part-Time)
1st Year Non Sponsored Semester Fee: Rs. 27,000
Duration for PhD Management
This curriculum will take 3 years to complete.
Duration for PhD Management (Part-Time)
This curriculum will take 4.5 years to complete.
Course Curriculum Syllabus for PhD Management
Semester 1
Research Methodology
Review of Published Research Work
MANAGEMENT CONCEPTS & ORGANISATIONAL BEHAVIOUR
STRATEGIC MANAGEMENT
Course Curriculum Syllabus for PhD Management (Part-Time)
Semester 1
Research Methodology
Review of Published Research Work
Research & Publication Ethics
Empirical Finance and Banking
Essential Readings in Marketing
Applied Statistics and Econometrics
Management Concepts and Organisational Behaviour
Strategic Management
Career Prospects for a Ph.D. in Management
A management course will teach you how to work in industries such as retail, marketing, finance, and sales. Marketing managers, strategic managers, financial managers, human resource managers, and operational managers are among the management specializations available to these graduates. Top multinational corporations also have work opportunities for these graduates. They can also continue their careers in another country. Consulting, general management, entrepreneurship, operation management, marketing markets, and strategic management are all fields where these practitioners can work. Investigo recruitment agency, fuel recruitment agency, and executive intern management are some of the hiring firms that employ these professionals.
Graduates with job experience will improve their teamwork, marketing, and business skills. In both the public and private sectors, there are several openings in research positions for graduates. They can start their own consulting firm, which would be a good career choice for an entrepreneur. They may also choose to learn management skills in order to gain experience in developing their own marketing tools.
These experts carry out the following tasks:
Organizing
Planning
Forecasting
Researching
Forecasting
Marketing the product etc.
Fellowships at the Amity
The Amity Science, Technology & Innovation Foundation (ASTIF) grants Fellowships to brilliant young scholars and scientists as part of its Nation Building activities. Fellowships are available in all disciplines and there is no limit on the number of people who may apply. For more information, go to www.amity.edu/astif/astifnew/.
Fellowship Eligibility for Ph.D.
The applicant must have a perfect academic record up to and including a Master's Degree from a reputable college or university. Only those applicants who have not earned a fellowship from another organization and who have made significant progress in their research work since enrolling in Amity's Ph.D. program will be considered for the ASTIF Fellowship.
Institute: Amity Business School
Amity Business School (ABS), established in 2007, is one of the leading institutions in the field of management studies, imparting expertise to develop visionary leaders with strong ethical values. With so many start-ups making progress and contributing to the country's development and economy, Management Education appears to be highly promising. These companies are dedicated to innovation and best-in-class industrial implementation, as shown by a group of thought leaders. ABS aims to achieve academic excellence through business integration, experiential learning, creative pedagogy, and science, keeping in mind the needs of the industry in this era of disruption.
Students are most interested in undergraduate programs such as BBA and B. Com (Hons.) and postgraduate programs such as MBA and M. Com. The school's Doctoral Program has also been able to pique the interest of aspirants, proving to be a huge success. ABS programs help students find their way to success by putting theory into effect, finding and implementing novel solutions to real-world challenges, and improving their core competencies.