Ph.D. in Spanish Course at Amity University Jaipur, Selection Process, Selection Process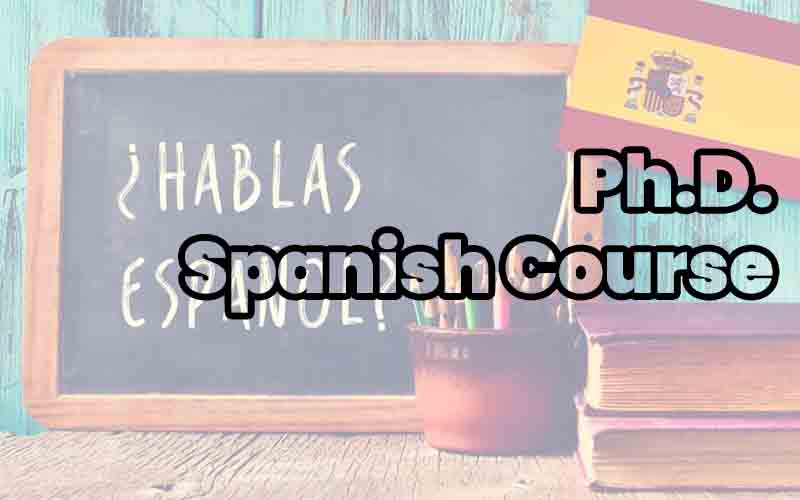 Published by : stepincollege
Ph.D. Spanish at Amity University, Jaipur
Ph.D. in Spanish is a also known as a Doctor of Philosophy in Spanish, is a doctoral-level course that duration 3 years. The Spanish Ph.D. program is designed to produce professionals who are fluent in the Spanish language, both in writing and speaking. Professionals who complete this course will not be afraid to speak Spanish in any related area. A Spanish Ph.D. course aids a student's learning of a foreign culture. This is the best course for those interested in working as a language translator or creating online material. Students interested in working in foreign embassies can obtain a Spanish Ph.D. This course also aids students who wish to settle in another country. This course is extremely useful for acquiring a variety of skills, including logical, analytical, and communication abilities.
Eligibility Criteria for Ph.D. Spanish
A master's degree in Spanish with a minimum grade point average of 55 percent or an equivalent grade point average is required.
Selection Process for Ph.D. Spanish
Score on the Ph.D. Entrance Exam
The written exam is not open to candidates who have passed the UGC NET / CSIR / ICAR (ASRB) / GPAT / ICMR / GATE in the previous two years.
Candidates who have completed an M.Phil. in the relevant subject are eligible for Ph.D. programs.
A combined grade point average of 60 percent or higher in 10th, 10+2, and Bachelor's Degree is required for admission to the Ph.D. program.
Candidates for the Ph.D. in Commerce must have an ICWAI/ICSI from the "University of Chartered Accountants of India" (ICAI) with a minimum of 55 percent.
The admissions process for the Ph.D. program takes place twice a year, in January and July.
Program Fee for Ph.D. Spanish
1st Year Non Sponsored Semester Fee: Rs. 42,000
Program Fee for Ph.D. Spanish (Part-Time)
1st Year Non Sponsored Semester Fee: Rs. 27,000
Duration for Ph.D. Spanish
This curriculum will take 3 years to complete.
Duration for Ph.D. Spanish (Part-Time)
This curriculum will take 4.5 years to complete.
Course Curriculum Syllabus for Ph.D. Spanish
Semester 1
Research Methodology
Review of Published Research Work
Research & Publication Ethics
Spanish Studies
Literary Theory & Criticism
Fellowships at the Amity University
The Amity Science, Technology, and Innovation Foundation (ASTIF) grants Fellowships to promising young scholars and scientists as part of its Nation Building initiatives. Fellowships are available in all disciplines, and there is no limit on the number of individuals who may apply. For more information, go to www.amity.edu/astif/astifnew/.
Eligibility for a Ph.D. Fellowship
The applicant must have a perfect academic record, up to and including a Master's Degree from a prestigious college or university. The ASTIF Fellowship will be awarded to applicants who have not previously earned a fellowship from another institution and have made significant progress in their study since enrolling in Amity's Ph.D. program.
Placements
ASL graduates are highly qualified, experienced, and sought after by a variety of academic and corporate sectors. ASL graduates have been hired as content authors, translators, and instructors, among other positions. In order to transform vision into practice, the institute aims to create the right environment and strike a balance between imagination and information dissemination.
With the help of specialist institutions, we hope to train the brightest minds to contribute to nation-building through their skill sets. Several notable organizations have successfully put our students. Through the initiatives and activities of the Placement Cell, ASL's contribution to grooming knowledgeable practitioners in the fields of language, literature, and culture studies finds meaning and speech.
Top Recruiters
Vidhiaagaz
Direct Dialogue
Vervelogic
ACF
Times
Indian Institute of Code Network & Security
Collegedunia
JDBINFOTECH
Phia
NETTV4U
Amity School of Languages
Language learning was once regarded as merely a pastime, but as the world becomes more interconnected, learning a language other than English has become a necessity. Advances in technology have given us the opportunity to communicate regardless of where we are in the world, emphasizing the value of learning a foreign language. The wonderful thing about languages is that they can be used for more than just communication. They can also be used to connect with others on a cultural level.
Similarly, Amity University Rajasthan founded the Amity School of Languages (ASL), a school for language learning under the Faculty of Humanities, Social Sciences, and Liberal Arts. Amity School of Languages has been committed to providing international exposure to students from all walks of life at Amity University Rajasthan, Jaipur, since its inception in 2007.
In addition to providing daily classes for the provided courses, the Institution also offers regular Foreign Languages classes to all AUR departments, with the choice of choosing from French, Spanish, German, or Chinese.
Behavioral sciences, business communication, and personality development are taught as separate subjects in each semester by separate specialized faculty members, and each student receives a certificate upon successful completion of these subjects as well as the degree program. Nonetheless, ASL provides students with evening Foreign Language Learning classes.
The institution has highly trained and experienced faculty members with extensive industrial and academic experience to train students according to language learning and teaching requirements and standards. ASL strongly promotes full industry interaction by hosting guest presentations, workshops, seminars, and conferences on a regular basis.
These opportunities and forums offer students the most industrial visibility possible, thanks to MoUs signed by the Institution. Students receive hands-on instruction from the institution by having the ability to practice after class; special evening courses are offered to those who are interested.
The Industry Advisory Board (IAB) ensures that students are placed in reputable relevant businesses. The institution's graduates are involved in a variety of academic and corporate settings. During the campus placement drive, 95 percent of students obtain work offers on average.
In ASL, a lot more happens, which benefits the students' overall growth.
Advantage - ASL
ASL has a well-equipped Language Laboratory with Rosetta Stone, the most up-to-date foreign language learning software.
Language Laboratory offers complete immersion in foreign languages, making it easier to learn verbal skills.
Our corporate research cell (CRC) is proactive in putting on professional development programs for young and entrepreneurial students. The department also hosts seminars and training programs, encouraging students to pass international certification exams (A1, A2, B1, B2) for languages recognized as global and lifetime accreditation under the Common European Framework of Reference (CEFR).
Collaborations and training/visits: ASL, in cooperation with the Directorate of International Affairs (DIA), organizes a number of international visits to expose students to international debates and discussions. The Study Abroad Program (SAP) is working hard to strengthen international relations with universities and institutions around the world. ASL has Exchange Programs with Sciences Po Bordeaux, France, Rennes School of Business, France, and Universidad de Los Andes, Chile, to its credit as of today.
In accordance with UGC guidelines, ASL has implemented a Choice Based Credit System since 2015, in which students choose a "Minor Track" from a menu of courses ranging from Basic Psychology, Tropical Meteorology, Photo Journalism, Corporate Communication, and Event Management.
In the evenings, ASL offers international qualification coaching courses to all candidates.
All university students can take a Value Added Course in Foreign Language offered by ASL.
ASL offers Minor Track Programs in English Literature, French Studies, Shakespearean Literature, Spanish Studies, and Chinese Studies through the CBCS system.
Twice a semester, the Cine Feel Foreign Language movie projection provides Foreign Language students with both verbal and nonverbal interpretations of various foreign cultures.
Language Exhibitions are a fun way for ASL students to show off their studies in the form of posters, models, and paintings on topics related to their courses.
ASL students have a good time at the Melas, where they sell their handcrafted imaginative games, items, and recipes (all related to one of their Foreign Languages and Cultures curricula).
ASL ensures placement for each graduating student through its well-developed Industry Advisory Board (IAB) at the departmental level and the Corporate Research Centre (CRC) at the university level, in addition to providing a comprehensive education to language students.
After school, ASL has a Debate & Litro-cultural Club, which involves students in positive activities. Poetry recitation sessions and sharing of students' book reading experiences with faculty and friends are among the activities. A current-events debate is also being considered.
The department organizes monthly community connection events with the aim of connecting our students with economically underprivileged parts of society in order to educate them.
PRAYAS, a community of Americans who care for underprivileged children, includes both students and faculty.
ASL's faculty members are highly educated and experienced, having published numerous academic papers in prestigious national and international journals.
Faculty members contribute scientifically by giving talks and chairing sessions at national and international universities' conferences and seminars.