Laboratories at Mody University, Check all type of Advance Laboratories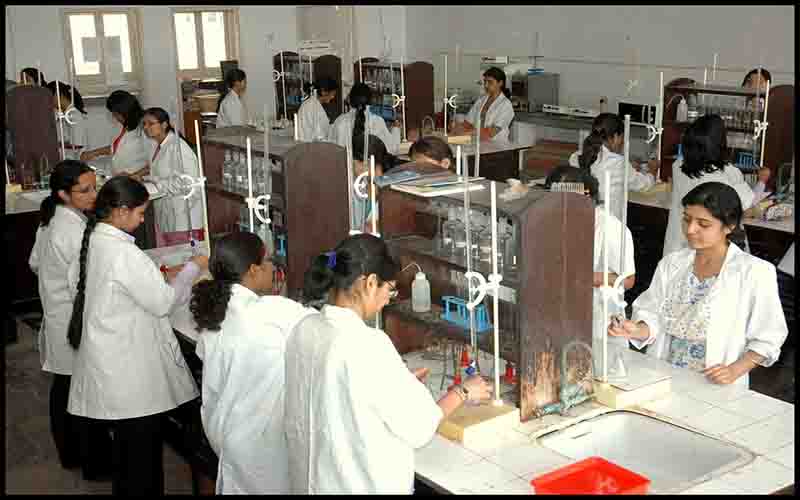 Published by : stepincollege
Laboratories at Mody University
Student-Friendly Laboratories
Mody University is known for its well-equipped laboratories once again.
Departments of Computer Science and Engineering, as well as Information Technology, are located on campus.
Laboratory for Artificial Intelligence (AI)
A network of 31 DELL PCs with the Windows XP operating system is available.
Allows you to learn AI resources like PROLOG and LISP.
Makes it easier to learn C and C++ programming.
Laboratory for Operating Systems (OS)
A network of 51 IBM PCs and one IBM server running the LINUX operating system is available.
It makes it easier to learn and improve shell programming.
Allows system programs to be created.
IBM's Software Excellence Center (CoE)
At Mody University, IBM has established the 'IBM Software Centre of Excellence.'
Laboratory for Graphics and Multimedia
A network of 51 IBM PCs with the Windows XP/Windows 7 operating system is available.
Using the Borland Graphics Interface with IDE, Turbo C, and C++, you can write graphics programs.
Macromedia Studio and Macromedia Director make it easier to create multimedia applications.
Laboratory for Networking
A network of 36 IBM PCs running the Windows XP/NT operating system is available.
Allows you to create programs to learn computer networking principles such as TCP/IP programming, protocol design, and network device configuration.
Dot Net Lab in Visual Studio
A network of 31 IBM PCs with the Windows XP operating system is available.
Allows you to create web apps using Microsoft software such as ASP.NET, C#, and VB.NET.
Visual Studio is made easier to use for Windows programming.
Laboratory for Advanced Java
A network of 37 IBM PCs with the Windows XP operating system is available.
Using J2EE, Oracle 10g, Net Beans, and Rational Rose, you can build enterprise web applications.
It's also possible to use J2ME.
Laboratory for Databases
A network of 36 IBM PCs with the Windows XP operating system is available.
It makes it easier to build database applications with ORACLE10g, IBMDB2, and MySQL.
(PG/Research Laboratory) Mobile and Grid Computing Laboratory
A network of 20 Dell PCs with the Windows XP operating system is provided.
Using open-source toolkits, it is easier to build Grid Computing-based applications.
Allows for the development of mobile computing-based applications for various mobile device configurations.
Laboratory for the General Purpose Programming Language (GPPL)
A network of 42 all-in-one PCs with OS is available (Linux, Windows 7, Open Sun OS).
Sun NetBeans and QTIDEs make it easier to build Oracle, virtualization tools, web apps, mobile applications, and C and C++ code.
Future Laboratories
Laboratory for Sensor Networks
Electronics and Communication Engineering Department
Laboratory of Communication
Advanced test configurations, ranging from simple communication systems to advanced communication systems, are available.
High-frequency oscilloscopes, spectrum analyzers, and feature generators are all useful in test setups.
Optical fiber systems, mobile networking systems, and digital networks are examples of advanced setups.
Laboratory of Analog
Fully fitted with the most up-to-date test and measurement equipment.
Oscilloscopes, logic analyzers, pulse generators, function generators, analog, and digital IC testers, and digital multimeters are among the tools used.
Has a strong range of active and passive components for Analog Electronics experiments.
Laboratory for Microprocessors and Microcontrollers
Students learn about processor hardware and programming.
Students may use a universal programmer to do hands-on programming of PROMs, which is particularly useful for project work.
Additionally, it makes it easier for students to work with microcontrollers.
PCs are available for MASAM assembly programming and interacting with external devices.
Laboratory for Microwaves and Antennas
Students can gain both theoretical and practical knowledge in microwave techniques.
Frequency Meter, Attenuator, Tunable Probe, Detector Mount, Cathode Ray Oscilloscope, and VSWR Meters are among the seven microwave benches included.
Klystron power supplies are used on four of the benches, while Gunn oscillator test benches are used on three of them.
Students have access to microwave components as well.
At frequencies ranging from 800 MHz to 1250 MHz, the antenna parameters can be measured.
An antenna plot was created using the appropriate software.
There is also an acoustic chamber available.
On the DSP kits and MATLAB, facilities to include the principles of Real-Time and Non-Real-Time applications.
DSP kits are used in imaging, multimedia, and video communication applications.
Telephony, modems, digital still cameras, and VoIP are all applications that use DSP kits.
DSP kits are used in a variety of control systems, including motor control, storage, and digital control.
Signal processing toolbox for mastering signal processing principles.
There are resources for working with MATLAB Simulink.
Undergraduate and postgraduate students have access to services.
There are 34 IBM systems and one IBM server on this network.
Computers can run cutting-edge CAD software.
Equipment with FPGA and CPLD test setups is also made easier.
The resources available allow Ph.D. candidates to work on the development and design projects.
Laboratory of Digital Electronics
Oscilloscopes, logic scopes, clock generators, function generators, analog, and digital IC testers, and other test and measurement equipment are all available.
Has a good range of TTL and CMOSICs for validating digital electronics experiments.
Industrial Electronics Laboratory now offers three different laboratory courses.
The Network Analysis experiments are intended to give students a hands-on experience with the theoretical concepts discussed in class.
Electronic Measurement and Instrumentation studies provide a rare glimpse into the new industrial instrumentation climate.
Component level research and high-end advanced experiments are among the Power Electronics experiments.
Electrical and Electronic Engineering Department
Laboratory for Electrical Machines
Fully fitted with the most up-to-date computers manufactured from Germany's LD Didactic GmbH.
DC shunt machine, single-phase, and three-phase transformer, three-phase induction machine & synchronous machine, stepper motor, single-phase induction machine, servomotor, and fully computer control unit of DC machine and AC induction and synchronous machine are among the electrical devices throughout the laboratory.
Laboratory for Network Analysis
The aim of this lab is to familiarise students with the design and study of various electrical and electronic circuits using hardware and software (MATLAB/PSPICE).
RLC circuits, filter circuit architecture, transients, two-port networks, network theorems, time constants of R-C and R-L circuits, KCL and KVL rules, and various forms of wave generation (periodic/non-periodic) are covered in detail.
Laboratory for Electrical and Electronics Measurement
The lab is set up to familiarise students with calculation methods and calibration of various electrical parameters.
Temperature measurement with Thermocouple, Thermistor, and RTD, loading impact with PMMC meter, Q factor, displacement measurement with LVDT, different AC bridges such as Owen's bridge, Maxwell's bridge, and Anderson's bridge, and data acquisition system are all included in the lab.
Laboratory of Power Electronics
The aim is to provide students with valuable laboratory experience in the field of power electronics and drives.
Provides hands-on experience with SCRs, MOSFETs, half and full wave-powered rectifiers, choppers, forced commutation of SCRs, frequency converters, and Matlab simulation toolbox for half and full-wave rectifiers.
Laboratory for Control Systems
This lab allows students to gain practical experience in control system engineering.
AC/DC position control modules, Synchro Unit, Linear system simulator, PID controller, Potentiometer error detector modules, Temperature control modules, Compensation design modules, and DC motor control are all available in the lab.
Mechanical Engineering Department
Laboratory for Material Strength
Students can learn how to determine different mechanical properties of materials.
Equipment such as UTMs, Hardness Testing Machines, and Impact Testing Machines are included.
Laboratory of Fluid Mechanics and Fluid Machinery
Used to investigate various parameters in fluid flow as well as the operation of various hydraulic machines and the mechanical power produced by them.
Includes orifice meters, venturi meters, and manometer links, as well as a programming interface for data collection and processing.
Hydraulic engines, hydraulic pumps, and other hydraulic components are housed here.
Laboratory of Thermodynamics
Thermodynamic properties of a thermal fluid are measured using this device.
Boiler for running a steam engine and conducting tests to learn about thermodynamics.
Refrigeration and Air-conditioning Laboratory and I. C. Engines
To investigate the efficiency of gasoline and diesel engines under a variety of parameters.
To investigate the performance of various cooling equipment components.
CAM (Computer-Aided Manufacturing) Laboratory
To investigate various production methods, both traditional and unconventional.
To teach students how to conduct experiments to investigate the effects of different parameters on the final product.
Laboratory for Measurement and Control
To learn how to take measurements of different criteria in order to ensure that the finished product meets design requirements and that rejection is kept to a minimum.
Controlling different process parameters to ensure that finished products/functional specifications are met on time.
Computer-Aided Design Laboratory
To use modeling and drawing software similar to that used in the design consulting and manufacturing industries.
Nanotechnology and Nanoscience
Laboratory for Nanosimulation
Virtual Nanolab with Quantum Wise Toolkit for Nanotechnology Simulation: (DFT Based) Software for simulating and analyzing nanoscale system atomic-scale properties.
Features of the Numerical Engine include:
Electron transport and electronic structure
Molecules, periodic structures, and two probe systems calculations
DFT approach developed from the ground up.
Modeling electrical properties of nanostructured structures coupled to semi-infinite electrodes with the Quantum Wise ToolKit (ATK).
Determine the propagation spectrum as well as the current voltage characteristics.
Visualize measured physical quantities and atomic geometries in 3D.
Get help with sample setup and simulation parameter selection.
Calculation of current, transmission, and energy spectra using spin polarisation
Levels and orbitals at the molecular level Mulliken population study, HOMO/LUMO stage for molecular systems
MPICH is a parallelized code that has been designed for transport calculations (k-point sampling and energy integrals, plus matrix element evaluation)
Electron density and effective potentials are calculated.
Traditional electronic structure simulations of periodic and isolated structures, including spin-polarized calculations and optimized atomic geometries
It is an effective and versatile method for measuring and understanding the intrinsic properties of nanoscale structures, based on self-consistent density functional theory (DFT) and non-equilibrium Green's functions.
Carbon Nanotube structures, Semiconductor Nanowires, Molecular Diodes, Crystalline Magnetotunnel Junctions, Switching System, Metallic Contacts, and other experiments/examples are included.
Laboratory for the Characterization of Nanomaterials
LCR – Q – Meter (digital) for measuring L (inductance), C (capacitance), and R (resistance) of nanocomposites over three frequency ranges: 100, 1, and 10 kHz.
Capacitance measurements at different temperature ranges are used to investigate the dielectric constant of nanomaterials.
The Hall effect was created to investigate the properties of magnetic nanoparticles.
Four probes were used to determine the bandgap and I-V characteristics of semiconductor nanoparticle samples at different temperatures.
The resistivity of very high resistive samples such as polymers, nanocomposite thin films, and nanoparticle self-assemblies was measured using a two-probe setup.
SSAH Lab
Science and Humanities Department
Laboratories for Undergraduates
Laboratory of Physics
Students' logical, observational, and analytical skills are developed in the physics laboratory.
Optics, Solid State Physics, Electricity and Magnetism, Lasers, and Nuclear Physics are all explored in the experiments.
Laboratory of Chemistry
It is well-equipped with the most up-to-date instruments, including PerkinElmer RX-1 FT-1R, B.O.D. Incubator, microwave Oven, and other major equipment to meet the needs of B.Tech. and Ph.D. students.
At the B.Tech. stage, experiments such as synthesis of inorganic and organic compounds, including polymers, gravimetric determination of metals, water analysis, alloy and ore analysis, determination of acid value of an oil and other related experiments, and determination of kinetic parameters of certain reactions are included.
Laboratories of B.Research
Laboratory for Physics Research
A UV - 1800 spectrometer, an Advanced Four Probe system with PID controlled oven, Hall coefficient measurement setup, Magnetoresistance measurement device, LCR bridge, Dielectric constant measurement unit, Temperature controlled oven, Precision electronic balance, Rotary Evaporator, and other major equipment are available in the Physics Research Laboratory.
Laboratory for Study in Chemistry
IR, UV, Rheometer, Zetameter, Metallurgical Microscope, Ball Mill, pH Analyzer, Vacuum & Hot Air Oven, Microwave, Cold Temperature Circulating Bath, Glosso meters, Centrifuge, and other instruments are available in the Chemistry Research Laboratory.
Laboratory for Water Technology
Flame photometer, Fluoride ion-selective meter/electrodes, and a Stabilized Earth Block Making Machine are all available in this facility.
English Language Institute
Is equipped with 'Hi-Class-Learn to Talk,' one of the best multi-tasking and multimedia language applications available, installed on 35 student consoles and one instructor console.
Focuses on skills such as vocabulary building, pronunciation, and grammar to encourage self-learning.
Simulated interactions, matching, and grouping assist students in developing communicative competence. It focuses on soft skill growth.
Intrapersonal and interpersonal relationship skills are improved.
School Of Business Lab
Computer and Language Laboratory at the School of Business
Three computer laboratories are fitted with 93 Dell computers with the most up-to-date configurations, all of which are wired to a LAN and have high-speed Internet access.
FMS has also set up a Language Laboratory to help students develop their communication and grammatical English skills.
Listening, Speaking, Reading, and Writing are the four fundamental criteria for learning a language. It's a mix of the four options mentioned above.
Students will listen to the lessons that the teacher has assigned to them using the software. Each student will listen to the material at the linguist's discretion.
The use of a digital language learning system allows students to speak openly in front of their peers and to let go of their inhibitions. Without revealing their identities, students will communicate with the instructor.
It enables the student to listen to the software stimulation on his or her own time. Each student's attention is focused on the program material being learned, which increases the student's attention span to listen to and interpret the lesson content.
Laboratory of the School of Law
The School of Law has a computer lab with 40 Dell computers with the most up-to-date configurations connected to a LAN and high-speed Internet access available 24 hours a day, seven days a week.
The "online Legal Data-Base, Multi-user" is also available, which contains Supreme Court, High Court, and Privy Council Statutes, Rules, Regulations, and Judgments. The most recent articles and news, as well as the most recent developments in the socio-legal field.