Cells at Vivekananda Global University, Jaipur, Innovation Hub, Entrepreneurship Cell At VGU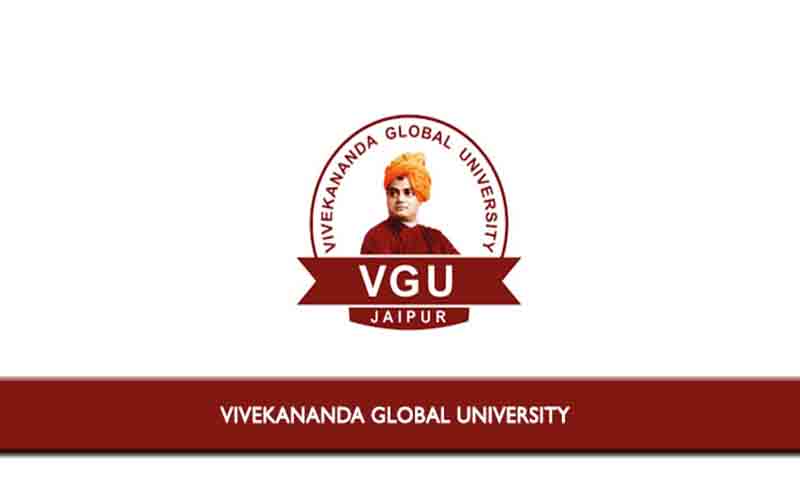 Published by : stepincollege
Cells at Vivekananda Global University, Jaipur
VGU's Research and Development Cell
"A Key to the Nation's Legacy"
Any organization's research and development department is the cornerstone. We have a completely functional research and development cell at VGU that has been operating in various fields of research for the past 12 years. We have always encouraged our faculty and students to work on cutting-edge research topics. We believe that research and development makes a difference in terms of contributing to our country's growth.
The objective of VGU R & D Cell
To encourage exploration in science and technology's current frontier areas, including multidisciplinary fields.
Encourage young engineers to take on difficult R&D projects.
Encourage engineers in the country to file patents for both Indian and international patents.
Collaborative Research
VGU's research and development cell has long been regarded as one of the strongest in North INDIA. Many research and development cells from around the country have teamed up with us to work on new research projects. A research and development cell's main goal is to effect progress and provide assistance in existing situations by introducing new measures.
this is where it goes This text can be edited or removed inline or in the module's Content settings. In the module Design settings, you can style every element of this content, and in the module Advanced settings, you can even add custom CSS to this document.
Innovation Hub
Everyone enjoys doing things, events, or expressing ideas that are new and beneficial to others. Innovation is a natural talent for everyone. In today's rapidly changing culture, quality of life, the value of education, and the importance of conventional learning methods all play a key role in defining and distinguishing individuals. The VGU Innovation Hub is open to all creative and innovative minds who want to develop and innovate. In order to improve imagination and ability in Basic Science and Engineering Education, we believe that a centre like the Innovation Hub is an important part of Quality Education, where visitors can see how great scientific inventions can emerge from small efforts by beginners.
Entrepreneurship support Center at VGU
"A Key to the Nation's Legacy"
"Entrepreneurship is a need of the future."
This is a motto that we really believe in. Many businesses have overtaken the industry in recent years, such as Facebook, Uber, and Ola, and one thing that all of these Major brands have in common is that they began as a "START-UP." We have taken the initiative to teach the basics of entrepreneurship to our students in order to train them for the future. We do not want our students to be reliant on other companies for jobs. Rather than producing EMPLOYEES, we prefer to produce EMPLOYERS. We've incubated over ten promising startups so far, all of which were established by our own students. We have an on-campus incubator and various partnership projects with organisations such as the NEN Wadhwani Foundation, Startup Oasis, and others. We are honoured to be a part of this revolutionary entrepreneurship movement.
Entrepreneurship Cell At VGU
VGU has been incubating a variety of micro, small, and medium enterprises and is one of the few MSME incubators in the country. The incubation aspect makes us feel very proud of ourselves because we are helping to pave the way for aspiring entrepreneurs and startups.
Incubation Centres at VGU
ACIC (Atal Community Innovation Centre) – VGU
The Atal Community Innovation Centre (ACIC), a new project under the Atal Innovation Mission (AIM), aims to promote the spirit of innovation in society by using solution-driven design thinking. It will concentrate on underserved/unserved areas of the world that lack a vibrant startup and innovation ecosystem at the moment. VGU is proud to announce that Atal Community Innovation Center has partnered with VGU to provide all of your entrepreneurial needs.
VGU Entrepreneurship Cell Development
Development of Entrepreneurship Cells. We have a dedicated cell that works on entrepreneurship creation for students. The Entrepreneurship cell focuses on disseminating information about emerging developments in the industry. The E-Cell is one of the most active cells, offering full support to its members in all aspects of idea creation. Every assistance is given to a potential entrepreneur, from idea generation to incubation.
Rural Technology Business Incubator (VGU-Rural Technology Business Incubator) (VGU-RTBI)
VGU-RTBI is the incubation centre's domain dedicated to the development of rural technology start-ups and concepts. VGU has a large number of Agriculture students who work around the clock to introduce new discoveries to the field of rural technology. Many innovations in the same direction have already been incubated.
Centres of Excellence at VGU
CODE OF THE CENTER FOR DESIGN EXCELLENCE
Excellence in design centre One of our most important components is CODE. It is a dedicated institute to the department of architecture and design. This programme is partnered with top architecture and design faculties to provide proper education and knowledge of design and architecture to aspiring designers and architects.
ADDA DESIGN
CODE's concept Adda programme assists aspiring artists in presenting their work and mastering their craft through workshops and seminars.
GLOBAL CENTER FOR BUSINESS AND ENTREPRENEURSHIP (GCEC)
The GCEC is a centre for business and commerce education. The department of commerce and entrepreneurship is fully committed to its students, providing them with a wealth of expertise in their chosen fields. Our GCEC has many social ties that help students develop and evolve.
The Global Centre for Entrepreneurship and Commerce is a non-profit organisation whose mission is to improve the quality of higher education in the country by focusing on practical skills rather than theoretical knowledge. GCEC is India's first dedicated college for Entrepreneurship and Commerce studies, offering a three-year programme that includes hands-on learning and an open-book curriculum focused on international research trends.
In its first year, GCEC was three times oversubscribed, with 100 percent internship placements in the first month of college. GCEC is the country's only college that offers 36 months of practical training in addition to graduation. My Career Architects, the GCEC's founding body, has had the best performance in ACCA exams, with our students consistently achieving All India Rank and Global Rank in various ACCA exams.
AU Bank, HDFC, Headstart, Feliz, 360 Financials, Technovation, BNI, IDBI, NEOS Angels, and many other top-rated startups and companies have all offered internships at the college within three days. ACCA UK, Startup-O Singapore, Viridian Espark Singapore, Headstart, Ah Ventures, Ashoka Youth Ventures, Startup Oasis, and many other top-rated finance and entrepreneurship institutions have partnered with the college.
Our students have received All India Rank 1 and Global Rank 7 in the ACCA exams, and one of our students has been chosen as a core member of the dance team of the famous Indian dancer Shakti Mohan. Our students have also been invited to the president's house and ranked as the best food bloggers in Rajasthan and one of the Top 10 bloggers in India. 94.3 My FM has also recognised the college as a leader in Rajasthan's commerce education. NASSCOM, Emirates Hospital Dubai, KeyPoint Bahrain, Facebook, Uber, Culture Alley, and other companies have hired My Career Architects students.
Clinic For Legal Assistance
The Legal Aid Clinic is an essential aspect of our well-resourced legal department.
Center For Material Research (MRC-VGU)
One of our initiatives to empower the material science field is the development of a fully equipped department for the study of various types of materials. The key goal of this project is to pique students' interest in evolving materials sciences.
Advanced Farming Lab Mechanized
These are modern laboratories with all forms of agricultural mechanical equipment to give students a better understanding of farming techniques and practical knowledge, as farming is more of a hands-on topic than a theory text.
Training Center Of The Royal Enfield
In terms of motorcycles and automotive/mechanical applications, Royal Enfield is the best. For our mechanical department's laboratories and workshops, we have a partnership with Royal Enfield. We have a member of the Royal Enfield team on-site to provide proper student guidance. In order to provide the best facilities for mechanical engineering students, Royal Enfield and VGU collaborated.
Hydroponics Center With Mechanisms
We couldn't resist building a fully functioning, fully equipped lab to give our students hands-on experience with the new age techniques for growing plants without soil because they are so futuristic.
Industrial Robotics Center Of Mitsubishi
When it comes to technology and gadgets, Mitsubishi is one of the most well-known brands. We are extremely proud of our robotics department, which includes Mitsubishi-certified laboratories and equipment. Robotics is a fascinating area, and we've taken the initiative to collaborate with Mitsubishi in order to keep students interested.
Training Center Of The Royal Enfield
We couldn't resist building a fully functioning, fully equipped lab to give our students hands-on experience with the new age techniques for growing plants without soil because they are so futuristic.