M.Tech. Computer Science and Engineering Course at Mody University, Lakshmangarh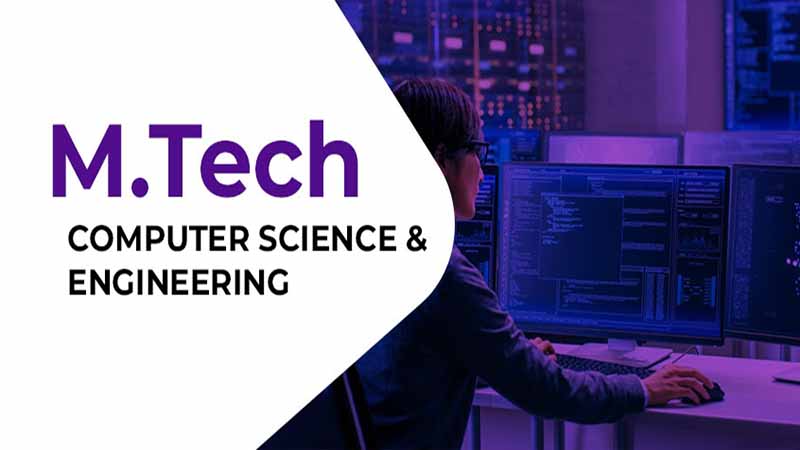 Published by : stepincollege
M.Tech. Computer Science and Engineering Course at Mody University, Lakshmangarh
Master of Science in Computer Science and Engineering program is a terminal degree program that prepares students for high-paying jobs in the industry. Students with a bachelor's degree in computer science engineering from an approved institution are eligible to apply. Students with a bachelor's degree in a subject other than computer science are encouraged to apply if they have the required aptitude for the program. Students can receive a curriculum of the specialized concept of Computer Science Engineering, as well as in-depth theoretical and practical knowledge of computer science concepts, through this course. Network, System Integration, Algorithms and Logic, Software Engineering, Distributed and Embedded Systems, and Digital Systems are among the fields of computer science covered by the MTech in Computer Science Engineering course. Computer Science is knowledge and practical skills-based curriculum that prepares students for careers in the field. System integration, distributed and embedded systems, networks, software engineering, algorithms and logic, system on chip and digital systems, and other topics are discussed in this course. After graduation, one may work as a software engineer, systems developer, network analyst, or web developer in a variety of industries.
Duration of MTech in Computer Science and Engineering
Program Duration 2 years.
Eligibility MTech in Computer Science and Engineering
BE/BTech/MSc/MCA or an equivalent degree in a similar area with a minimum of 50% in aggregate and sufficient English proficiency.
Fees of MTech in CSE
Tuition Fees(Rs.) 100000
Admissions Processing Fee -One Time (Non-Refundable) 20000
Caution Money -One Time (Refundable) 10000
Personal Charges (Accountable) (Day Scholar and Boarder) at the time of Admission 10000
Career Development Fee 19500
Total Fees for Day Scholar (INR) 159500
Per Annum 1st Installment 95700
At the time of Admission 2nd Installment- Till 15th Nov. 2021- Rs. 63800
Placement and Career MTech in Computer Science and Engineering
The Career Development Centre (CDC) at Mody University's Sikar provides students with the required training and placement assistance. The CDC at Mody University assesses students' abilities and assists them in developing them prior to the start of the placement process. Behavioral skills, soft skills, personal interview skills, group conversation, motivational planning, and career counseling are among the skills taught to the students. Students with these skills from Mody University can find employment in prestigious companies with fair pay packages. Mody University students have also landed internships in Canada, Switzerland, the United States, Germany, and France. Students gain foreign work experience and exposure through internships. Salary packages as large as Rs 27 lakh per year have been provided to students in this area. The average annual salary package is between Rs 12 lakh and Rs 15 lakh.
Infosys
Accenture
Ericsson
HCL Technology
Athens Technology
GE Healthcare
Samsung
Collaboration with People from Other Countries
Carleton University in Canada, GSI Helmholtz in Darmstadt, Germany, and the General Electric Foundation in the United States are all close partners of Mody University. We've also signed Memorandums of Understanding with CSIR Laboratories including CEERI-Pilani and CMERI-Durgapur, which are now fully operational.
In new fields of science, such as Solar Energy and Nanotechnology, active cooperation is underway to establish a research partnership with GE's John F Welch Technology Centre in the United States.
Mody Universities have entered into MOUs with the University of Missouri in Columbia and Rosario University in Bogota, Colombia in the fields of research and development.
IBM, Oracle, and Accenture also cooperated with the Department in academic ventures.
Mody University School of Engineering and Technology Scholarships
Criteria for a scholarship with a 100 percent waiver:
Top scorers for each Central/State Board
Scholarship Requirements for a 35% Waiver:
In class XII, for JEE Mains a minimum of 90 percent is required in the best five subjects (by courses). JEE Mains needs a NEET score of up to 1.50,000 OR a score of up to 2,000 in the All India General Category.
Rank of MUSAT is a number ranging from one to 100.
Scholarship requirements for a 25% waiver:
For JEE Mains a NEET score of 1,50,001 to 2,00,000 OR a general score of All India from 2,00,001 to 2,50,000 in class XII is required (as determined by course eligibility). For JEE Mains, the NEET score from 150,001 to 2,00,000 OR from 2,00,001 to 2,50 thousand in class XII of all India General Categories is required (as determined by course eligibility).
A number from 101 to 200 is the rank of MUSAT.
Scholarship requirements for a 15% waiver:
Over 70% of students in class XII were among the top five (as decided by course eligibility).
The NEET ranks 2,00,001 - 2,50,000 ranks of the JEE Mains OR all India in the general category JEE Mains 2,50,001 - 3,00, 000.