B.Des. Fashion Merchandising at Mody University Lakshmangarh, Placement and Career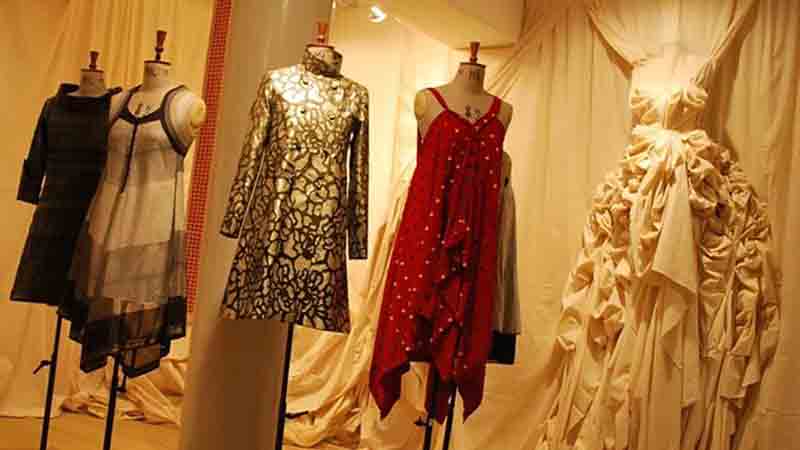 Published by : stepincollege
B.Des. Fashion Merchandising at Mody University, Lakshmangarh
This highly specialized curriculum prepares students for a career in the developed fashion industry as a merchandising specialist. Students will gain a comprehensive understanding of the global fashion industry, strategic planning and manufacturing processes, material procurement, costing, supply chain management, range planning, and distribution, line creation, visual communication, revenue analysis, and profit management through this course. The course prepares students to navigate the demanding business environment by teaching them entrepreneurship, creativity, consumer enchantment, and planning management skills. Students gain comprehensive fashion knowledge and business acumen in the field of merchandising as a result of the industry-interlaced program, making them highly employable. The aim of this course is to provide comprehensive knowledge of the fashion industry, including fashion design, manufacturing, marketing, and quality control. This course covers Fashion Studio, Fashion Illustration, Fashion History, Fashion's Relationship with Culture and Profession, and other important fashion design topics. Textile science is also covered in depth in subjects like Textiles and Apparel Management, Material Study, and so on. Merchandise marketing, textile marketing, e-commerce, fashion branding, and other subjects are also included in the course. This course not only teaches students how to design clothing but also how to design and choose the most appropriate clothing for various circumstances and cultures.
Candidates can learn how to design various occupational and technical attire, such as uniforms, theatrical costumes, and so on. Candidates can learn about quality control and quality management of fashion products in addition to designing and marketing them.
Duration of B.Des. in Fashion Merchandising
Program duration 4 years.
Eligibility Criteria for B.Des. in Fashion Merchandising
Students who have completed a 10+2 or equivalent in either discipline with a minimum of 45 percent marks are eligible for this program. The application process consists of an online test, a personal interview, and a portfolio.
After tenth grade, students must achieve a minimum of 50% in the 10+2 scheme in either stream or a 10+3 Diploma (Govt. recognized) or IB Diploma.
Fees for B.Desc. in Fashion Merchandising
Tuition Fees(Rs.) 195000
Admissions Processing Fee -One Time (Non-Refundable) 20000
Caution Money -One Time (Refundable) 10000
Personal Charges (Accountable) (Day Scholar and Boarder) at the time of Admission 10000
Career Development Fee 24000
Total Fees for Day Scholar (INR) 259000
Per Annum 1st Installment 155400
At the time of Admission 2nd Installment- Till 15th Nov. 2021- Rs. 103600
Placement and Career for B.Desc. in Fashion Merchandising
The university's placement cell is in charge of organizing the drive. It provides on-campus placement for BDes (Fashion Design) students. The University's placement cell brings students up to date on business trends and demands, ensuring that they have the greatest chance of succeeding in the competitive selection process. Experts from the industry give talks, conferences, and immersive workshops at the college on a regular basis, all of which are highly helpful to job seekers in their preparations.
Aricent,
Infosys,
Promact Infotech,
Saint Gobain,
SKF Bearings,
IBM,
ZS Associate,
HSBC,
Hexaware Technologies,
Ericsson,
Adobe,
LinkedIn,
SAP Labs.
Collaboration with People from Other Countries
Carleton University in Canada, GSI Helmholtz in Darmstadt, and the General Electric Foundation in the United States are among the prominent international institutions with which Mody University has close relations. We have signed agreements with two CSIR laboratories: CEERI-Pilani and CMERI-Durgapur.
Successful cooperation in new fields of study, such as renewable energy and nanotechnology, has been conducted in order to work on a research partnership with the John F Welch Technology Center in the United States.
The University of Mody has research and development agreements with Missouri, Columbia, and the University of Rosario in Bogota, Colombia.
On research projects, IBM, Oracle, and Accenture worked with the Department.
Mody University School of Engineering and Technology Scholarships
Criteria for a scholarship with a 100 percent waiver:
Every Central/State Board's top scorers
Scholarship Requirements for a 35% Waiver:
> 90% in the best five subjects (as determined by course eligibility) in class XII is required for JEE Mains. A NEET score of up to 1,50,000 OR an All India General Category score of up to 2,00,000 is required for JEE Mains.
The MUSAT Rank is a number that ranges from 1 to 100.
Scholarship requirements for a 25% waiver:
In class XII, > 80% of the students scored in the top five subjects (as decided by course eligibility)
JEE Mains needs a NEET score of 1,50,001 - 2,00,000 OR an All India General Category score of 2,00,001 - 2,50,000.
The MUSAT Rank is a number that ranges from 101 to 200.
Scholarship requirements for a 15% waiver:
In class XII, > 70% of students scored in the top five subjects (as decided by course eligibility).
In JEE Mains, NEET Rank 2,00,001 - 2,50,000 OR All India General Category Rank 2,50,001 - 3,00,000
MUSAT 201 - 400th Rank