B.Tech Robotics Engineering at Vivekananda Global University, Jaipur, Eligibility And Fee Details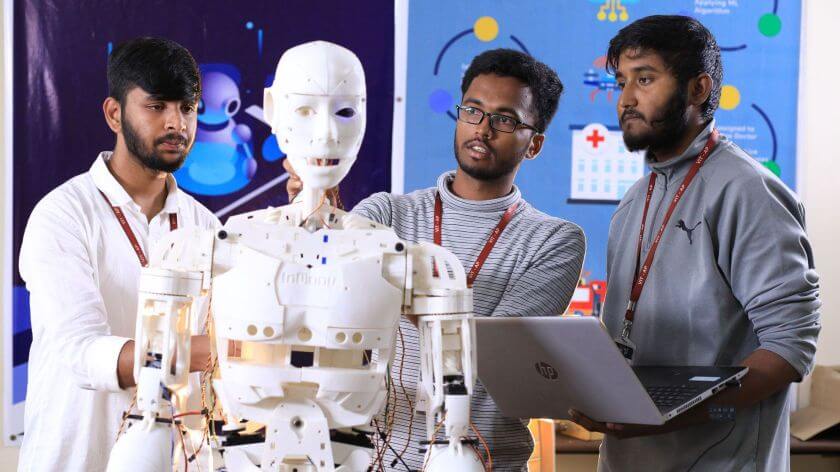 Published by : stepincollege
B.Tech Robotics Engineering at Vivekananda Global University, Jaipur
BTech in Robotics Engineering is an undergraduate 4-year programme. It's an interdisciplinary course that covers robot design and production, as well as their applications in the manufacturing, military, marine, medical, and service industries. Robotics Engineering is a mechatronics engineering specialisation that focuses on the design and production of robots and their applications in the manufacturing, defence, marine, medical, and service industries. The course will discuss robot modelling and simulation, motion control, algorithms, and artificial intelligence. Topics from electronics engineering, mechanical engineering, and computing will also be covered.
The aim of the course is to provide students with the interdisciplinary knowledge and skills needed to work in the robotics industry. Since it is a multidisciplinary course, candidates will not only be able to find work in the robotics industry, but also in IT, electronics, manufacturing, AI & ML, and other fields. Candidates who complete this course will be able to think beyond the box and create new ideas that will make people's lives easier. Since the robotics industry is growing and there is a greater demand for skilled robotic professionals, graduates will have a variety of job opportunities.
Top Robotics Engineering College in India
"Robotics Engineering is the study of the design, development, implementation, and operation of robots. Robotics Engineering is an interdisciplinary branch of electrical and mechanical engineering.
Vivekananda Global University, ranked among India's Best and Top Robotics Engineering Colleges, provides students with an intellectually stimulating atmosphere and a course curriculum that includes practical training, project work, expert lectures, and more. Although theory allows you to grasp the subject's complexities, the well-equipped laboratories offer a more realistic understanding and real-time exposure.
Scope for B.Tech Robotics Engineering
"Aspiring candidates will find a wide range of job opportunities in this field."
After completing a degree programme in this field, you can work in manufacturing, maintenance, nuclear power plant research, and a variety of other fields. Robotics technology is now used in space exploration, power plant maintenance, the automobile industry, and petroleum exploration sites, among other things, thanks to technological advancements.
Department at a Glance for B.Tech Mechanical Engineering
Experiential and project-based learning
Industry leaders contributed to the creation of the curriculum.
Hands-on experience that leads to a career in grooming
Patronage from the industry on a never-before-seen scale
Best-in-class placements
Fields of Specialization for B.Tech Robotics Engineering
Micro-Robotics (Micro-Robotics)
Automated systems
Bio-Cybernetics (bio-cybernetics) is a branch of
Manipulators of Robots
Planning Robotic Motion
AI stands for Artificial Intelligence.
Geometry by Computation
Eligibility And Fee Details for B.Tech Robotics Engineering
Eligibility – Pass 10+2 or Intermediate with a 60 percent aggregated mark (with English, Physics, Chemistry, and Maths )
If a candidate has not studied English as a subject, the condition of English may be waived if the candidate has studied in English medium during his qualifying test.
Fees Details for B.Tech Robotics Engineering
Fees Details:
| | |
| --- | --- |
| Duration | Fees |
| Yearly Fee | 90000 -/ INR |
| Semester Fee | 45000 -/ INR |
Scholarships for B.Tech Robotics Engineering
| | |
| --- | --- |
| Criteria | Scholarship amount (per semester) |
| 75% or above aggregate marks in 12th | 25% of Programme Fee |
| 60% or above aggregate marks in 12th | 10% of Programme Fee |
Fee After Scholarship for B.Tech Robotics Engineering
Details

Scholarship Amount

(per semester)

Applicable Fee after Scholarship

(per semester)

75% or above aggregate marks in 12th

22500

(i.e. 25% of Programme Fee)

67500

60% aggregate marks in 12th

9000

(i.e. 10% of Programme Fee)

81000
After Robotics Engineering Careers
Both in India and abroad, there are numerous work opportunities for robotics engineers. Candidates with an M.Tech in Robotics will work for space science organisations such as ISRO as well as industries that produce microchips.
They may be able to work for a robot maker. Robotics test engineers and automation device engineers are terms used to describe robot engineers who work for robot manufacturers.
You may also work on robots for various industries such as appliance and electronics manufacturing, food packaging, and so on. You may also apply for teaching positions at public and private universities.
Robotics is a rapidly growing area with many career options for people with a variety of engineering backgrounds. Product design and production, industrial robots, service robots, motion control, industrial automation, condition monitoring, and modelling and simulation of advanced automation systems are some of the opportunities in robotics. Graduates of robotics programmes will work in private manufacturing and design firms, government agencies, the military and defence, education, agriculture, and healthcare, among other fields. Robotics Engineer, Robotics Designer & Analyst, Robotics Sales Engineer, Robotic Research Scientist, AI & ML Engineer, AI & ML Scientist, AI Software Engineer are some of the positions available in the field of robotics.
Job Titles:
Robotics Programmers
Robotics Technicians
Robot Design Engineer
Robotics Test Engineers
Senior Robotics Specialist
Automated Product Design Engineer
Agricultural Instrumentation Engineer
Robotics System Engineer
Robotics Testers
Maintenance Engineers
Recruiters are:
Indian Space Research Organisation (ISRO)
Bharat Heavy Electricals Limited (BHEL)
Defence Research and Development Organization (DRDO)
Indian Institute of Technology (IIT)
Precision Automation & Robotics India Ltd.
Bhabha Atomic Research Centre ( BARC )
About Faculty of Engineering & Technology
VGU, India's Best Engineering College, is exceptional in that it derives its strength and inspiration from the unparalleled support of top-tier blue-chip multinational corporations. VGU has set standards for engineering education since its inception and is ranked among India's Best Engineering Colleges. Engineers who are able to meet the real-world demands of their career and provide the best solutions for the betterment of society have been created thanks to our immersive hands-on experiential learning-based engineering education and versatile academic model, which nurtures creativity and innovation.
Why Engineering?
Engineering jobs are expected to increase by as much as 10% in the next decade, according to the US Bureau of Labor Statistics.
Engineering as Career
Engineering is perhaps the only profession that covers so many topics and allows for full learning flexibility. Engineering is the application of science to the creation, design, maintenance, testing, and improvement of structures, machines, devices, systems, and processes as a profession. Study engineering at one of India's best engineering colleges.
Any product or technology produced in the field of Science & Technology, from needles to aircraft, software to smartphones, chip to a supercomputer, you name it, covers one or more aspects of Engineering. Choose engineering as a career path and earn your degree from one of Rajasthan's best engineering colleges.
Engineering is a broad discipline that includes common streams including computer science, mechanical engineering, electrical engineering, civil engineering, and electronics and communication engineering. University Institute of Engineering is Punjab's Best Engineering College, with unparalleled support from top-tier blue-chip multinational corporations.
Infrastructure
Infrastructure that is cutting-edge, with smart classrooms and labs that are fitted with the most up-to-date technology.
Crop Research Centre and Horticulture Nursery on 30-hectare farmland.
Polyhouse, Poultry House, Meteorological Center, and Vermi Compost Units are all available.
Hydroponics lab and modern farm equipment
Awards and Recognition
Students participated in a variety of state and national sporting competitions, winning first place in Kabaddi at BITS Pilani.
The faculty members competed in the PANACHE XII, where they won first place in Football and Kabaddi.
The majority of the faculty members have earned a PhD.
On a regular basis, field visits, instruction, and agricultural exhibitions are held.
The course curriculum is based on the recommendations of the ICAR 5thDeans' Committee.
Students from Tennessee State University in the United States completed a summer internship at VGU's Department of Agriculture.