LLB at Mody University, Lakshmangarh, Fees for LLB, Eligibility Criteria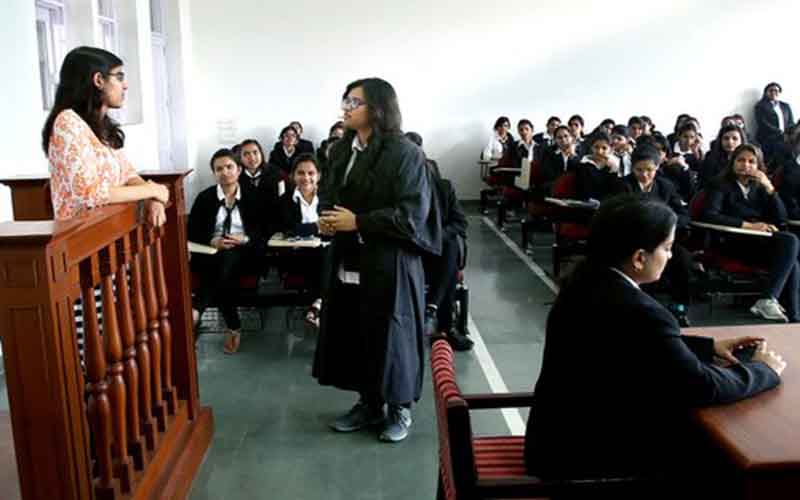 Published by : stepincollege
LLB at Mody University, Lakshmangarh
The class focuses on a wide range of legal topics, including labor law, criminal law, contractual law, family law, legal research, and more. Candidates must have completed their graduation in order to qualify for this program. Candidates who wish to practice law as well as those who want to pursue LLM or Masters of Law programs must complete the three-year LLB program. The course gives students a wide understanding of constitutional law and is divided into sections to help them understand case studies from India's legal history. To provide a holistic education, the program requires both classroom learning and internships.
Duration of LLB
Program duration 3 years.
Eligibility Criteria for LLB
Graduation with a minimum of 50% marks.
Fees for LLB
Tuition Fees(Rs.) 125000
Admissions Processing Fee -One Time (Non-Refundable) 20000
Caution Money -One Time (Refundable) 10000
Personal Charges (Accountable) (Day Scholar and Boarder) at the time of Admission 10000
Career Development Fee 19000
Total Fees for Day Scholar (INR) 184000
Per Annum 1st Installment 110400
At the time of Admission 2nd Installment- Till 15th Nov. 2021- Rs. 73600
Laboratories
Labs And Workshops
The School of Law has a computer lab with 41 Dell computers with the most up-to-date configurations connected to a LAN and high-speed Internet access available 24 hours a day, seven days a week.
Computer Laboratory
The School of Law Computer Laboratory is a hive of activity, with sophisticated equipment and cutting-edge infrastructure that rivals the best in the world. It has a large number of Dell OPTIPLEX 330 Desktop Computer systems as workstations and is connected to a LAN via a Dell Server Power Edge T300 server running Windows Server 2008 Network Operating System. Our Computer Lab provides students with a dedicated computer with 24 Mbps internet connectivity (Campus-wide OFC/WI-FI-networking) to work on. Apart from that, the School of Law building and all of the campus's hostels have 24-hour internet access, allowing students to continue their academic pursuits even when they are not in class.
Chemistry Lab
The School of Law's Chemistry lab is well-equipped to conduct studies in the Biological, Inorganic, and Physical branches of chemistry. The lab is well-equipped to conduct experiments using Conductometric methods for the study of chemical kinetics, as well as the equipment required to conduct experiments on Refractive Index, Optical Behavior, and Electrode Potential, all of which are carried out using Abbe's Refractometer, Polarimeter, and Milli-potentiometer. Aside from these, the lab has advanced equipment such as a Calorimeter for measuring energy, a Colorimeter for measuring color, an Ultra-violet and visible Spectrophotometer for analyzing chemical reactions, and a Microwave for chemical synthesis. A laboratory is an excellent place for aspiring scientists to hone their science skills and become tomorrow's scientists for our country.
Physics Laboratory
A variety of general, electronic, and optics-based instruments are available in the Physics laboratory. Mechanics and electrical circuits are the foundations of general instruments. The characteristics of semiconductor devices and electronic circuits are determined using electronic devices. Interference and Polarization are the foundations of optical instruments. Advanced Laser and Optical Fiber Experiments are easily accomplished in the lab. For these Optics tests, the lab also has an outstanding darkroom facility. The Physics lab offers excellent facilities for students to conduct practical experiments that are necessary for a deeper understanding of the subject.
Placement and Career for LLB
Placement Activities: When an educational institution strives to provide technical education, it becomes its duty to position its competent students in the best corporate environments. Mody University's Training & Placement Department engages in a variety of programs to ensure that the girls of the institutions have good careers.
Functions of the Training & Placement Department
To recognize prospective firms, the director of the placement department supervises a core committee made up of selected faculty members and students.
The recruiters are kept in contact with this committee on a daily basis.
It also seeks to establish relationships with new recruiters through contacts.
The committee seeks to make students tech-savvy by holding grooming sessions for them in order to ensure that they are the best workers in their respective organizations.
In addition to campus recruitment, Mody University girls attend career fairs and pooled recruitment drives.
The following is a step-by-step procedure for placing students:
Mody University's T&P department sends out letters to companies with a short description of the organization and a Job Notification Form.
In response to the letter, the companies submit their business profile and work profile, as well as the necessary information about the Campus Recruitment Drive.
When the placement department receives the details, it passes it on to the students.
Students who are interested provide their information, which is then forwarded to the appropriate companies.
Based on the shared convenience of both parties, a suitable date for the Campus Recruitment drive is set.
The date of the result is announced by the companies on the day of the recruitment process.
The offer letters are then sent to the institute's T&P authority.
Collaboration with People from Other Countries
Offshore Universities, Research Centers, and Corporations are encouraged to collaborate in order to create a fertile forum in which new and creative ideas can be conceptualized, sown, and nurtured for the greater good of society. Mody University is prepared to host such an event, which will serve as a Global Innovation Incubator and Accelerator. Regardless of where we come from, any creative work necessitates breaking down all barriers. It's a place where people who have common interests, likes, or thoughts can get together, take advantage of the resources available, and grow their initiative.
The Centre is well equipped with NextGen facilities like:
Breakthrough ideas are generated using 3D Idea Generators.
App for Innovation No. 4
Templates for designing innovation projects using mind mapping.
Software for assessing innovation and an innovation process
Kit of preparing for the Gold Mine of Innovation.
Series of e-learning resources on business excellence.
A diverse array of world-class videos, lectures, slides, educational materials, and more.
Mody University School of Law Scholarships
Criteria for a full-ride scholarship include the following:
Any State Board/Central Board toppers
Scholarship Requirements for a 30% Waiver:
> 90% on the last qualifying exam (best five subjects) (As per program eligibility).
Rank 1 to 20,000 on the CLAT.
Up to 100 MUSAT Rank (Applicable on UG Programs Only).
Scholarship requirements for a 20% waiver:
> 80% on the last qualifying exam (best 5 subjects) (as determined by program eligibility)
Ranks 20,001 to 30,000 on the CLAT
101-200 on the MUSAT (Applicable on UG Programs Only).
Scholarship requirements for a 10% waiver:
> 70% on the most recent qualifying exam (best 5 subjects) (as determined by program eligibility)
Ranks 30,001 to 40,000 on the CLAT
MUSAT Rank: 201-400 (Applicable on UG Programs Only)