Ph.D. Textile Design at Mody University, Lakshmangarh, Placement and Career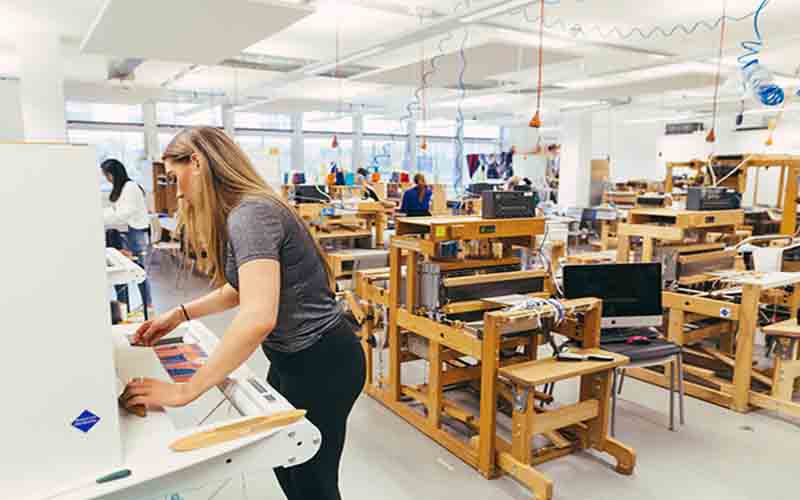 Published by : stepincollege
Ph.D. Textile Design at Mody University, Lakshmangarh
The world is in a state of flux, and each and every aspect of it requires special attention and reshaping through holistic design and communication. Attention should be paid in a more methodical way. Art, design, and communication are unquestionably essential in this time of correction, and the same must be prepared for its disseminator. Professor George Stylios' group conducts cutting-edge research at the textile/clothing interface, including methods for measuring textile aesthetics and fabric mechanics. To simulate garment drapes, computer-aided 3D modeling and visualization techniques linked to the human body and face modeling are being developed. Mody University's School of Design has a very simple and concentrated vision of preparing an army of artists and orators. Professionals and entrepreneurs will be looking for these to fulfill global demands. Each participant at the School of Design is provided with a collaborative and participatory learning sphere (both physical and virtual) to help them develop together. Its inter-disciplinary curriculum and conceptual and creative pedagogy provide students with a critical and modern viewpoint on various art and design disciplines in order to solve real-world problems. We warmly welcome you to Mody University's School of Design, where you will write your own story and build a bright future that will be admired and emulated by others.
Duration of Ph.D. Textile Design
Program duration 3 years up to a maximum of 5 years.
Eligibility Criteria for Ph.D. Fashion Management
A postgraduate degree in a related field with a minimum grade point average of 55 percent is required.
Fees for Ph.D. Fashion Management
Tuition Fees(Rs.) 100000
Admissions Processing Fee -One Time (Non-Refundable) 20000
Caution Money -One Time (Refundable) 10000
Personal Charges (Accountable) (Day Scholar and Boarder) at the time of Admission 10000
Career Development Fee 0
Total Fees for Day Scholar (INR) 140000
Per Annum 1st Installment 84000
At the time of Admission 2nd Installment- Till 15th Nov. 2021- Rs. 56000
Placement and Career for Ph.D. Fashion Management
The drive will be organized by the university's placement cell. Ph.D. Textile Design students will use it to find jobs on campus. Students are kept up to date on industry developments and demands by the University's placement cell, ensuring that they have the best chance of succeeding in the competitive selection process. On a regular basis, industry experts deliver seminars, conferences, and immersive workshops at the college, all of which are extremely beneficial to job seekers in their preparations.
Aricent,
Infosys,
Promact Infotech,
Saint Gobain,
SKF Bearings,
IBM,
ZS Associate,
HSBC,
Hexaware Technologies,
Ericsson,
Adobe,
LinkedIn,
SAP Labs.
Collaboration with People from Other Countries
Mody University of Science and Technology is committed to providing students with the best possible platform to demonstrate their abilities. Mody University has been able to develop cordial relationships with universities all over the world as a result of this. Students will be able to study abroad and engage in excellent exchange programs as a result of the cooperation between the universities. The University of Mody has research and development agreements with both of these nations.
Mody University has partnered with world-class international universities such as to achieve academic excellence.
Canada's Carleton University
Rosario University,
University of Missouri, USA
ISCID, France, and so on.
Mody University School of Design Scholarships
Criteria for a full-ride scholarship include the following:
Each Central and State Board's top scorers
Scholarship Requirements for a 35% Waiver:
JEE Mains needs a minimum of 90% in the best five subjects (as determined by course eligibility) in class XII. JEE Mains needs a NEET score of up to 1,50,000 OR an All India General Category score of up to 2,000.
A MUSAT Rank is a numerical value between 1 to 100.
Scholarship requirements for a 25% waiver:
More than 80% of students in class XII ranked in the top five subjects (as decided by course eligibility).
A NEET score of 1,50,001 - 2,00,000 OR an All India General Category score of 2,00,001 - 2,50,000 is required for JEE Mains.
The MUSAT Rank is a number that ranges from 101 to 200.
Scholarship requirements for a 15% waiver:
In class XII, more than 70% of students scored in the top five subjects (as decided by course eligibility).
NEET Ranks 2,00,001 - 2,50,000; JEE Mains Ranks 2,50,001 - 3,00,000
MUSAT 201 - 400th Rank