MBA Business Analytics in association with WCBA at Mody University, Lakshmangarh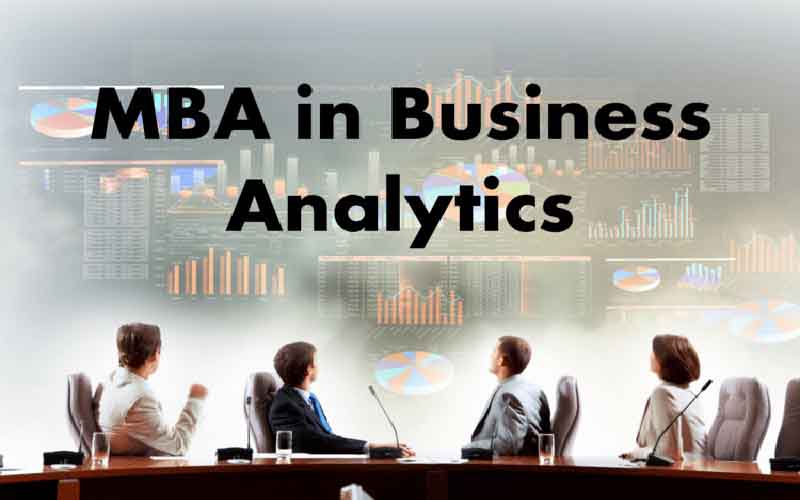 Published by : stepincollege
MBA Business Analytics in association with WCBA at Mody University, Lakshmangarh
This innovative flagship program sets out on a path to reach out to the next generation of businesswomen. This curriculum is structured in such a way that it instills current awareness and skillsets in aspiring managers. Hands-on learning allows learners to reflect on their expertise and experience in dealing with problems and challenges that arise in the corporate and business world. A variety of pedagogical methods are used to help them achieve their high-level professional and career goals, including Case Studies, Role Plays, Real-Life Projects, In-depth Situational Analysis, Business Simulations & Analytics, Personality Development Exercises, and Real-Life Project Research. The program helps learners develop leadership skills and improve their decision-making abilities.
Duration of MBA (Business Analytics) in association with WCBA
Eligibility Criteria MBA (Business Analytics) in association with WCBA
Candidates having valid CAT/ XAT/ NMAT/ CMAT/ MAT /ATMA/ GMAT/Mody University Entrance Test scores and minimum 50% marks (or Equivalent Grade Point) in Graduation in any discipline are eligible to apply.
After completing higher secondary school [Class 12 or equivalent], this degree must provide a minimum of three years of study.
Candidates who are taking their final year exams are also eligible to apply (subject to fulfilling the minimum eligibility conditions).
The entrance exam score, academic consistency, and success in the personal interview will be used to make the final decision (PI).
Fees for MBA (Business Analytics) in association with WCBA
Tuition Fees(Rs.) 315000
Admissions Processing Fee -One Time (Non-Refundable) 20000
Caution Money -One Time (Refundable) 10000
Personal Charges (Accountable) (Day Scholar and Boarder) at the time of Admission 10000
Career Development Fee 80000
Total Fees for Day Scholar (INR) 435000
Per Annum 1st Installment 261000
At the time of Admission 2nd Installment- Till 15th Nov. 2021- Rs.174000
Placement and Career for MBA (Business Analytics) in association with WCBA
Our strong international focus and emphasis on case study teaching methods set us apart. Every field of legal science continues to apply theoretical principles and case laws from the current courtroom and corporate law. There are five legal internships available each year, according to the Bar Council of India in New Delhi, with one summer internship program at the end of the year. When a school aspires to provide technical education, it recognizes the value of placing eligible students in the most appropriate corporate settings. Mody University's Training and Placement Department provides a variety of services to help female students achieve their career goals.
Top Recruiters
HDFC Bank
ITC Rajputana
CapitalVia
Dabur
Airtel
Jaro Education
Markets & Markets
Accrual Intelligence Manuals India#
Live Week
Hike Education
BYJU
Recruit Consulting
Gboxz
Vishal Mega Mart
TresVista
Maven Workforce
Treasury Consulting
Bajaj Allianz
FARE Labs
OYO Rooms
Velocity Brand Server
Thrilophilia
DCB Bank
Swiggy
ACS Consulting#
ICICI Prudential
J Connect
S&P Global
Bonton Cables
Credit
People scout
Phronesis Partners
Reliance Jio
Vaibhav Global Limited
Internship and Placement
Both of our students will have the opportunity to take part in an internship. The Career Development Cell (CDC) at the university is dedicated to placing nearly all of its students.
Corporate law firms, LPOs, PSUs, NGOs, MNCs, and other businesses are among the most well-known.
Internships with senior staff at prestigious institutions in India and abroad have been completed by our students.
Judges and lawyers offer advice to the Supreme Court and the High Courts.
Collaboration with People from Other Countries
Graham School of Business, Saint Xavier University, Chicago, USA
Stony Brook University, New York, USA
Carleton University, Canada
Industry Advisory Committee
Chiradeep Deb, MD of Mashreq Bank and Head of Corporate and Investment Banking in the UAE.
Anindita Sinha, the Head of Corporate Communications at L&T Metro Rail Hyderabad
Societe Generale, India Economist, Kunal Kundu
Anuka Kumar, IBM India, Leader - Academic Partnerships Career Education, IS/A
IMRB Kantar, Executive Vice President, Shamik Ray
Woman At Work, Founder Director, Poornima Batish
Bain Consulting India, Sr. Manager, Shailendra Singh
Drishti, Chief Impact Officer, Vasundhara Kaul
Johnson & Johnson Middle India Associate Sales Director Ashish Singhal
Straumann Group, Marketing Director, Ranjit Kaur Chandel
Ankara Bhalla, Infiniti Retail Croma, Head of Brand Strategy
Medium Consulting, Managing Partner, Ritesh Dogra
Vijender Sharma, Concourse Consulting, Principal Consultant
Savio Dsouza, VP & Head HR, Metropolitan Stock Exchange of India
Acute Ratings & Research India, Sr. Vice President – Ratings, Antony Jose
Dr. Swaminathan Mani, VP (Marketing) & Head – Analyst & Advisor Relations, Tech Mahindra
NISM, Adjunct Faculty & Independent Consultant, Dr. Rachana Baidai
Centers of Excellence
The School of Business has established Centers of Excellence in the following areas:
Women's Leadership
Retail and Supply Chain
Finance, Insurance, Risk, and Economics
Tourism
These centers are made up of faculty and students who are passionate about the topics listed above. SoB intends to conduct guest lectures/conferences/workshops at these centers on a regular basis in order to obtain a better understanding of the past, current, and future circumstances in these areas, as well as to promote resource and knowledge growth.
Life Beyond Classroom
The brilliant and versatile students of the School of Management Studies have developed a slew of forums and societies to engage in constructive activities outside of the classroom.
Ira – The Academic Society—The academic society for students was established with the aim of honing students' academic abilities. On a daily basis, it holds events such as debates, presentations, and group discussions. It serves as a beneficial platform for students' overall personality growth.
Mrida – SoB's Student Cultural Society was established with the aim of hosting a variety of competitive cultural events such as dance, music, skits, and other activities. Mrida's activities draw a significant number of students who take part in them actively. Various Indian festivals, such as Ganesh Chaturthi, Janmashtami, and Navratri, are also led by the Society.
Lakshya – Volleyball, basketball, badminton, chess, and carom are only a few of the indoor and outdoor sporting events organized by the Student Sports Society. The Society also encourages students to participate in national inter-college competitions.
Magnum Opus - (Student Newsletter) is a student-led initiative that receives support and encouragement from faculty. It's a creative activity in which students use papers and cartoons to express themselves.
Social Service - Students at SoB recognize that contributing to society is just as important as receiving anything from it. The Community Service (Khushi) arm of SoB students tries to brighten the lives of underprivileged children in nearby government primary schools by providing them with winter clothing and educational materials.
Mody University School of Business Scholarships
Criteria for a full-ride scholarship include the following:
Toppers from the State or Central Boards.
Scholarship Requirements for a 35% Waiver:
Passed the most recent qualifying exam with a minimum of 90% (Best 5 Subjects) (As determined by the eligibility requirements of the program).
On the MAT/NMAT/CMAT/ATMA, you scored above the 85th percentile.
A minimum CAT/XAT score of 75% is needed.
On the MUSAT, you can earn up to 100 points (Applicable on UG Programs Only).
Scholarship requirements for a 25% waiver:
Passed the most recent qualifying exam with a minimum of 80% (Best 5 Subjects) (As determined by the eligibility requirements of the program).
On the MAT/NMAT/CMAT/ATMA, you scored in the top 80%.
A score of more than 65 percentile on the CAT/XAT is needed.
MUSAT score range: 101-200 (Applicable on UG Programs Only).
Scholarship requirements for a 15% waiver:
Passed the last qualifying exam with at least a 70% (Best 5 Subjects) grade (As determined by the eligibility requirements of the program).
On the MAT/NMAT/CMAT/ATMA, you scored above the 75th percentile.
CAT/XAT CAT/XAT CAT/XAT CAT/XAT CAT/XAT CAT/XAT.
MUSAT Rank (201-400) (Applicable on UG Programs Only)