Infrastructure of Agarawal PG College, Building, Laboratories, Library Details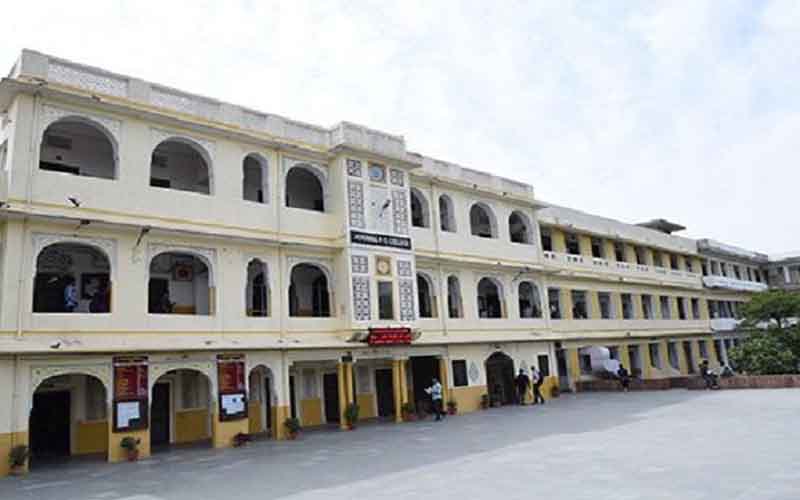 Published by : stepincollege
Infrastructure of Agarawal PG College
Building
The college building, which was built in 1957 and is located in the heart of Jaipur city, has an impressive view. It stands testimony to the old era and promises a bright future, surrounded by the lush green ambience, spacious lawns and playgrounds, and state-of-the-art facilities.
Department of Botany
Botany is a Master's degree programme offered by the department. It's a multidisciplinary programme with a curriculum designed to satisfy the rising demand for expert expertise in the life sciences. It is backed up by specialist labs and enriched departmental libraries to provide comprehensive information support. The department also has a well-kept botanical garden and a strong herbarium collection. The botanical garden contains a variety of herbs, shrubs, and trees that have been cited in the literature for their commercial, medicinal, and ethnobotanical uses. The department also has highly qualified faculty with a variety of specialisations who work tirelessly to promote active teaching and study.
Department of Chemistry
A Master of Science in Chemistry is offered by the department. The Department of Chemistry has 40 seats available for Post-Graduate students who choose to specialise in Organic Chemistry. The department has well-equipped laboratories with the most up-to-date instruments for conducting practical and research work in all three disciplines of organic, inorganic, and physical chemistry. It has a number of highly trained and seasoned faculty members working on a variety of projects. The departmental library, as well as the central library, have a large collection of reference books and papers. Guest lectures are held on a regular basis to encourage students and enable them to communicate with eminent professors.
Department of Zoology
For the PG degree, the Department of Zoology has 40 seats available. It has well-equipped laboratories and faculty who are highly qualified and experienced. Every session, the department conducts an educational tour to give students a better understanding of the practical aspects of the subject. Guest lectures by renowned scientists and professors are provided by the department to inspire and empower students and to introduce them to different career options. For students, the departmental library has a large collection of reference books.
Department of Physics
Department of Physics The Department of Physics was established in 1961 to offer undergraduate courses. Since 2006, the department has offered both undergraduate and graduate courses, providing a solid foundation in the fundamentals of futuristic technologies through theoretical education and specialised practical training in well-equipped laboratories. For teaching and research, the department has a number of cutting-edge research facilities. In Post-Graduation, the department has 80 seats open.
Department of Computer Science
The Department of Computer Science was founded to fulfil the goal of providing high-quality computer science education. The department has modern computer laboratories as well as teaching, studying, and research facilities. Bachelor in Computer Applications is a three-year programme offered by the department (BCA).
Department of Mathematics
Previously, the Department, which was established in 1957, only offered undergraduate programmes. This year, Agrawal P.G. College is expanding its reach by offering a Masters Degree in Mathematics. The aim is to become a recognised leader in mathematics by training post-graduate students for successful academic careers. We also want to create a great atmosphere for teaching, learning, and study in mathematical theory and applications.
Department of Humanities and Social Sciences
With the goal of integrating human values and social issues with technical education, the Department of Humanities and Social Sciences was created. It includes a Master's degree in English, Hindi, Economics, Sociology, Political Science, Public Administration, and related inter-and cross-disciplinary subjects. The department aims to improve students' imagination and critical thinking by instilling knowledge and understanding of humanistic studies in them, allowing them to comprehend the interdependence of nature and humans.
The Department has a highly trained faculty that is still engaged in high-quality research and teaching. The department contributes to the advancement of education in the Humanities and Social Sciences by frequently hosting a variety of exciting academic events that draw from a variety of disciplines to enrich the entire spectrum of students and faculty.
Department of Geography
The department produces high-quality scholarly work and conducts research. The department helps students understand the geo-bio-anthro sphere's mechanism and function. The Geography laboratory is well-equipped, with physical geography equipment as well as world-level maps, charts, globes, models, and other materials. It also has a Dumpy level, a Clino-meter, a Plain metre, an astronomical telescope, a GPS and distance metre, a weather station, topographical sheets, a compass, and other digital field survey equipment.
Commerce Department
The Department of Commerce offers both a Bachelor's and a Master's degree in Commerce. It was established in 1961 with the introduction of the B.Com degree programme. Since its establishment, the Department has retained a stellar academic reputation, as evidenced by the students' excellent academic achievements.
Commerce is a rapidly expanding profession. Finance, tax consulting, audit and insurance, company advisory services, and other fields employ accounting graduates. The course will assist you in honing your analytical, communication, and problem-solving skills so that you can effectively identify problems and come up with efficient and realistic solutions. With a degree in Commerce, you can work as an accountant, auditor, information management officer, taxation specialist, or customer relationship officer in a variety of industries, such as accounting and computer science, finance and banking, and corporate and public sectors.
Department of Professional Courses
Students at Agrawal P.G. College in Jaipur will earn a Bachelor of Vocation (B.Voc.) in addition to their B.A., B.Com., B.Sc., and B.C.A. degrees, with 100% job placement. Rajasthan ILD Skills University awards a B.Voc. degree. Vocational programmes are designed to prepare students for gainful employment or self-employment by providing them with skill-based and job-oriented training. Daily classroom instruction, intensely practical, intensive summer training, lectures, workshops, field research, and On-the-Job-Training are all part of the teaching and learning environment. * PG courses in some departments are subject to approval.
Laboratories
U.G. and P.G. Laboratories: To meet the demands of different practical subjects, the College has separate U.G. and P.G. labs. The laboratories are well-equipped with all of the latest equipment needed to fulfil the practical curriculum requirements of both U.G. and P.G. students.
Library
The library has a strong reading atmosphere and is fully digitalized, with approximately 1 lakh books, journals, and magazines. With IFW Edutech applications, it is computerised and user-friendly. There are 93 national and foreign journals/magazines available at the library. The journals are available to read online. The library participates in the N-LIST (National Library and Information Services Infrastructure for Scholarly Contents) project.
Auditorium
The College has a completely air-conditioned auditorium, the "Maharaja Agrasen Auditorium," with seating for approximately 800 students and a cutting-edge lighting and sound system. It's used for workshops, conferences, gatherings, guest lectures, ceremonies, and celebrations, among other things.
For presentations and broadcasting, the auditorium is well equipped with modern audio-visual equipment. For such a large auditorium, proper and direct contact to the last row of seating may be a major challenge. However, we are able to offer the highest product experience to our audience with the aid of all ultra-modern machines and attachments.
At any given time, the auditorium will hold over 800 people. Because of its scale, it's an excellent choice for any indoor cultural or academic functions or activities. This is one of the largest auditoriums in the area.
Sports Complex
The college has a large sports complex and a well-equipped gymnasium with modern equipment where athletes, students, and faculty members can work out and maintain a healthy lifestyle.
Conference Hall
Agrawal PG College has a completely air-conditioned conference hall with seating for approximately 200 people and an excellent lighting and sound system. Tiny parties, lectures, workshops, gatherings, guest lecturers, functions, and celebrations are all held there.
Cafeteria
Cafeterias are the most common hangout spots for college students. It offers affordable meals, snacks, cold drinks, tea, coffee, and other beverages.
Swimming Pool
The pool at Agrawal College is well-equipped to meet the needs of students of various levels and abilities. Swimming is a valuable ability that can help you live a more safe and active lifestyle. … Over a distance of at least 25 metres, swim competently, confidently, and proficiently. Make good use of a variety of strokes. Swimming is an individual or team activity that involves moving through the water with one's entire body. Swimming is a sport that takes place in pools or open water, and each stroke involves a particular set of techniques; in competition, there are different rules for each individual stroke.