B.Sc Forensic Science at VGU Jaipur, Specializations in B.Sc Forensic Science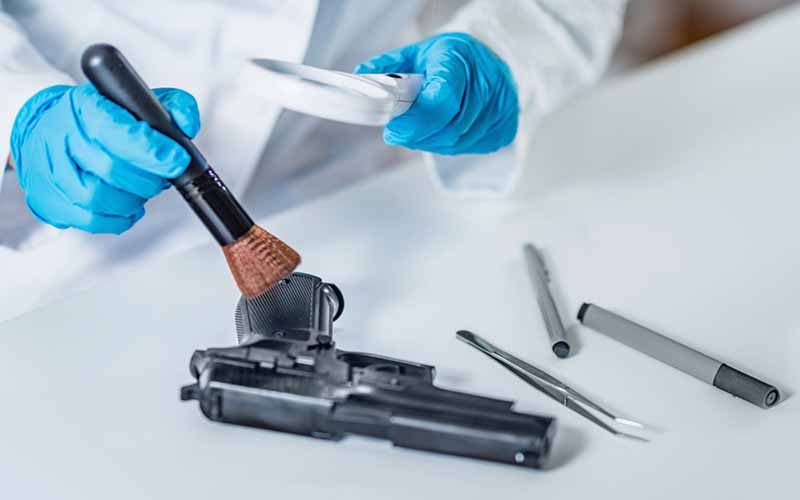 Published by : stepincollege
B.Sc Forensic Science at VGU, Jaipur
The study of scientific applications and information that aids in the investigation of crimes is available through a BSc in Forensic Science. Basic elements of forensic sciences include forensic pathology, psychiatry, psychology, forensic medicine, and forensic dentistry (Dentistry). It is primarily a laboratory-based science that includes elements of Chemistry, Biology, Toxicology, Ballistics, Fingerprinting Science, Questioned Documents, and Impressions. This curriculum includes classroom seminars as well as hands-on training sessions. The speciality entails investigating crime scenes, such as fires, explosions, and drug labs.
In terms of topics, the subject uses scientific expertise to help in the administration of justice and has no limits. The Bachelor of Science in Forensic Science is a three-year undergraduate programme that focuses on research applications and experience that aids in crime detection. This course covers a broad variety of topics, including how to observe and research various items at crime scenes, which are the most critical proofs. Bloodstains, dirt, bones, fingerprints, recovering data from cell phones, tablets, computers, DNA profiling, and other factors may all be examined at the crime scene.
Students interested in pursuing forensic science as a profession must possess academic skills and a basic understanding of the field, as well as a strong desire to learn more about it. A few of the ideal skillsets for a forensic student are mentioned below:
Skills in analysis
Technical abilities
Skills in observation
Paying attention to the smallest details of one's work
Esprit de corps
Ability to function under pressure and for long periods of time
Vivekananda Global University, ranked among India's Best and Top B.Sc Forensic Science Colleges Colleges, provides students with an interesting and intelligent atmosphere and a course curriculum that includes technical learning, project work, expert lectures, and more. Although theory allows you to grasp the subject's complexities, the well-equipped laboratories offer a more realistic view and real-time visibility.
Scope in B.Sc Forensic Science
After earning a B.Sc in Forensic Science, you will pursue a rewarding career. Government departments such as the Central Bureau of Investigation and the Information Bureau employ the majority of forensic science applicants. To boost their inquiries and prosecutions, several law firms and private investigators employ forensic experts.
Department at a Glance
Experiential and project-based learning
The programme was developed with input from industry leaders.
Practical grooming experience that leads to a career in the grooming industry
Patronage from the industry on a never-before-seen scale
Best-in-class placements
Specializations in B.Sc Forensic Science
Forensic Data Analysis
Forensic Chemistry
Blood Stain Pattern Analysis
Forensic Accounting
Eligibility And Fee Details
Eligibility – Bachelor's degree in any branch of science, pharmacy, medicine, or dentistry, or bachelor's degree in engineering from a recognised university or institution with at least 50% in aggregate.
If an applicant has not graduated English as a subject, the English requirement may be relaxed if the applicant has studied in an English-medium environment throughout his qualifying examination.
Duration for Course B.Sc Forensic Science
3 years
Fees Details for B.Sc Forensic Science
| | |
| --- | --- |
| Duration | Fees |
| Yearly Fee | 50000 -/ INR |
Scholarships for B.Sc Forensic Science
| | |
| --- | --- |
| Criteria | Scholarship amount (per semester) |
| 75% or above aggregate marks in 12th | 25% of Programme Fee |
| 60% or above aggregate marks in 12th | 10% of Programme Fee |
Fee After Scholarship
Details

Scholarship Amount

(per semester)

Applicable Fee after Scholarship

(per semester)

75% or above aggregate marks in 12th

12500

(i.e. 25% of Programme Fee)

37500

60% aggregate marks in 12th

5000

(i.e. 10% of Programme Fee)

45000
Pathway After B.Sc Forensic Science
Since our country has such a high rate of crime, there are many opportunities in this area. As a result, the number of work openings in the world of forensic science is limitless. Private investigators, security firms, consultancies, law firms, and detective departments all employ forensic experts. You can start your agency or consultancy service if you choose to be self-employed. In the public sector, forensic science graduates are employed by the Police Department, Government Forensic Laboratories, Income Tax Department, Commercial Tax Department, Crime Branch, Armed Forces, Government Hospitals, Government Banks, and Finance Institutes, among others.
Crime Laboratory Analyst is a position that a forensic science graduate can apply for. Serologist in Forensic Science Architect specialising in forensics Forensic Odontologist is a dentist who specialises in forensic dentistry. Psychiatrist for the courts Toxicologist for the Courts Engineer in Forensic Science The Central Bureau of Investigation (CBI) and the Intelligence Bureau can employ a qualified forensic scientist (IB). You can also work as a forensic scientist on a freelance basis. After gaining expertise as a forensic scientist, you will serve as a legal counsellor. Good graduates of the course can expect to earn between INR 1 and 5 lacs per year on average in India. Successful graduates can continue their education by obtaining an M.Sc. in Forensic Sciences, an MD in Forensic Science (after MBBS), or a PhD in Forensic Science.
Graduates in forensic science will work in both the public and private sectors. Graduates work in fields such as cybercrime investigation, consumer rights security, anti-terrorist operations, environmental protection, and human rights protection. They are also employed by the CBI, the Intelligence Bureau, the Forensic Science Laboratories, health research, civil services, police forces, and other organisations. The following are some of the job profiles available to Forensic Science graduates:
Forensic Scientist
Private Investigator
Drug Analyst
Crime Laboratory Analyst
Forensic Serologist
Forensic Architect
Forensic Engineer
Forensic Toxicologist
Police Officer
Forensic Consultant
About Faculty of Basic & Applied Sciences
The Faculty of Basic and Applied Sciences offers undergraduate, graduate, and doctoral programmes. The majority of the faculty members have earned a PhD and are well-known for their scholarly contributions in national and international scientific journals. Each department has a distinct and distinguished place in academia and has quickly established a reputation among top universities.
Why Basic & Applied Sciences?
Basic and Applied Sciences is a difficult path. After completing this course, the average starting salary is very high. Students can earn between IRN 2,00,000 and IRN 12,00,000 per year. Students who complete this course will work as teachers in a variety of coaching centres.
Applied Science as Career
The Bachelor of Science in Applied Sciences is a three-year full-time programme. The following are the specifics of this course:
The B.Sc Applied Sciences course focuses on the relevance of science in modern society for the advancement of specific industries.
This course places a greater focus on putting all of the scientific procedures and laws into practice.
Students who complete a B.Sc. in Applied Sciences will work in a variety of pharmaceutical and commercial industries.
This course assists students in gaining a sound foundation in science for practical applications.
Students with a B.Sc. in Applied Sciences degree are well-prepared for management positions in businesses.
Collaboration with Professional Scientific Associations
International Center of Theoretical Physics (ICTP)
American Chemical Society (ACS)
International Society for Infectious Diseases (ISID).
European Society of Toxicology in vitro (ESTIV).
Indian Science Congress Association (ISCA).
Soft Materials Research Society (SMRS).
Material Research Society of India (MRSI).
Indian Association of Physics Teachers (IAPT)
International Society for Life Sciences (ISLS).
Indian Society for the Study of Reproduction & Fertility (ISSRF)
Indo Global Health Care Research Foundation (IGHCRF)
Infrastructure
Classrooms that are smart
Science and Technology Innovation Center
Material testing facility
Physics, forensic science, chemistry, zoology, and botany are all covered in this lab.
ANIMAL Experimentation Software for MATLAB
Wi-Fi and other teaching aids are needed to promote successful pedagogy.
HIGHLIGHTS (Achievements, Awards, Special Events or Activities)
80 percent placement- one student is an IAS, a bank PO, a lecturer in a government college, and has passed the NET and GATE exams.
Faculty with the highest h-index and citations at VGU
The most prestigious SCI journals
Several grants were obtained from various funding organisations.
2019 International Conference on Environmental and Sustainable Development Trends
INSPIRE Science Camps will be held in March and November of 2019.
2019 Crime Scene Investigation Workshop
Insect Detection and Preservation Techniques Workshop 2019
In 2019, the National Conference on Nanomaterials in Biology will be held.
2020 Science E-Talk Series