M.Sc. Biotechnology at Mody University Lakshmangarh, Laboratories, Placement and Career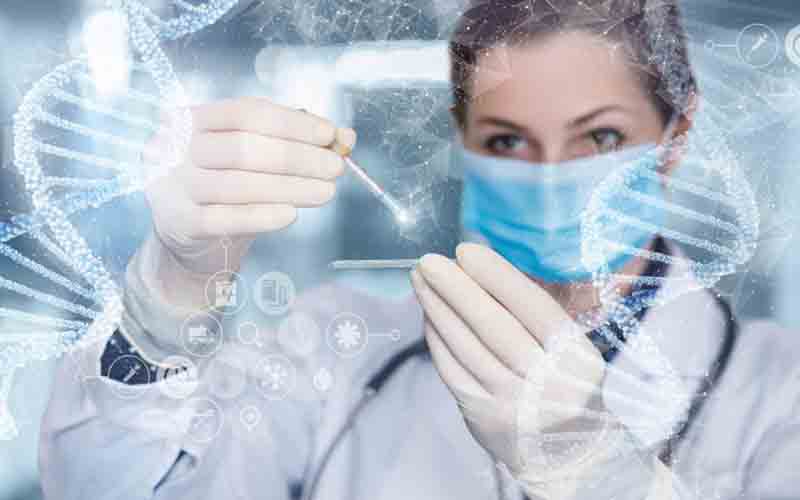 Published by : stepincollege
M.Sc. Biotechnology at Mody University, Lakshmangarh
Science, medicine, and engineering are all combined in the MSc Biotechnology program. It covers biology and chemistry, as well as genetics, microbiology, cellular biology, process design, and genetic engineering, as well as their applications in healthcare and food processing. This curriculum covers a wide variety of topics to prepare students for careers in biotechnology. In addition to ensuring competency in the required expertise, the course work fosters problem-solving and critical thinking skills, preparing the student to take on a variety of design and engineering challenges. Biotechnology is a field that uses living organisms to create regulated processes or final goods. Students who pursue this degree would have a better chance of landing a job because employers in science and engineering also favor applicants with post-graduate degrees. MSc Biotechnology graduates may work in a number of bioengineering fields in research or production. Pharmaceutical and medical design, genetic engineering, biofuel processing, and industrial biotechnology systems are all examples of these. The study of the use of living organisms to generate bio-products is included in the MSc Biotechnology program. Engineering, technology, and medicine are all areas where the course is used. Genetics, Cell Technology, Fermentation Technology, Advanced Biotechnology, Tumor, and other subjects are covered in depth in the MSc in Biotechnology program. The program is a combination of theoretical and practical sessions that help students learn how to put the course into practice. M.Sc. in Biotechnology is a graduate program that prepares students for careers in research and development or in industries such as pharmaceuticals and healthcare. Students who want to work in science and technology and contribute to the medical and pharmaceutical industries should enroll in the M.Sc in Biotechnology program. The course will assist students in learning biological science-related skills and technologies.
Duration of M.Sc. Biotechnology
Program duration 2 Years.
Eligibility Criteria for M.Sc. Biotechnology
Students must have a Bachelor's Degree in Botany, Zoology, Microbiology, Biotechnology, or Biochemistry from a recognized university with Botany, Zoology, Microbiology, Biotechnology, or Biochemistry as a subject for three years/six semesters OR an equivalent degree in a related field with a minimum of 50% marks and sufficient English proficiency.
Laboratories
Biotechnology Lab: A Thermal Cycler, Trans-Illuminator, UV - Visible Spectrophotometers, Nano Spectrophotometer, Phase Contrast Microscope with Image Projection System, High-Speed Refrigerated Centrifuge, and BOD Incubators, as well as other sophisticated government-sponsored equipment, are all housed in the BIOTECH Lab.
Molecular Biology Lab: The aim of this lab is to further Proteomics and Genomics research as well as experimental education in Biotechnology and Microbiology courses. Organic, physical, and inorganic chemistry are the lab's mainstays. Ultrasound for determining the 3D structure of proteins and other macromolecules, DNA sequencing, and DNA-protein interaction, as well as FT-IR, UV-VIS, Zeta Potential Measurement Unit, Scientific Microwave Synthesizer, Computer Controlled Rheometer, Computer Interfaced Metallurgical Microscope, Centrifuges, Microprocessor Controlled pH meter, and Conductivity Meter Gradient PCR, Elisa Reader, Fermentas Reader, and Fermentas Reader Gradient
Microbiology Lab: In this lab, students learn how to use the ElectroPorter, Auto-Analyzer, Bacterial Counting System, BOD, COD, Electrophoresis System, Blotter System, Lyophilizer, and other tools to conduct experiments.
General & Advanced Chemistry Lab: All of the Measurement Units, Dielectric Constant Measurement Units, Ball Mills, and Vacuum Ovens are located in the Chemistry lab. In addition to its own instrument space, the department has its own stand-alone wet research laboratory for water treatment, organic synthesis, and material processing.
General & Advanced Physics Lab: The Physics Department's laboratories cover Mechanics, Properties of Matter, Heat, Sound, Electricity and Magnetism, Optics, and Modern Physics. Other major tools include the Zeeman Effect, the Frank-Hertz Experiments, the GM counter, Millikan's Oil Drop, and others.
Forensic Lab: The Forensic Science Laboratory is a state-of-the-art facility capable of conducting complex forensic investigations. Spectrometers, Spectral Comparators, DNA Analyzers and Sequencers, and other high-end instruments are available. Students can learn about the intricacies of cybersecurity by visiting a remote forensic facility like this. When following government guidelines, all students undergo hands-on training on industry-grade tools, and all activities are planned to keep up with forensic science trends.
Psychology Lab: There are a variety of standardized assessments as well as other mental health and behavioral assessment methods for evaluating personality skills. Students may begin their training as licensed psychologists in a laboratory setting.
Computer Lab: In its computer lab, SOS has 45 Dell workstations connected via LAN. We provide 24 Mbps internet connectivity to students so that they can learn online using MIT open courseware and NPTEL.
The Language Lab: Some of the most advanced multimedia language tools are available in the Language Lab. 'Hi-Class-Learn-To-Speak' is a self-study program that focuses on skills such as vocabulary building, pronunciation, and grammar and is supervised by a teacher console. It is made up of 35 student consoles, each supervised by a teacher console.
Fees for M.Sc. Biotechnology
Tuition Fees(Rs.) 65000
Admissions Processing Fee -One Time (Non-Refundable) 20000
Caution Money -One Time (Refundable) 10000
Personal Charges (Accountable) (Day Scholar and Boarder) at the time of Admission 10000
Career Development Fee 14500
Total Fees for Day Scholar (INR) 119500
Per Annum 1st Installment 71700
At the time of Admission 2nd Installment- Till 15th Nov. 2021- Rs.47800
Placement and Career for M.Sc. Biotechnology
Students who earn this degree will help improve people's lives by investing in the fields of medicine, agriculture, and the environment. M.Sc. in Biotechnology graduates have a wide range of career options. These graduates are recruited by a variety of public and private sector employers for a variety of job openings. They can operate in a variety of settings, including research facilities, pharmaceutical companies, medical centers, hospitals, agricultural companies, drug manufacturers, forensic services, food institutes, health care centers, clinical labs, and so on. In these firms, one can choose the job prospects of Consultant / medical laboratory technician / regulatory affairs expert / quality management officer / toxicologist / product creation manager / geneticist / chemist / cytologist / clinical testing specialist/Scientist etc.
Collaboration with People from Other Countries
The Mody University of Science and Technology strives to provide the best platform for their students' creativity to be showcased. This is what has enabled Mody University to maintain cordial relations with universities around the world. The collaboration between the institutions allows students to study abroad and participate in excellent exchange programs.
Mody University has partnered with world-class international universities such as, in order to achieve academic excellence.
Carleton University, Canada
The University of Rosario,
University of Missouri, USA
ISCID, France, etc.
Mody University School of Liberal Arts & Sciences Scholarships
Criteria for a full-ride scholarship include the following:
Students are chosen by a state or national education commission.
Scholarship Requirements for a 30% Waiver:
The most recent qualifying exam (best five subjects) must have a minimum score of 90% (as decided by the program's eligibility requirements).
On the MUSAT, you will be given a ranking (up to 100 points) (Please note that this is only applicable to undergraduate programs.)
Scholarship requirements for a 20% waiver:
A minimum of 70% on the most recent qualifying exam (best five subjects) is required (as determined by program eligibility)
The MUSAT has a score range of 201 to 400 points. (Please keep in mind that this applies only to undergraduate programs.)
Scholarship requirements for a 15% waiver:
A minimum of 70% on the most recent qualifying exam (best five subjects) is required (as determined by program eligibility)
The MUSAT has a score range of 201 to 400 points. (Please keep in mind that this applies only to undergraduate programs.)