Bachelor of Business Administration at VGU Jaipur, Eligibility and Fees Details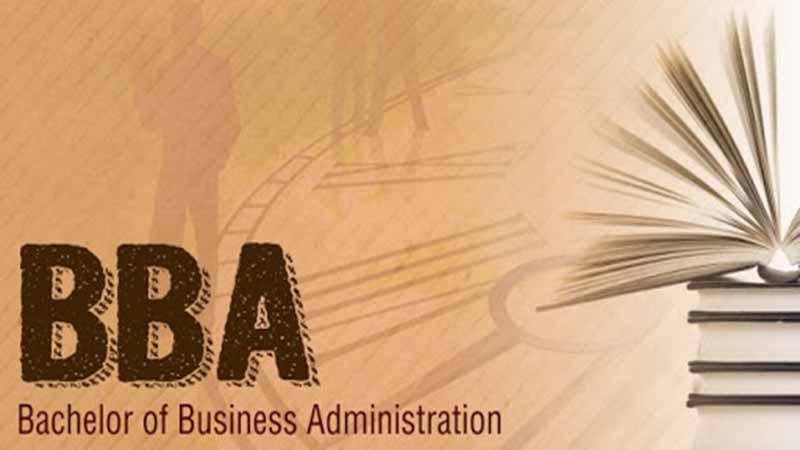 Published by : stepincollege
Bachelor of Business Administration at VGU, Jaipur
BBA is an undergraduate Business Management Course. BBA stands for "Bachelor of Business Administration." The BBA course is designed to give students a basic understanding of management education and to effectively train them in communication skills, as well as entrepreneurship and decision-making skills.
Vivekananda Global University, ranked among India's Best BBA Universities, provides students with an intellectually stimulating atmosphere and a course curriculum that includes practical training, project work, expert lectures, and more.
Scope
A profession after completing a BBA is extremely satisfying. Students have plenty of opportunities for newly created jobs in the management profession. Graduates with a BBA may work in a variety of settings, including banking, educational institutions, marketing organizations, business consultancies, export companies, and industries, among others.
ELIGIBILITY AND FEE DETAILS
Eligibility –
Pass a recognized Board, University, or Council's 10+2 or equivalent review in either stream with a minimum of 50% in aggregate.
If a candidate has not studied English as a subject, the condition of English may be waived if the candidate has studied in English medium during his qualifying test.
Fees Details –
| | |
| --- | --- |
| Duration | Fees |
| Yearly Fee | 50000 -/ INR |
| Semester Fee | 25000 -/ INR |
Scholarships –
| | |
| --- | --- |
| Criteria | Scholarship amount (per semester) |
| 75% or above aggregate marks in 12th | 25% of Programme Fee |
| 60% or above aggregate marks in 12th | 10% of Programme Fee |
Fee After Scholarship –
Details

Scholarship Amount

(per semester)

Applicable Fee after Scholarship

(per semester)

75% or above aggregate marks in 12th

15000

(i.e. 25% of Programme Fee)

35000

60% aggregate marks in 12th

5000

(i.e. 10% of Programme Fee)

45000
Pathway After BBA
Careers
For BBA graduates, there are a plethora of career openings. BBA graduates, in particular, will work as management trainees in companies' sales and marketing departments.
Top Recruiters
The following are the top recruiters for BBA graduates:
Amazon
ByZu's
Chegg India Pvt. ltd
Faculty of Management Studies
The division of education that deals with the planning, execution, monitoring, and review of a company is known as business management. The creation of a corporation or an organization, as well as various functional levels such as manufacturing, financial, administrative, human resources, sales & marketing, and others, are all covered in this field of study. BBA, BBA LLB, Integrated MBA such as BBA+MBA and BTech+MBA Some of the best undergraduate Business Management degrees are listed below.
Why Management Studies?
Young students who want to work in the Operations and Information Technology domains also combine an MBA with a BCA or BTech. With managerial or consultant level roles and a high pay package, a job after BCA+MBA or BTech+MBA is very rewarding. Business Management graduates are employed in a variety of capacities by almost all businesses, non-profit organizations, and government agencies.
Management as Career
One of the most compelling reasons to pursue a management career, as our engineering friend suggests, is the opportunity to have a greater effect on your business. Others include: You have the potential to use others to amplify your own strategic, direction, and problem-solving ideas.
You reap the benefits of cultivating great professionals over time.
You play a role in determining how the company grows and evolves over time.
You build your own leadership and coaching abilities.
You have some control over your goals, but not as much as you would think.
Infrastructure
Infrastructure that is cutting-edge, with smart classrooms and labs that are fitted with the most up-to-date technology.
On 30-hectare farmland, there is a Crop Research Center and a Horticulture Nursery.
The following units are available: Polyhouse, Poultry House, Meteorological Center, and Vermi Compost Units.
Hydroponics lab and modern farm equipment
Awards and Recognition
Students participated in a variety of state and national sporting competitions, winning first place in Kabaddi at BITS Pilani.
The faculty members competed in the PANACHE XII, where they won first place in Football and Kabaddi.
The bulk of the professors hold a doctorate.
Field visits, teaching, and agricultural exhibits are held on a regular basis.
The course curriculum is based on the recommendations of the ICAR 5thDeans' Committee.
Students from Tennessee State University in the United States completed a summer internship at VGU's Department of Agriculture.