Bachelor of Hotel Management & Catering Technology at VGU Jaipur, Scope, Eligibility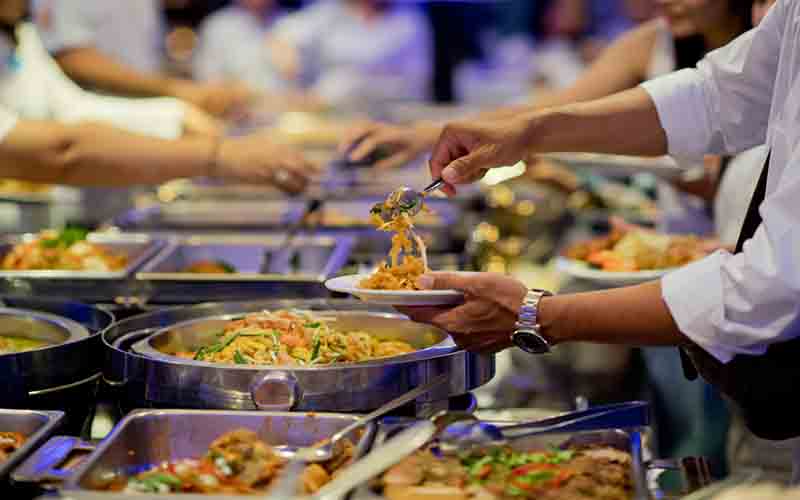 Published by : stepincollege
Bachelor of Hotel Management & Catering Technology at VGU, Jaipur
Bachelor in Hotel Management is an undergraduate program that teaches the basics and skills of hospitality and its various sectors. India is one of the most popular tourist destinations in the world. The hotel industry, without a doubt, plays a critical role in the hospitality industry. As a result, there is a high demand for hotel management experts who have researched the hotel industry as a whole and are well-versed in other important aspects such as hospitality, public relations, customer service, sales, marketing, and so on. Vivekananda Global University, a top hotel management college in India, offers students an intellectually stimulating environment and a course curriculum that includes practical training, project work, expert lectures, and more. While theory can help you understand the dynamics of a topic, well-equipped laboratories can give you a more realistic understanding and real-world experience.
VGU is the only VGU. Our hotel management students have been placed in countries such as the United States for internships and jobs in Morocco, Dubai, Maldives, UAE, Qatar, Bahrain, Malaysia, and Singapore, based on industry needs and student abilities.
For the session 2020-21 students who will graduate in June/July 2021, 3 diploma students have been offered a position in a five-star restaurant in Morocco, and 5 students have been offered a position in a Middle Eastern country.
Scope
Following BHMCT, you can pursue a rewarding career. Food and Beverage, Front Office, Sales and Marketing, Finance and Accounting, Maintenance, Security, and other departments in the hotel industry have jobs.
ELIGIBILITY AND FEE DETAILS
Eligibility –
Pass with a minimum of 45 percent in 10+2, A level, IB, American 12th grade, or equivalent.
Duration:
4 Years
The condition of English may be waived for a candidate who has not studied English as a subject, as long as the candidate has studied in English medium during his qualifying exam.
Fees Details –
| | |
| --- | --- |
| Duration | Fees |
| Yearly Fee | 70000 -/ INR |
| Semester Fee | 35000 -/ INR |
Scholarships –
| | |
| --- | --- |
| Criteria | Scholarship amount (per semester) |
| 75% or above aggregate marks in 12th | 25% of Programme Fee |
| 60% or above aggregate marks in 12th | 10% of Programme Fee |
Fee After Scholarship –
Details

Scholarship Amount

(per semester)

Applicable Fee after Scholarship

(per semester)

75% or above aggregate marks in 12th

17500

(i.e. 25% of Programme Fee)

52500

60% aggregate marks in 12th

7000

(i.e. 10% of Programme Fee)

63000
Pathway After Bachelor in Hotel Management
Careers
Since there are numerous departments in the hotel industry, such as Food & Beverage, Front Office, Sales and Marketing, Finance and Accounting, Maintenance, Security, and so on, there are excellent job opportunities available after completing a BHM undergraduate course. Most candidates begin their careers as trainees, and after completing their training, they are hired for full-time roles that best fit their personalities. The following are some career opportunities for BHM graduates:
Front Desk Officer
Sales Manager
Accounting Manager
Chef
Executive Housekeepers
Resident Managers
Convention Service Managers
Front Office Managers
Salient Features :
22 week(s) mandatory industry training
Restaurant set up for practical training.
PracticalTheory ratio 70:30.
Fully equipped Kitchen for basic training, front office lab, room division (guest room), computer lab, and so on.
Faculties with Industry experience.
Placement assistance 100%.
Faculty of Hotel management
The study of unique professional management techniques and methods relating to hotel administration, operations, and catering is known as hotel management. Education and technical training in the field of hospitality services allow students to become hospitality service entrepreneurs. Hospitality is a fun, sociable workplace with plenty of career opportunities.
Why Hotel Management?
With globalization, the need for skilled professionals in the hospitality industry is at an all-time high. Hotel management, one of the most glamorous occupations, necessitates qualified professionals who can maintain their composure even in the most stressful circumstances. In terms of employability, it is the world's largest and fastest-growing market. The hospitality and tourism industry provides a wide range of career opportunities as well as the highest-paid employment. Hotels, Resorts, Airlines, Railways, Call Centers, Telecom, Multiplexes, Administration, Mall Operations, Travel, Tourism, Industrial Catering, MNC's, Hospitals, Cruise, Banking, Corporate Offices, and other service sectors need our services.
Hotel Management as Career
When you graduate with a bachelor's degree in hotel management, you'll have a plethora of career opportunities. You may pick your favorite department and apply for different jobs in the hospitality industry since there are several departments such as operations, food and beverage, front office, accounting, and security.
The following are some of the job options for hotel management:
Hotels and tourism associations
Club/ restaurant management
Cruise ship hotel management
Airline catering and cabin services
Kitchen management in hotels
Front office management in hotel, resorts
Hospitality services in the Indian Navy
Infrastructure
Infrastructure that is cutting-edge, with smart classrooms and laboratories equipped with cutting-edge technology.
On 30-hectare farmland, there is a Crop Research Center and a Horticulture Nursery.
The following units are available: Polyhouse, Poultry House, Meteorological Center, and Vermi Compost Units.
Modern farm machinery and a hydroponics lab.
Awards and Recognition
Students participated in a variety of state and national sporting events, with BITS Pilani securing first place in Kabaddi.
Faculty members played in PANACHE XII, winning first place in Football and Kabaddi.
The bulk of the professors have earned their doctorates.
Field visits, teaching, and agriculture exhibits are held on a regular basis.
The course curriculum is based on the ICAR 5thDeans' Committee's recommendations.
A summer internship at VGU's Department of Agriculture was completed by students from Tennessee State University in the United States.
Labs
Kitchen
Restaurant
Bar
Room
Collaboration and MOU
The Lalit
DHi
Pan Atlantic Exchanges
Ananta