Bachelor of Science Biology at Agarwal Pg College Jaipur, Laboratories, Fees, Placements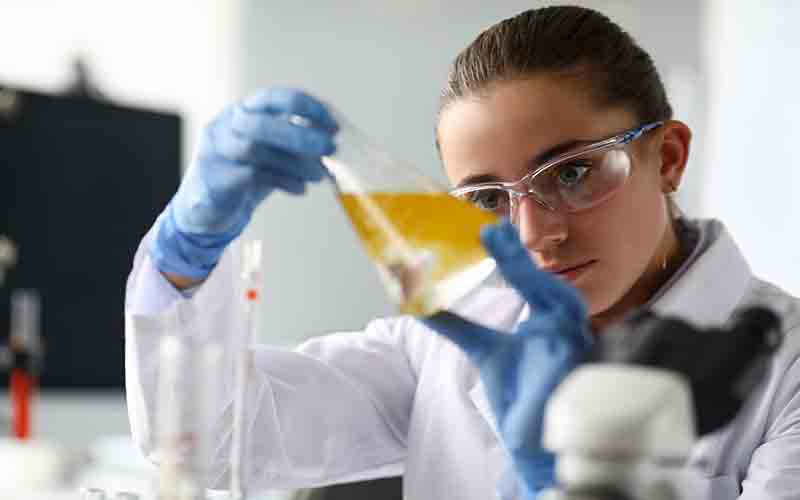 Published by : stepincollege
Bachelor of Science Biology at Agarwal Pg College, Jaipur
The BSc Biology program is a full-time undergraduate program that covers plant and animal physiology and anatomy, as well as for biotechnology, biochemistry, and ecology. Students participate in courses and labs, learning useful information about organisms. The BSc can be used as a foundation for graduate study in the biological sciences or as a terminal degree for research and laboratory work. Students will draw on their knowledge base as they progress through their degree and begin to concentrate their studies with courses like organismal and cell biology, genetics, and chemistry, as well as their related laboratory work. Students will choose a specialty and adapt their final coursework in areas such as field botany or microbiology to this emphasis, gaining skills that will help them stand out in graduate school applications or fieldwork. Students interested in pursuing graduate studies in biology will benefit from the expertise and laboratory experience gained, which will allow them to pursue careers in education, science study, laboratory work, and government positions. Students who receive this degree are well qualified for careers in medicine, as it provides them with the requisite background to apply to medical, dental, and veterinary schools as well as a path to graduate school.
Duration of B.Sc. Biology
Program duration 3 years.
Eligibility Criteria for B.Sc. Biology
Must have received at least 50 percent on an aggregate of Class 12 or some other comparable review from a recognized board.
Aspirants would have taken Physics, Chemistry, and Biology in Class 12 as compulsory subjects.
Syllabus for B.Sc. Biology
Optional Subjects(Any Three)

Compulsory Subjects

Botany

Chemistry

Zoology

Geography*

Economics*

Gen. Hindi

Gen. English

Elementary Computers

Environmental Studies
Laboratories
Chemistry Lab: The best chemistry department in Jaipur, with four large laboratories. It is well-equipped with all of the most up-to-date instruments for students with special needs. The best lab in the state is a self-contained lab with a large chemical collection.
Zoology Lab: The Department of Zoology, one of Jaipur's oldest, is well-equipped with cutting-edge technology to meet the demands of modern practical knowledge and research. Several significant zoological specimens are housed at the Museum. Each is curated and categorized separately for easy identification. It has one of Rajasthan's largest specimen collections, with over 300 specimens.
Botany Lab: One of Jaipur's oldest departments, Botany is well-equipped with a wide collection of plant specimens, cutting-edge instruments, a well-kept botanical garden, and a research lab.
Geography Lab: The Geography laboratory is well-equipped, with physical geography equipment and world-level maps, charts, globes, and models, among other things. It also has a Dumpy level, Clino-meter, Plaini meter, an astronomical telescope, GPS, and a distance meter, as well as a weather station, topographical sheet, compass, and other digital field surveying equipment.
Career Prospects for B.Sc. Biology
Botany, Zoology, Biochemistry, Biotechnology, Food Science, Biomedical Science, Genetics, Molecular Biology, and Virology, among other subjects, offer numerous opportunities to students, and it also serves as a foundation for higher studies in this area, such as MSc, Ph.D., and MPhil in subjects such as Botany, Zoology, Biochemistry, Biotechnology, Food Science, Biomedical Science, Genetics, Molecular Biology, and Virology, among others. BSc Biology graduates will pursue careers in R&D, pharmaceuticals and chemical industries, public health and environmental protection sectors, clinical research, waste management, and other fields. Students who complete the BSc Biology program would have a plethora of options available to them. Jobs such as Biology Content Developer, Biological Technician, and Conservationist, among others, are available to them.
Biology Content Developer
Laboratory Technician
Mycologist
Taxonomist
Botanist
Placement:
We provide students with knowledge of the most up-to-date techniques and concepts so that they can face the challenges of the workplace. To prepare our students for high-end placements, we organize exclusive skill enhancement sessions and soft skill development programs. We've been holding job fairs for the past seven years, and many of our students now work for reputable companies such as:
Bosh
Genpact
Oberoi
Tech Mahindra
Deutsche bank
Reliance
Outreach,
Taj
FORTI assists with job selection (federation of Rajasthan trade and industry)
National Service Scheme (NSS):
The Ministry of Youth Affairs and Sports administers the National Service Scheme (NSS), which is a government-run central sector service program. The primary goal of the NSS is to give young students practical experience with community service. It raises social consciousness and instills a sense of duty and discipline in students. NSS has implemented a range of major active measures, including:
Other special days and activities are observed, such as Literacy Day, Yoga Day, World AIDS Day, NSS Day, and others.
Blood donation camps are being planned.
Organizing where-is activities to increase health and hygiene awareness as part of the Swachh Bharat Campaign.
On a state and national level, there are camps, seminars, events, and youth programs.
Scholarship
Girls

Undergraduate studies in the arts, business, and science (only for the first-year students)

Rs. 3000

High rankers securing in 12th board

Arts and Commerce

80% and above

65% and above

Rs. 3000

Rs. 2000

Sports

Excellence in sports

National level

State-level

Rs. 5000

Rs. 2500