Amity University, Jaipur ranked 17th in Dataquest Top T-School Survey 2021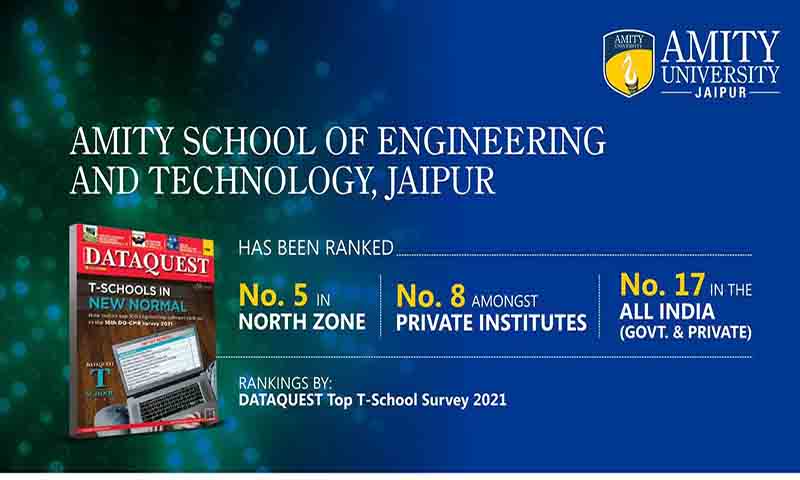 Published by : stepincollege
Amity University, Jaipur ranked 17th in Dataquest Top T-School Survey 2021
In the Top 100 Dataquest Top-T-Schools Survey 2021, Amity School of Engineering & Technology, Amity University, Jaipur was ranked 17th nationally. The DQ Top-T-School Survey was mostly for private institutions, but it also included rankings for government T-schools. This university's ranking is focused on technical advances, placement records, research publications, industry-oriented curriculum, and a focus area that encourages students to pursue their entrepreneurial aspirations by providing them with access to labs, mentors, and the funding ecosystem.
Amity's faculty actively engages with industry by conducting joint research and development, in which the industry presents a problem statement and Amity provides both the information repository and the R&D. According to the survey, Amity University, Jaipur, came in eighth place in the private sector category and fifth place in the zone-wise category.
Prof. (Dr.) Amit Jain, Pro-Vice-Chancellor, Amity University, Rajasthan, praised the Engineering Department's excellent success and wished them luck in their future endeavours. Prof (Dr.) Rajesh S. Prasad, Director, Amity School of Engineering & Technology, reported that the school offers highly advanced programmes such as data science, robotics, Mechatronics, and cyber-security, all of which are in high demand in the industry.
According to Akshay Jain, Admission Director Marketing, Amity University's latest technology, revised curriculum, and foreign language in each programme offer students a wider perspective and prepare them for the international market. This enables them to obtain better job prospects in health care, manufacturing, information technology, banking, finance, marketing, education, software, and a variety of other fields.
Amity School of Engineering and Technology (ASET)
Amity School of Engineering and Technology (ASET) was established in 2007 and offers a diverse collection of programmes that include modern engineering and technical courses and cover a wide range of engineering and technological topics. Computer Science & Engineering, Information Technology, Civil Engineering, Mechanical Engineering, Chemical Engineering, Electronics & Communication Engineering, and Electronics & Electrical Engineering, as well as modern streams like Solar & Alternative Energy ASET, offers a variety of classes. ASET offers a variety of undergraduate and graduate programmes.
People from different cultures and backgrounds are becoming closer as a result of technological advancements. Scientists and technocrats worked diligently to build an environment conducive to learning and living with modern engineering, making these developments possible. ASET is proud of its accomplished alumni, who have gone on to become pioneers in engineering and technology fields at a number of reputable technological hubs around the world.
ASET is affiliated with the Institution of Engineering and Technology and has earned recognition for its work.
ASET Advantage
Knowledge growth, academic excellence, skill development, creativity, and entrepreneurship are all priorities for ASET. Our research focuses on translating expertise in areas such as wastewater treatment, adsorption engineering, advanced machining, soft computing, computer networks, VLSI, control engineering, wireless sensor networks, antenna technology, and image processing into practical applications.
Students are taught to think beyond the books and pursue creative and ground-breaking concepts for the betterment of humanity thanks to state-of-the-art technology, experiential learning, and experienced faculty.
Industry Advisory Council (IAC)-
ASET's Industry Advisory Council is an important working group. IAC's mission is to foster strong business involvement, reinforce established relationships, and serve as a hub for industry, staff, and students in the School. Apart from the private sector and corporations, 'industry' in this sense encompasses non-profit organisations, NGOs, government agencies, and industry associations.
Innovation Incubator'
The Amity Innovation Incubator (AII) was established in 2014 with the aim of cultivating and stimulating curious minds in order to produce graduates with new concepts, perspectives, scientific tempers, and approaches. The Amity Innovation Incubator is a place where ideas and innovations come to life, as well as methods for scaling up business plans before they are put into action. The Incubator Facilitator allows teams to innovate and accelerate the process from the start to the development of a business case by using standardised approaches.
Apart from inspiring students and faculty to innovate, conceptualise, generate ideas, and create products, AII also works to secure seed funding to help turn an idea into a product. Under the aegis of Amity Innovation Incubator, a number of startup projects have successfully taken shape, including Urban Dhobi, Bokyit, HashTag Foods Pvt. Ltd, and Ambulance. run (AII). Various events, such as an industry internship fair, guest industry speakers, and so on, are frequent features of the cell.
Institution Achievements
There are over 300 research papers available.
Three books have been edited.
20+ book chapters in anthologies
03 International Conferences/Seminars
There will be 50 national seminars.
Workshops with hands-on training in 50 areas
60 expert/guest talks on cutting-edge technology
10 patents have been filed.
Amity University
The Amity University Rajasthan Act of 2008 founded the university. It offers education in a variety of fields that meets international standards. AUR stands with a baton in hand, illuminating and guiding aspirants from all educational paths. It teaches students how to become better global leaders with clear ethical principles and ethics by imparting expertise in different domains for professional and sustainable growth.
AUR is marching towards the pinnacle of academic excellence and achievement with a vision to be a global university that provides value-based contemporary education with a focus on creativity, science, and sustainability combined with modernity and tradition.
Taking on the challenges of today's global education age, AUR's goal is to train potential global leaders by fostering excellence in academia, science, technology-driven and field-based learning, cross-cultural exposure, holistic growth, and a dedication to social and environmental responsibility. AUR is a prestigious institution that offers top-notch higher education.
The Leed Green Building Rating System, established by the US Green Building Council and validated by Green Business Certification INC, has given it a gold rating. The year is 2017.
AUR was ranked 6th among India's private universities in the Week Hansa Research Best University Survey (2014)
AUR has been named the 'Best Private University in North India' by the Brands Academy Excellence Award (2014)
AUR was called the 'Best University Campus' by ASSOCHAM (2014)
The World Education Summit recognised AUR for its achievements in digital learning and named it the "Best North India Private University" (2014)
The Hindustan Times praised AUR's Employability and Placement Excellence (2013)
In its survey of the Top 20 Indian Private Universities in India, Silicon India ranked AUR second (2013)