MDS Orthodontics & Dentofacial at NIMS University Jaipur, Course Fees, Eligibility, Placement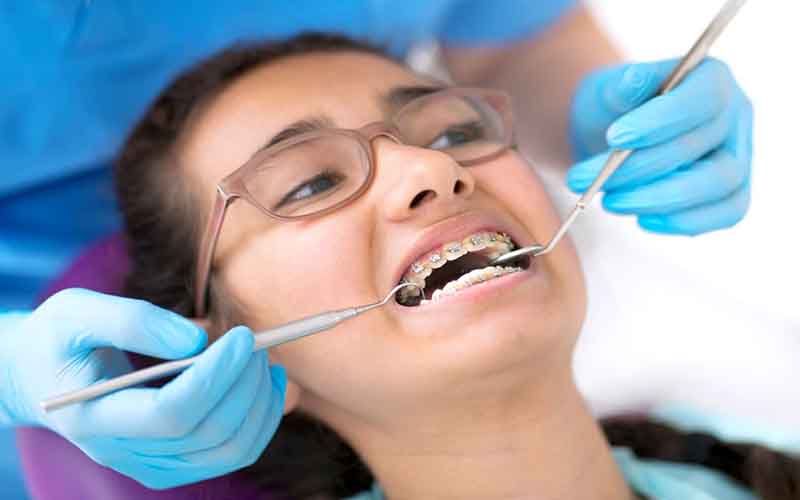 Published by : stepincollege
MDS Orthodontics & Dentofacial at NIMS University Jaipur, Course Fees, Eligibility, Placement
MDS in Orthodontics is a three-year postgraduate program in many dental specialties. To be able to apply for the course, individuals must have earned a Bachelor of Dental Science (BDS) from a recognized university. Malocclusions, or inappropriate bites, are studied and treated in this area. They might be caused by disproportionate jaw relationships, teeth irregularity, or both. Dental Science, also known as dental surgery, is a medical specialty that focuses on dental and oral health. A certificate course in Fixed Orthodontics, administered by the AFO, is also available to general dentists. Orthodontics, as a branch of dentistry, is concerned with correcting irregularities in teeth and jaws that may be congenital or acquired later, as well as the many aspects and techniques of Orthodontics, such as the molding and placement of braces, the use of invis-aligning braces, the use of retainers to correct dental deformity, and so on.
Eligibility Criteria for MDS Orthodontics and Dentofacial
BDS, NEET PG qualified
MDS Orthodontics and Dentofacial Duration
Three Years
MDS Orthodontics and Dentofacial Program Fee
550000/-INR For Indian Students
660000/-INR For Foreign Students
NIMS University Placement Cell:
The University's Placement and Training Program Cell links academics with industry processes so that each of our students can build meaningful connections between their learning experiences and current practices with the assistance of specialists. Smart classrooms, bolstered by interactive pedagogical discourses by experts from all disciplines; health sciences to human sciences, industrial training to advanced engineering, personnel management to corporate management, creative literature to innovative multimedia, art, and architecture; are bolstered even more by training programs that aren't just focused on industry needs but also conducive to a positive learning environment.
On a daily basis, we maintain contact with the industry through workshops, guest lectures, conferences, corporate meetings, and other activities.
Plan and organize both on-campus and off-campus recruitment initiatives.
Providing students with aid in completing summer training projects
Providing students with the necessary training in the areas of personal development and communication skills
Creating databases for students and promoting their education to various companies.
Recruitment partners:
Accenture
ATCS
EY
Auriga
Sopra Steria
Pinnacle Infotech
Robomq
IBM
Vodafone
Mindtree
MTX
Jaro Education
Gril
TATA Consultancy
Wipro
Metacube
A one Salasar
Birlasoft
Chegg
Capgemini
Tata Power
Daffodil
BYJU'S
Hgiel
AIS
Thrillophilia
Infosys
NIMS Entrance Examinations
The NIMS UNIVERSITY Common Scholarship and Entrance Examinations are used to determine scholarship eligibility for post-graduate programs.
(Only for individuals with a Class XII grade point average of less than 70% and a graduation rate of less than 65%.)
50% Scholarship- 95% and above
25% Scholarship- 90% and above
20% Scholarship- 85% and above
10% Scholarship- 60% and above
Programs after Graduation
Merit-Based Scholarship for Post-Graduation Programs Following enrollment in the program and verification of authentic documents, a scholarship will be given.
100% Scholarship -In Class XII, the average was 94 percent or above, while in Graduation, the average was 85 percent.
75% Scholarship - 90% aggregate and above in Class XII and 80% in Graduation
50% Scholarship - 80% aggregate and above in Class XII and 75% in Graduation
25% Scholarship – 75% aggregate and above in Class XII and 70% in Graduation.
20% Scholarship – 70% aggregate and above in Class XII and 65% in Graduation
For State / National Level Players
NIMS University is committed to developing and nurturing talent. A 50% scholarship will be awarded to all candidates who have competed in state and national games. Candidates who apply for all programs excluding council courses and have a valid state and national level certificate will be eligible for the 50% scholarship.
For State / National Level Entrance Examination
Candidates who have taken any state or national levels entrance exams, such as JEE, CLAT, or others, will receive a 10% bonus.
This additional 10% scholarship is in addition to the merit-based scholarship (except for those who have already received 100%) and the NIMS UNIVERSITY Common Scholarship cum Entrance Examinations scholarship (except for those who have already gotten 100%).
A 10% grant is available for both undergraduate and graduate programs.
For Specially Abled Candidates
In both UG and PG degrees, all candidates with a disability of more than 40% will be entitled to a 50% scholarship. At the time of admission, such candidates must present proof of eligibility, and scholarships will be provided after proper verification.
Scholarship for NIMS Alumni
Only NIMS students who continue their higher education at NIMS Universities with a two-year gap are eligible for a fee discount of 50%.
Scholarship for Defence
Candidates whose parents are in the military will get a 10% additional scholarship on top of the merit-based scholarship, with the exception of those who have previously received a 100% scholarship based on the NIMS UNIVERSITY Common Scholarship cum Entrance Examinations.
Both undergraduate and graduate programs are eligible for this additional 10% scholarship.
Special Note:-
A limited number of seats are available in the scholarship program. The percentages provided are used to determine whether or not you are eligible for a scholarship. Candidates who score above a certain percentage must fill out NIMS application forms. The Scholarship Committee makes the final decision on whether or not to award a scholarship.
Scholarships are provided on an annual basis, and they are subject to scholarship restrictions in the second and subsequent years of the program. To continue receiving a full scholarship, students must rank in the top 5% of the program's merit rating. In order to keep their 75 percent scholarship, students must place in the top 10% of the merit list for the program. To preserve their 50 percent scholarship, students must place in the top 20% of the merit list for the program.
Scholarships are only available after one year if there are at least 30 students in the batch.
Hostel Fees:
For the academic session 2021-22 Hostel Fee for All Non-MBBS Students (including BDS/MDS Students)
| | | | | | |
| --- | --- | --- | --- | --- | --- |
| S.No. | Room Type | 3 Seater | 2 Seater | Single Seater | Remarks |
| 1 | AC Room Deluxe | No Provision | 2,50,000 | No Provision | ELECTRICITY BILL - AS PER THE ELECTRICITY METER READINGS APPLICABLE. |
* Subject to availability
A.C. BUS Service Transportation charges for All Non-MBBS Students (including BDS/MDS Students)
| | | |
| --- | --- | --- |
| S.No. | From | Transportation Fees |
| 1 | NIMS To Jaipur | 40,000/- |