Re-opening of Schools in States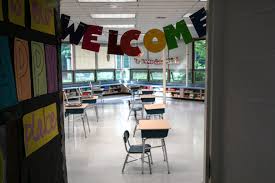 Published by : Step in college
Educational institutions that have been closed since March of last year due to the Corona outbreak are being reopened. In this phase, in several states, where schools were opened in the New Year, many states will start schools again in February. In almost all states, informed consent from parents would be needed for children to go to school schools and universities. Let's get to know which States are going to reopen schools.
Re-opening of Schools in States from February; Read more to know which classes will be resumed.
Delhi
Schools will be re-opened in the national capital of Delhi from 1 to 9 February and 11 February. In addition, offline classes will begin in college with diplomas and degree courses from 1 February. Previously, reviewing the CBSE board exams in the capital, schools for class X to XII students were opened on 18 January.
Haryana
As per the order issued by the Haryana School Education Department, classes for students from 6th to 8th will resume from the 1st of February. The school hours will be from 10 a.m. to 1.30 p.m. On the other hand, there are few students who want to continue online classes.
Punjab
Following the approval of the state government, all the government schools and private schools in Punjab would also be reopened for the first time after lockdown and pre-primary classes as of 1 February. Minister of State School Education Vijay Inder provided this information in a report.
Gujarat
Schools will also be reopened in Gujarat from 1 to 9 February and 11 February following the Corona Guidelines. Earlier, schools began in the state for class X to XII on January 11.
Maharashtra
Schools will also begin as well in the Pune district of Maharashtra. Pune Municipal Corporation has granted permission to open schools from 5 to 8 February.
Himachal Pradesh
Classes in the state from 8th to 12th will start once again from February 01. Schools that are in the hilly region of the state, where there are winter holidays, classes will start from February 15.
Telangana
Schools are also being opened in Telangana for students of IX to XII from 1st February, i.e. today. State Chief Minister K.K. Chandrashekhar Rao also announced the commencement of classes for graduate and postgraduate courses in colleges on 1 February.
Jammu and Kashmir
The schools in Jammu and Kashmir will also be reopened on 1 February. The offline classes for classes 10-12 will commence tomorrow. As of 15 February, higher education institutions will restart offline classes.
Andhra Pradesh
Andhra Pradesh Government has issued clearance to re-open schools for students from Monday, 1st to 5th February. At a time only 20 students will be able to sit in class, as per the guidelines. Schools and colleges were opened in the state earlier also from the 6th to the 12th of November last year.
Meghalaya
Meghalaya is also willing to continue classes at the Higher Education Institutes from Monday, 1 February. Offline classes have begun in most schools in the state since the start of this year.
Karnataka
Classes for the IX and X and Pre-University of Karnataka will be reopened on 1 February. During this time, all Corona protocols will be properly adhered.