School will open for 45 lakh students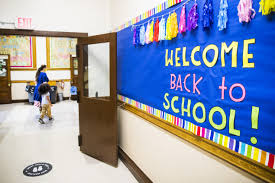 Published by : Step in college
Out of 51 lakh students from 9th to 12th, 40 lakh attended the classes; class timings will be from 10.30 am to 3 pm In 33,186 schools of the state, 45 lakh students from classes six to eight will come back to study on 8 February. For now, 40 lakh out of 51 lakh children from 9th to 12th school are going to school. These students have begun the process of defeating Corona by placing masks in school, maintaining social distances, and getting the education system back on track. As a result of this, it has now been decided to call children from class six to eight as well.
School will open for 45 lakh students from 6th to 8th on 8th February
As a consequence, it has now been decided to call children from class 6 to 8 as well. For the students of sixth to eighth grade, it may be difficult to strictly follow Corona protocol. There are several questions from parents, such as how the Department of Education can protect them and what steps should be taken if parents have to complain anywhere. Saurabh Swamy, Director of Department of Secondary Education answered these questions.
Students were not satisfied with online class
Last year, NCERT conducted a survey by taking online classes. It has been reported that parents and students are not satisfied with the online class. 34,000 people, including students, parents, teachers and principals of Kendriya Vidyalaya, Navodaya Vidyalaya and CBSE affiliated colleges, participated in the survey. They said that because of a lack of awareness about the use of equipment and instructors, they are not completely trained for the methods of online education.
27% of students have issues in the online classroom because of not having a smartphone or laptop.
28 % students admitted electricity as big hindrance
36% of the students admitted to give priority to books for studying
17 % of students have described online education as challenging.
10% admitted having difficulty learning the arts.
Guidelines for schools:
As per the Education Department guidelines, school timing from class VI to VIII will be from 10:30 AM to 3PM
Schools that were closed in the Corona lockdown are now slowly opening up. From 8 February, the state government granted permission to open schools for students of classes VI to VIII. In this part, the Education Department released guidelines on the opening of the school on Tuesday. The school has scheduled time for students from 10:30 a.m. to 3 p.m.
The state government has given permission to open the school for students of classes VI to VIII from 8 February
According to a guideline provided by the Board of Directors of Secondary Education, it would be appropriate to have a parent-teacher meeting (PTM) in the schools on 7 February, the day before the school is opened. In this context, parents will be advised of the Corona Guidelines for the School. According to guidelines, all the children in the class can be called. The children need to get consent from the parent for attending school.