Attendance increased in schools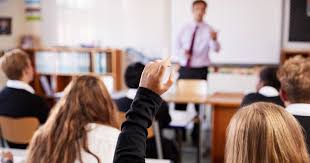 Published by : Step in college
Attendance increased in schools Students sat with social distancing in classroom. Entry in schools was granted after the students got properly sanitized. From Monday, students of classes 6 to 8 also came to the school, following the corona guidelines and management in school. For the first time since January 18, educational institutions for students of classes 9 to 12 have been opened.
Attendance increased in schools
Until now, students in classes 6 to 8 have also approached schools open to students in classes 9 to 12, and there was a stir in the schools on Monday. Until entry, students were hand-sanitized and seated with a social distance in the classrooms. During this time, the school administration made arrangements to follow the Corona Guideline.
School arrived with parents
Most of the students in private and government schools, along with their parents, arrived in private vehicles. Every student was only admitted after masking and thermal screening. In school, students opened shoes and slippers outside.
College students were also welcomed
New students were greeted with a tilak at the state college. Masks have also been distributed over this period. Students who came to Dayanand College were greeted with rose flowers. During this time, senior students, including college principals and staff, were present.
Government Girls Higher Secondary School Paharganj has 284 girls from classes 6 to 8 and 254 from classes 9 to 12. Principal Veena Agrawat said that thermal screening and hand sanitization was done. Students are sitting at a distance from each other.
At St. Paul's School, the children were queued to get their hands sanitized, and after that they were advised to keep masks on their mouths regularly and keep social distances. Then they were sent to the classroom.
Schools were opened on January 18, 9 months 27 days after school across the district including Ajmer was opened for students on January 18. Students from 9th to 12th grade schools and undergraduate and postgraduate students began to arrive. At 9.30 a.m., students of Class 10 and Class 12 came to school and students of Class 9 and Class 11 came to school at 10 a.m.