Army Recruitment 3298 candidates got admission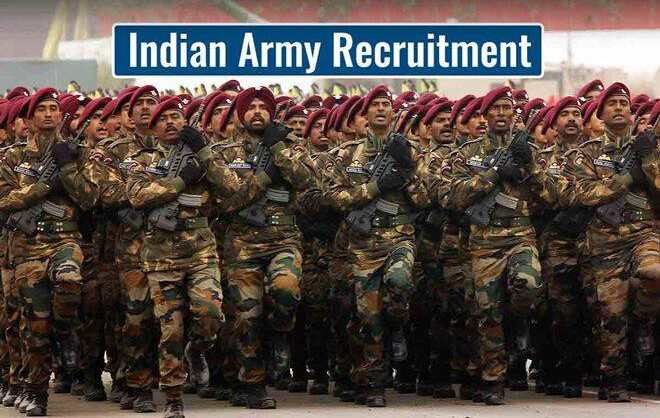 Published by : Step in college
In the army recruitment rally, 3,298 candidates out of 7,152 attended the rally. In Maharana Pratap Khelgaon, Chitrakoot Nagar, 1755 candidates, out of 3567 from 4 districts, participated in the Army Recruitment Rally which began on Monday. Out of 7152, only 3,298 candidates appeared to the race for the day. Out of 1543 candidates who appeared for the first day on Monday, 125 candidates went under a medical test after a race and a physical examination.
Army Recruitment: 3,298 candidates got admission
Candidates are giving admission after checking the body temperature and documents. One of the candidates who appeared for the Army recruitment Rally, Samwar, said that he reached the place before dawn. Entry started at 10 a.m. Candidates were allowed to enter after checking the body temperature and documentation. Then the tournament began from four o'clock. The 400-metre track was made of red clay. Out of the 100 candidates running together, most of them were barefoot. According to Army officials, candidates from the Nagaur and Jaisalmer districts ran for the position of Soldier Clerk and Stand for Store Keeper.
Army Recruitment: Candidates appeared for various posts
Candidates from Dungarpur, Jaisalmer and Jalore appeared for positions of multi-tasking staff. During this time, according to the protocol and eligibility criteria for the recruitment of military personnel, candidates participated in the race, their physical efficiency was tested and then documents were reviewed. at the final stage
Participants of Jodhpur-Pratapgarh districts will run for the races today
On Wednesday, the military officer said that the candidates of Jodhpur-Pratapgarh would participate in the race for the position of Soldier Clerk and the Store Keeper. The candidates from Pali-Udaipur district will be participating in the run for the vacancies in Multi-task Force. 3,573 candidates applied for the vacancies given above.
ADM City Ashok Kumar said that a temporary depot had been established outside Khelgaon with transport modes for the arrival and departure of the candidates.
Facilities provided at the centre for Army Recruitment
Police officers and staff are deployed to maintain peace and stability, law and order. Necessary facilities such as ambulance, thermal scanners, medications, sanitizers for emergency teams and corona rescue services have been provided.