GATE 2021: Results announced by March 22, GATE Score Card 2021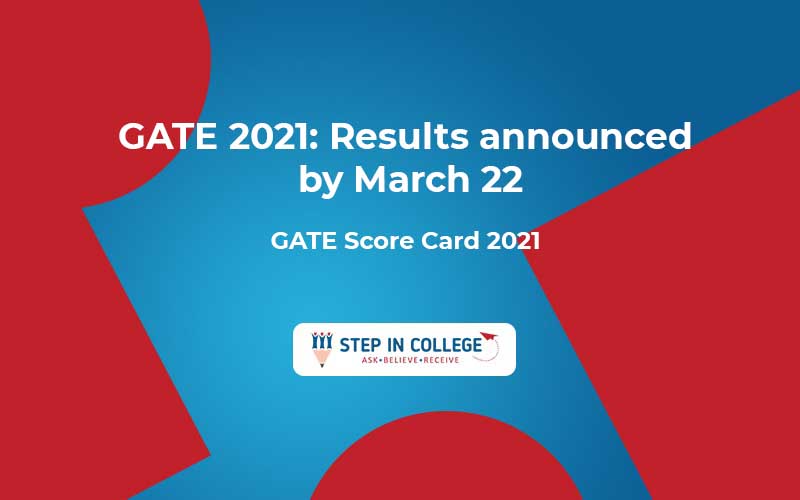 Published by : stepincollege
GATE 2021 Results: On March 22, 2021, the Indian Institute of Technology, Bombay will release the GATE 2021 Results on their official website. Students who took the GATE 2021 examinations in February 2021 can check their results on the official website. According to the timetable, the GATE 2021 examination answer keys were released on February 26, 2021, and students had until March 4, 2021, to question the answer key. The GATE 2021 examination results will be announced based on the response key suggestions made by the students.
GATE 2021 Results announced by March 22
The official website - gate.iitb.ac.in - will announce the GATE 2021 Results. Candidates can also access the GATE 2021 exam results by clicking on the direct connection given below.
How to Review GATE 2021 Exam Results
Phase 1: Go to the official Graduate Aptitude Test website.
Phase 2: Click on the GATE 2021 Result page.
Phase 3: Fill in your GATE 2021 Application ID and password.
Phase 4: Save the GATE 2021 results to your machine for future reference.
Scorecard for GATE 2021
The GATE 2021 Scorecard will contain information such as the students' names and roll numbers, the names of the tests, the marks earned in the examinations, and the students' qualifying status. The scorecard for GATE 2021 will be valid for three years. Students who pass the GATE 2021 exams will be qualified for the next round of admissions.
How to Get Your GATE Score Card for 2021
Visit the official website or the link provided in the article for more information (will update the link as and when available)
To access the scorecard, go to the scorecard page.
Use your enrollment ID/email address/registration ID and password to log in to GOAPS.
Click the Submit button.
GATE 2021 scorecard can be downloaded and printed.
GATE 2021 Answer Key
From March 1 to 4, candidates could challenge the GATE 2021 response key on the official website. IIT Bombay published the official GATE 2021 response key on February 26 for all 27 documents. The final response key for GATE 2021 will be published after the feedback on the provisional key has been evaluated. The correct answers to the questions asked in the review will be included in the GATE response key 2021. Following the official marking system, the GATE 2021 response key can be used to measure probable scores. Candidates must pay a fee of Rs. 500 to participate in each challenge.