Class 10, 12 Board Exams postponed in Punjab due to Covid-19 cases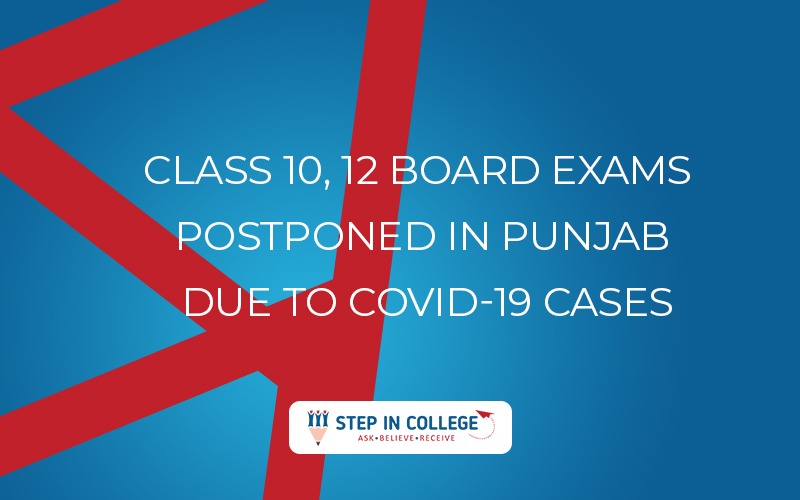 Published by : stepincollege
Class 10, 12 Board Exams postponed in Punjab
Punjab School Education Board: The Punjab School Education Board declared Monday that the final exams for classes 10 and 12 would be postponed by about a month due to a sudden increase in Covid-19 cases in the state. The move comes as new infections continue to rise in the state, with 1,843 new cases and 27 deaths recorded on Monday. The Amritsar district administration has made it mandatory for anyone attending social gatherings in the holy city to present a Covid-19 negative report or evidence of vaccination. The PSEB announced in a statement that class 10 exams would begin on May 4 instead of April 9, and class 12 exams will begin on April 20 instead of March 22. It was also reported that the exams would end on May 24.
Exam Timing: The three-hour exams for classes 10 and 12 will begin at 10.15 a.m. and 2.15 p.m., respectively, according to Janak Raj, PSEB Controller (exams). Raj also reported that the state has approximately 6.40 lakh PSEB students in grades 10 and 12.
Authorities in Patiala declared the Thapar Institute of Engineering & Technology's hostels a macro-containment zone after 15 more students tested positive for Covid-19, bringing the total number of infected students at the institute to 38.
The number of cases: All students residing in the hostels will now be screened, according to Patiala Civil Surgeon Dr. Satinder Pal Singh. "We've set aside a different hostel for students who test positive," he said. With 1,843 new cases and 27 new fatalities, the total number of infections in the state reached 1,99,573, while the death rate increased to 6,099, with 1,843 new cases and 27 new fatalities. On Monday, the number of active cases rose from 11,550 on Sunday to 11,942. Previously, Amritsar Deputy Commissioner Gurpreet Singh Khaira issued an order late Sunday requiring people attending social gatherings in the district to submit a Covid-19 negative report or evidence of vaccination.
"Various indoor and outdoor social/religious/sports/entertainment/cultural events will be limited to 100 people (indoor) and 200 people (outdoor). Fines would be levied on the organizers and others found breaching social distancing and not wearing face masks at such events if the ceiling limit is exceeded," the order said.
"Organizers of such events must ensure that everyone participating is either tested negative for coronavirus 72 hours prior to the event or has been vaccinated and has evidence of vaccination. According to the order, all sub-divisional magistrates and their police counterparts will regularly visit marriage palaces and restaurants to ensure that these directives are strictly followed in their sub-divisions.