CBSE Syllabus not reduced from 9-12 for academic year 2021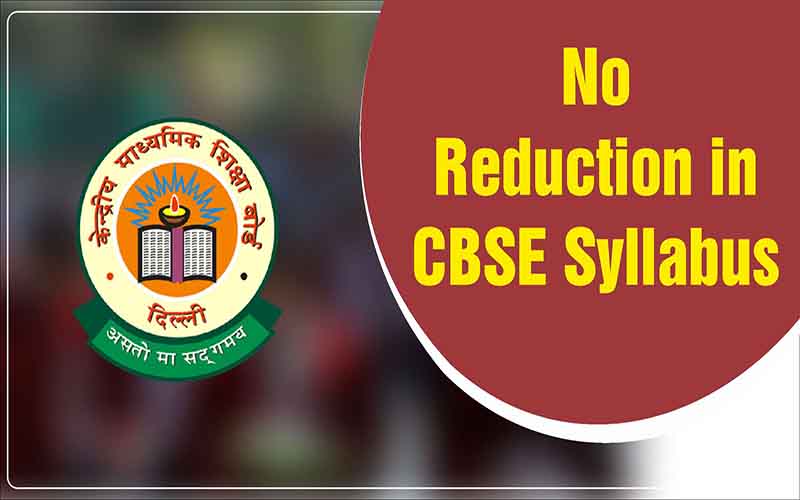 Published by : stepincollege
CBSE Syllabus not reduced from 9-12
Central Board of Secondary Education Academic year 2021-22: For the 2021-22 academic year, the Central Board of Secondary Education (CBSE) has decided not to reduce the syllabus for students in grades 9 through 12. In the previous academic year, the board decreased the Class 9 to 12 syllabus by 30% due to the pandemic and lockdown situation. The board exams for students who learned the reduced syllabus will be held in May-June 2021.
Restored the Chapters and topics that have been removed: Chapters that had previously been withdrawn have been restored for the new academic year. The chapters and topics that were removed in the previous academic year have been restored for students in the official curriculum for the academic session 2021-22, according to the latest CBSE syllabus published by the board. The CBSE board officials went on to say that the rationalization exercise was a one-time effort since the teaching and learning process was done completely online at the time and no other choices were considered due to the situation.
In March 2020, both schools will be closed: In March 2020, schools around the country were closed in preparation for a national lockdown to prevent the spread of COVID-19. During the lockdown, teaching and learning activities were performed online. Despite the fact that many schools partially reopened in October, several states continued to provide online classes to students despite the rise in COVID-19 cases.
Topics and Chapters removed by the council: The chapters on Democracy and Diversity, Demonetisation, Nationalism, Secularism, and India's ties with its neighbors had been removed by the council. Local government growth in the region, among other things. However, political parties and a section of academicians in the country reacted angrily to the decision, claiming that it was politically motivated, despite the fact that many school principals welcomed the change as a relief to the students.
Because of the learning disturbances caused by the closure of schools during the lockdown, the Council for Indian School Certificate Examinations declared a 25% reduction in the syllabus for the class 10 and 12 board exams in 2021. The CICSE has yet to release the syllabus for the new academic year.
In the context of the COVID-19 crisis, the CBSE rationalized the syllabus for classes 9 to 12 by up to 30% for the academic year 2020-21 to reduce the course load of students.
Exams will be held in May and June for students who learned the reduced syllabus.