UGC Released Public Notice on Blended Mode of Teaching and Learning for Universities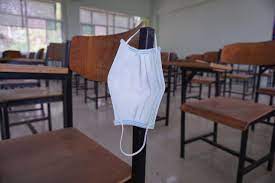 Published by : stepincollege
UGC Released Public Notice on Blended Mode of Teaching and Learning for Universities
The University Grants Commission (UGC) has issued a public notice on the introduction of blended learning and teaching in universities. In its 547th meeting, the commission addressed the blended mode of instruction. The UGC has agreed that Higher Education Institutes will be able to teach 40% of their courses online via SWAYAM and 60% offline. According to the UGC public notice, blended mode teaching and learning includes up to 40% of courses delivered through the online platform SWAYAM. By forming an expert group, the University Grants Commission has prepared the definition of Blended Mode Teaching and Learning.
Exam in Blended Learning Mode: Offline examinations are available for both 40 percent and 60 percent of courses. Exams for SWAYAM courses, on the other hand, are conducted entirely online. The grades earned in SWAYAM courses can be applied to the credit-based scheme. Universities may also combine online and offline courses and administer the exam online.
UGC's Blended Mode of Teaching and Learning: Main Features
Student learning outcomes have improved.
Increased contact between the teacher and the students
More opportunities for hands-on learning
Improved credibility of the institution
Flexibility and time management
More conducive to self-study and lifelong learning
Environment for teaching and learning that is more adaptable
Learning is your responsibility.
Increased student motivation to learn
Benefits of UGC's Blended Learning and Teaching Mode: Increased learning skills, greater access to knowledge, enhanced satisfaction and learning outcomes, and opportunities to both learn with and teach others are all benefits of the blended model of teaching and learning for students. The teacher's job changes from information provider to coach and tutor as a result of this. The University of Georgia's Blended Mode of Teaching and Learning blends the best elements of online learning with one-on-one coaching.
Earlier this year, UGC Chairman D. P. Singh sent a letter outlining COVID 19 initiatives to Vice-Chancellors and Principals of Higher Educational Institutions. He has requested that the heads of the institutions ensure the safety of the teachers, students, employees, and all other stakeholders. He went on to say that in order to solve the crisis, we must all work together. The myriad challenges in terms of physical and mental health, protection, and overall wellbeing must be addressed by all stakeholders in Higher Educational Institutions.